Simulation Education Center
Miami University's Nursing Simulation Education Center utilizes innovative learning to bridge the gap between theory and clinical education. High-fidelity manikins and/or standardized patient actors are used to enhance nursing assessment and clinical judgement skills by simulating diverse nursing care scenarios. The simulation labs are designed  for realistic  nursing care settings, such as: obstetrics, pediatrics, and medical-surgical.
Mission statement:
Miami University's Nursing Simulation Education Center is committed to empowering our future nurse leaders and bridging the gap between theory and clinicals, through best practice and innovation.
Vision statement:
As a program of choice, Miami University's Nursing Simulation Education Center will provide a student-centered, vibrant, diverse, and inclusive learning environment driven by our department values: Leadership, Integrity, Excellence, Caring, and Collaboration. Additionally, our goal is to provide an innovative healthcare simulation environment by achieving simulation accreditation through the Society of Simulation in Healthcare (SSH).
Hours of Operation: Monday-Friday 0800-1600, closed on university holidays and breaks
*Please contact the simulation coordinator for tours or events outside of routine operational hours
Contacts:
Angela Turner, MSN RN
Simulation Coordinator, Regional Campus - Hamilton
513-785-3089
turner67@MiamiOH.edu
Abby Richardson, BSN RN
Simulation Coordinator, Oxford Campus
513-529-0070
reaghae@MiamiOH.edu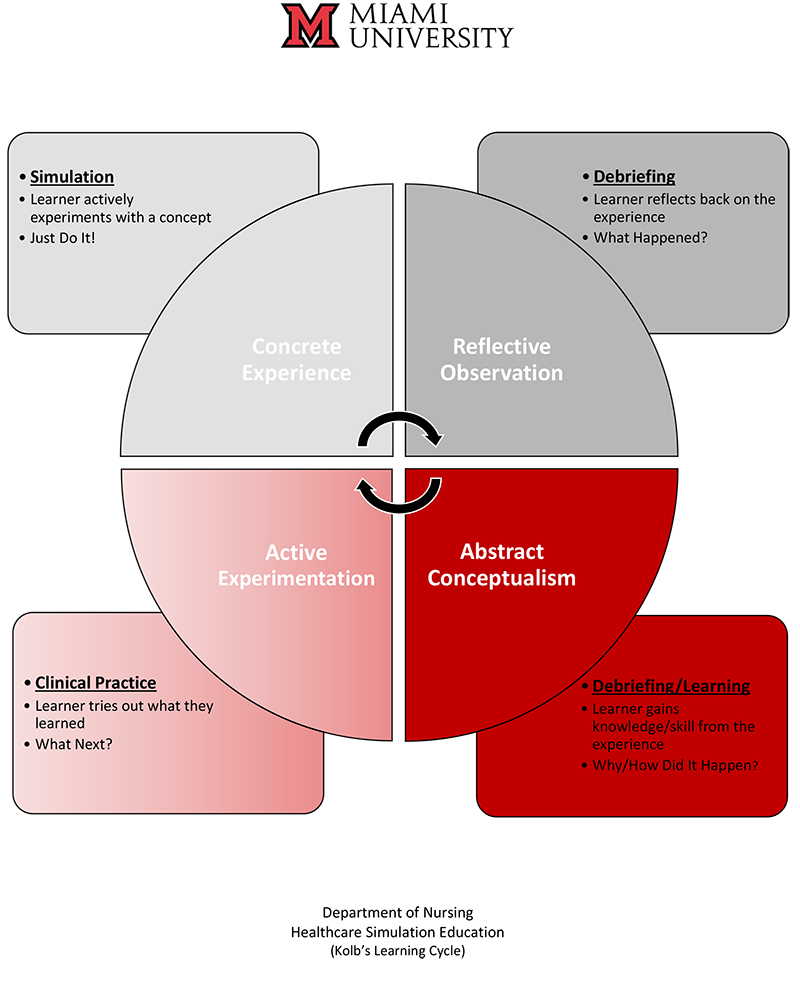 Text Version
Concrete Experience
Simulation
Learner actively experiments with a concept.
Just Do It!
Reflective Observation
Debriefing
Learner reflects back on the experience
What Happened?
Active Experimentation
Clinical Practice
Learner tries out what they learned
What Next?
Abstract Conceptualism
Debriefing/Learning
Learner gains knowledge/skill from the experience
Why/How Did It Happen?