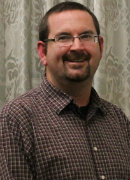 Randy Russell played Golf for Miami Hamilton from 1994–1997. Randy not only was a great individual player but also represented a strong team's effort.
Randy was selected for first team all-conference in 1995, 1996, and 1997 and was an individual medalist at the 1997 conference championship shooting a 39 over 9 holes. Randy was very consistent in his scores regularly shooting 80–82. And it was that consistency that helped propel him and his team to their accolades.
Twice they won the ORCC championship, 1994 and 1997, and he was an individual medalist at the Baron Invitational and the MUM Invitational in 1997. That was a good year for Miami Hamilton Golf. Not only did they win the conference championship by 7 strokes over OU-Zanesville, but they won the state championship by 28 strokes a week later.
Randy graduated from Miami with a degree in elementary education which he has put to good use as a 2nd grade teacher with Hamilton City Schools for the past 12 years.