Instructor Presence Series Part 3: Communication and Visibility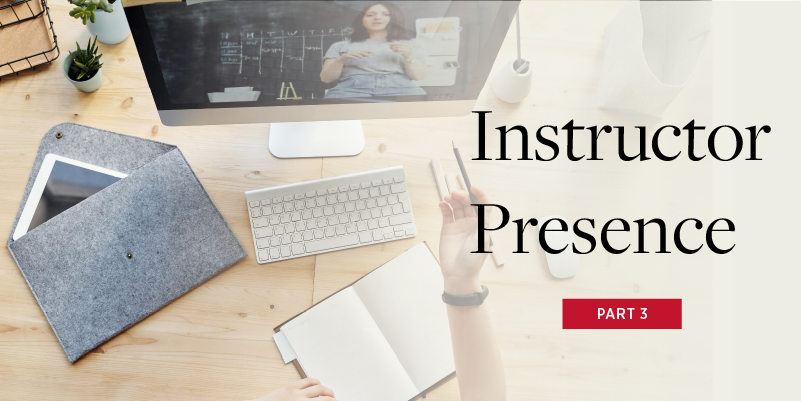 Sep 24, 2020
By:  Jill Gomez     
Note: This article is part three of the "Instructor Presence in the Online Classroom" series.
Instructor Presence in Online Classrooms Part 3: Communication and Visibility
Though many online courses may be asynchronous, it doesn't mean that the instructor is hidden away behind an email address, out of sight and out of mind of their students. This means instead that instructors should be more intentional about their communication efforts with students and make themselves visible in the course in as many ways possible.
You may have heard of the "Rule of 7," which is a business marketing strategy that suggests that a person must interact with a brand seven times before making a purchase. This rule can be adapted for our use as online instructors to mean that a student must hear or see a message seven times in order to retain it. Presenting material to students in different ways, like recorded lectures, readings, outside resources, weekly emails, etc., gives you (and the course content) recurring opportunities to be more visible to your students.
How can you be more visible to your students and improve communication with them? Here are five practices you may find useful.
Module 0/Course Introduction
Have you ever taught a course in which students still don't know your name halfway through the semester? To combat the impersonal aspects of the online environment, make yourself as visible as possible at the beginning of the semester through a combination of the following ideas:
Prepare a short but informative instructor bio on the Syllabus/Getting Started page on Canvas. Include your academic background and also some personal information (if you're willing). Add a headshot and maybe a few pictures of your interests. For example, pictures of my English Bulldog are always a hit for students. Students might not remember my face from the bio, but they remember his!
Record a course introduction video (5 minutes or less!) to familiarize your students with the course goals and layout. Be sure to include any tips for success in your class.
Implement an Introductions discussion board in which students (and you) introduce themselves. Change it up a bit from the traditional written text and ask students to include video or photos of their interests. My photos, for example, always include a soccer ball, a quilt that I've made, and my pup!
Weekly Communication
Stay in touch with students weekly. Though you may have the course due dates laid out in Canvas, remind students every week what they will be doing in your class. This can be done through email or Canvas Announcements (so that you can pin them at the top of the Canvas homepage). What to include? Consider the following:
A visual to grab the students' attention like a meme or joke related to the subject content
Schedule for the week including due dates and time
Important reminders about upcoming semester deadlines
Collective feedback on the previous module/unit/week's work
Encouragement related to upcoming coursework and course progress
Virtual Communication
There are many ways to communicate with students during the semester. Check out the following ideas from the Fall 2019 E-Campus Working Group on Instructor Presence:
Schedule virtual office hours via one of Miami's supported platforms such as WebEx, Zoom, or Google Meet. Remind students in the weekly email or announcement of the hours each week and be consistent in logging on.
Let students know that you are open to scheduled virtual meetings or phone calls. If you'd like to protect your personal cell number, set up a Google Voice number which allows students to call your phone but through a different number.
Create a discussion board for general course questions or use a phone app such as Slack.
Personalization
As one of the students in the survey from the second article in this series mentioned, she thought that she didn't have an opportunity to get to know her instructors on a personal level in her previous online courses. Be open to sharing personal experiences in your field. We often share them in face-to-face courses, so why not online? For example, students in my Spanish courses enjoy hearing about the definition of a tuna (not a fish!) and burning the "old man" at midnight on New Year's Eve in Mexico.
Video Recordings
For some of us, standing in front of a large group of students is not difficult, but staring into the webcam and talking makes us nervous. With practice, you'll be as comfortable as you are in the classroom. Consider these ideas:
Be more visible by recording lectures for your students that they can pause for note-taking and watch multiple times.
Record overview videos so that students can see and hear your excitement for the upcoming module.
Make summary videos at the end of a module or video study guides before an assessment.
Conclusion
After reading through the suggestions, you may feel overwhelmed at the thought of implementing them all into a course. Our suggestion is to pick one and start from there, building your visibility and communication plan over the course of a few semesters. The fourth part of this series will focus on pre-course planning that will improve your instructor presence all semester long!