Miami University Regionals officially opens Nursing Innovation Hub
On Friday, May 6 Miami University Regionals officially dedicated its new $10 million Nursing Innovation Hub.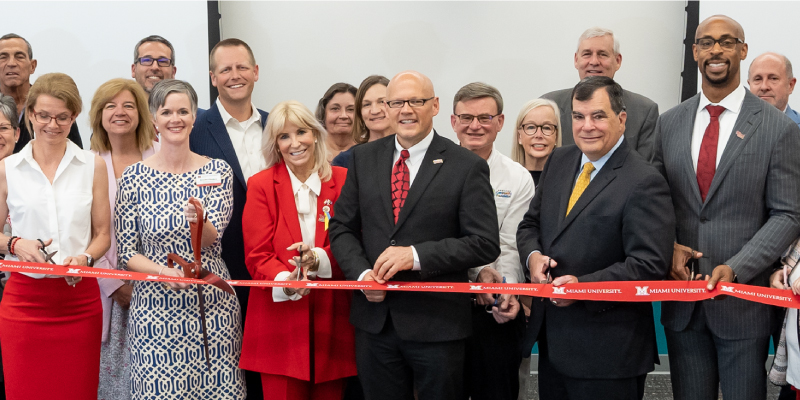 Miami University Regionals officially opens Nursing Innovation Hub
A space that was once "steel beams, studs, and possibility" became reality on Friday, May 6, when Miami University Regionals officially dedicated its new $10 million Nursing Innovation Hub.
"This dream-turned-reality," said Ande Durojaiye, dean and vice president for Miami University Regionals, "is a testament to what can happen when people persist in the pursuit of excellence."
Located on the Hamilton campus, the hub features four fully wired, high-technology classrooms; seven high-fidelity simulation labs; a multi-bed skilled nursing area; and numerous student lounges, conference spaces, and staff offices.
Calling the occasion momentous, Miami University President Gregory Crawford said the words love and honor matter especially on a day like this.
"Love and honor speak to who these students are today and who they aspire to be. This is the type of student we are graduating into this profession," Crawford said. "And I believe everyone here would all agree that, now more than ever, this is the type of graduate we want to see in our hospitals; a person of compassion, moral character, and a commitment to be their very best professionally."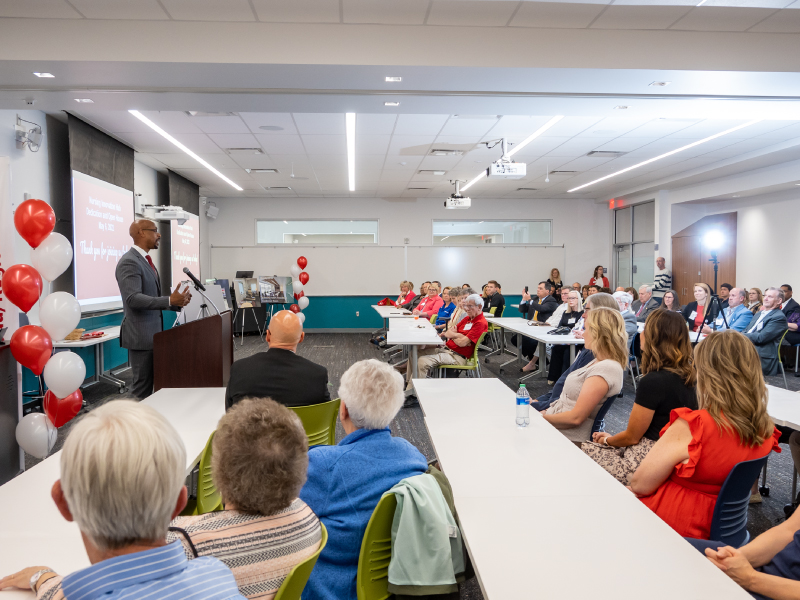 In addition to supporting the Department of Nursing's annual stethoscope ceremony, Kettering Health Hamilton opted to support the Intensive Care Simulation Lab with a naming gift.
"We have partnered with Miami University for a number of years, and their graduates are first and foremost some of the most talented and passionate nurses," said Paul Hoover, president of Kettering Health Hamilton. "To be able to further equip them with the most advanced technology, training, and simulation, we think puts the icing on the cake.
"The pandemic that we experienced brought front and center the care that is needed," Hoover added. "And Miami University is stepping up and rising to the challenge by providing a great educational experience and equipping the leaders of tomorrow."
Neil Cohen '80, of Cohen Recycling, decided to continue his family's philanthropic support of Miami University and the community by naming the Mary Jean Cohen Student Study Area in honor of his mother.
"My mother was a nurse, and she felt very strongly about her education and her ability to get through her time in nursing school when she was young, poor, and didn't really have anything but her passion to do the job," Cohen said. "She often talked to us about that. She passed several years ago, so when (former Miami University Regionals Dean) Cathy Bishop-Clark came to us, it seemed like a perfect fit for our family. The fact that we have this incredible space doing these incredible things means that the nurses will be much more highly trained and can hit the ground running when they enter the workforce."
Another loyal supporter of Miami Regionals – the Hamilton Community Foundation – made a gift that resulted in the naming of the Home Health Apartment Simulation Lab.
"The Hamilton Community Foundation has collaborated with Miami University on numerous projects over the years and we are very pleased and proud to be part of this vital community project," Foundation President and CEO John Guidugli said. "The Nursing Innovation Hub addresses important community needs by providing superior educational opportunities for local students and then providing excellent nurses to help care for our community."
One of the most popular programs on the Regional campuses, nursing has seen a record-number of applications for the fall class, with Oxford receiving 1,600, half of which are from out of state. Brooke Flinders, chair and associate professor of the Department of Nursing, said more than 500 students are currently enrolled in various stages of the degree program.
"Brooke is an incredible leader, and she inspires us," said Assistant Professor Nursing Sara Arter, who along with her husband named the Dr. Sara and Mr. Brent Arter Debriefing and Conference Room.
"It's not an easy path, but it's the most rewarding path they can take," Arter said. "Nurses are the ones that are with patients 24-7. Not only do you get to use the technology and be innovative in your job, but you get to be the compassionate caretaker and learn so much from the patient. Thanks to the generosity of our donors and Miami investing money in this, we were able to get top of the line training equipment."