History of the Casper Lecture Series
About the Casper Family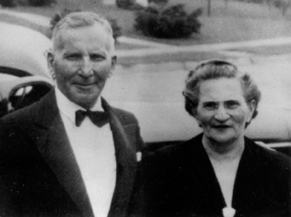 The Alex and Lena Casper Memorial Lectures on Social Issues and Current Events were endowed by the late Isidor Casper, a prominent Middletown attorney, to honor the memory of his parents (pictured left.)
Writing about the lectures at the time of their inception, Isidor quoted President James Madison: "Knowledge will forever govern ignorance, and a people who mean to be their own governors must arm themselves with the powers which knowledge gives."
Alex and Lena Casper, Isidor's parents, both came from Suwlaki, Poland, but did not meet until they lived in Cincinnati. They married there, then moved to Chicago where their sons Isidor and Jack were born. Shortly thereafter they moved to Middletown, Ohio, where they opened their first store. Business hours were from early morning to late at night, and the family lived either behind or above the store, which was open seven days a week. Though they had no formal education, they shared a thirst for knowledge that was celebrated in their sons' accomplishments with each graduation, from grade school through law school.
Writing in tribute to his parents, Isidor noted "We never met the difficulties and challenges they did, and, we know that whatever we have in the form of home and meaningful life, we owe to them, and we have not taken it for granted. That is why it is a duty and a pleasure to arrange in their memory this lecture series."
About Isidor Casper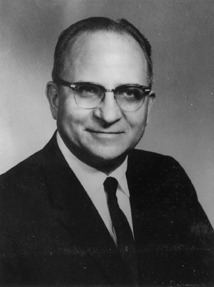 Isidor Casper (left) was born in Chicago, and moved to Middletown when he was four. A 1932 graduate of Miami University, he received his law degree with honors from the University of Cincinnati in 1937, where he obtained the Order of the Coif and served as an editor of the UC Law Review.
Active throughout his life in his community, Isidor was the founder and charter member of the Middletown Junior Chamber of Commerce, served as director of the Middletown Senior Chamber of Commerce, trustee and secretary of the Middletown Public Library, trustee of the Middletown Historical Society, president of the Middletown Council on World Affairs and Butler County Torch Club, and the first governor of the Royal Order of the Moose, Chapter 501. In his professional life he served as president of the Butler County Bar Association, and in various leadership roles under the Ohio State Bar Association.
A member of Temple Beth Sholom in Middletown, he served as president of B'nai B'rith, chaired on several occasions the Bonds for Israel drive and United Jewish Appeal, and was the first person to receive the Man of the Year award from the Butler County Bonds for Israel. He was also the author of the booklet "History of Jews in Middletown."
In serving Miami University, Isidor was a member of the President's Club of his alma mater, served on the board of directors of its Alumni Association, and in 1981 received the Bishop Medal from the Miami University Alumni Association for his service to the university and community. At the time of his passing in 1981, Miami President Emeritus Phillip R. Shriver described Isidor as a "civic-minded humanitarian who has sought to bring understanding and knowledge to his community."
In 1938 he married Helen Ruth (Dolly) Frieman, a fellow student at the University of Cincinnati, who passed away in January 2007. Together they had two sons, Arthur Brandeis and Sheldon Robert. Both sons became attorneys and joined the Casper & Casper Law Firm that Isidor founded with his brother, Jack.
The Casper Family has remained actively involved in supporting the lecture series as well as the Isidor A. Casper Scholarship at Miami University Middletown.