Commencement Weekend Catering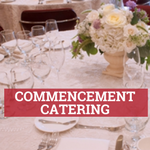 Catering Options for your Commencement Celebration
Apr 24, 2018
Attention parents of Spring 2018 graduates! Are you still looking for catering during commencement weekend? If so, Miami Catering has a few options for you to choose from.
If you are hosting a get-together right here in Oxford and want the party delivered straight to you, Miami Catering will do just that. You can order one of our four delicious buffets to be delivered to your child's house, or apartment in Oxford. Buffets can accommodate for groups as small as 15 and as large as 50! The best part is that everything is disposable, so there is no need to worry about sending anything back! Visit the Commencement Meal Options page and use the code "gradtogo2018" when registering.
Looking for an even easier catering option? The Marcum Hotel & Conference Center is offering two different commencement buffets. The first is a dinner buffet on Saturday, May 19th from 4:00-6:00 pm and the second is a brunch buffet on Sunday, May 20th from 10:30 am-12:30 pm.  Enjoy a beautiful dining experience with china and linens. Register online for a table reservation now! For more information visit the Commencement Meal Options page and use the code "gradbuffet2018" when registering.