Miami Tribe Leaders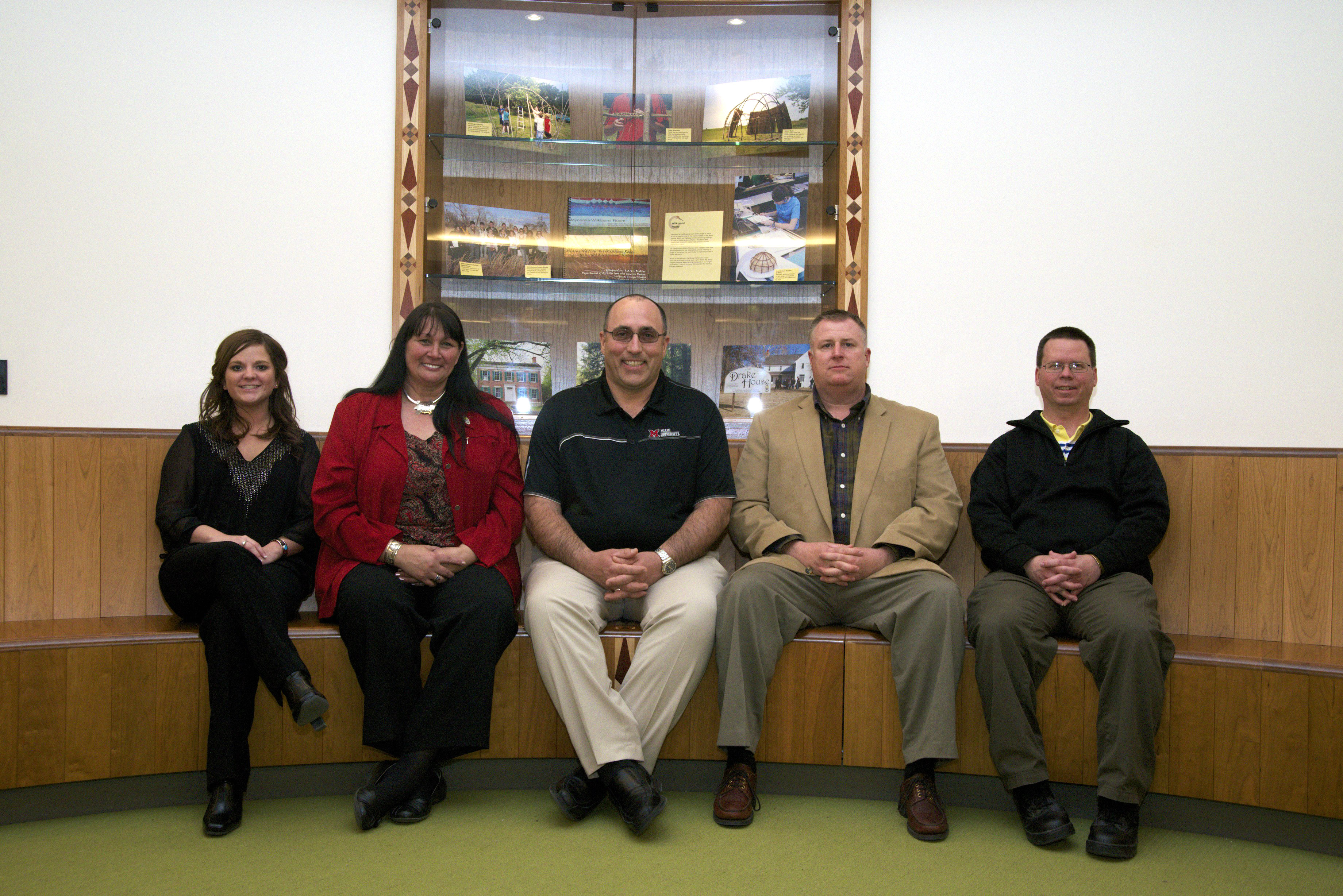 The Miami Tribe of Oklahoma has five elected leadership positions (Chief, Second Chief, Secretary/Treasurer, First Councilperson and Second Councilperson) and these elected officials comprise the Tribe's Business Committee. These positions serve three-year rotating terms and together oversee the day-to-day services, programs, and business ventures of the Miami Tribe. In March 2014 the five members of the Business Committee, pictured above, visited the Smucker Wiikiaami Room located on the 2nd floor of the Armstrong Student Center.
The Miami Tribe constitution determines that Tribal elections occur at the annual meeting in June. All attending Tribal members, eighteen years of age and older, may vote in the elections. The Miami Tribe of Oklahoma is a federally recognized sovereign nation as defined by the Department of Interior. The more than 560 federally recognized American Indian nations maintain a nation-to-nation relationship with the United States as determined in Article I, Section 8 of the US Constitution which gave Congress the power to regulate commerce with the Indian Tribes, as well as with the states and with foreign nations. So from the beginning of the US government, there has been recognition of the inherent rights of tribes as self-governing entities. That continues to this day and often necessitates that Miami Tribe leaders travel to Washington DC to represent their community directly.
All elected officials of the Miami Tribe are servant leaders whose primary responsibility is to see to the needs of the nation. The Chief serves as chair of the Business Committee, presides over meetings, and as needed, represents the Miami community to many outside constituencies. Miami University has been fortunate to know personally and work successfully with several Miami Tribe chiefs.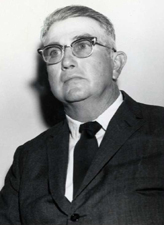 Chief Forest Olds
Forest D. Olds served in many leadership roles with the Miami Tribe. After serving as Second Chief under Chief Harley Palmer for fifteen years, Olds was elected Chief in September of 1963. He served as Chief of the Miami Tribe for eleven years, until his death in August 1974.
Chief Olds is responsible for laying the groundwork in establishing a relationship between the Miami Tribe and Miami University. While on a business trip to Cincinnati in 1972, he made an unexpected visit to Miami University. His second trip to Miami University was in response to an invitation to attend Miami's Alumni Weekend in June 1974. Chief Olds died shortly after that visit and, as prescribed by the bylaws of the Miami Tribe Constitution, he was succeeded by Second Chief Floyd Leonard.
Chief Floyd Leonard
Chief Leonard's tribal leadership included Business Committee councilperson from 1952-1963, Second Chief under Chief Forest Olds from 1963-1974, Chief from 1974-1982 (he stepped down for health reasons), and returned as Chief from 1989 until his death in 2008. 
Chief Leonard began his professional career in 1950, teaching in a one-room schoolhouse, and retired in 1986 as assistant superintendent of schools in Joplin, Missouri. Chief Leonard's intense commitment to educating young people fueled his interest in Miami University and deepened the connection that had started with Chief Olds.
He made his first trip to campus in 1975, and in the years following he was available or assisted in planning programs on many occasions to educate Miami students, faculty and staff about the history and contemporary operations of the Miami Tribe. He was an invited speaker at three Miami University presidential inaugurations.
Chief Leonard worked diligently encouraging Myaamia young adults to consider Miami University as an option for their college education. He was very pleased and proud when the first students arrived in 1991.
The Partners in Learning relationship evolved strongly under Chief Leonard's leadership, and in 2001 the Tribe and University together created the Myaamia Project, which transitioned to the Myaamia Center in 2013. The Center is charged with advancing the Tribe's language and cultural revitalization efforts through research and education. 
Over a span of more than three decades, Floyd Leonard's presence was a powerful, positive force in forming the trusting and respectful relationship that exists between the Miami Tribe of Oklahoma and Miami University.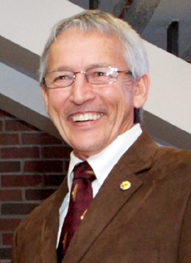 Chief Thomas Gamble
Thomas Gamble began his tribal leadership as a member of the Miami Tribe of Oklahoma Business Development Authority when it was created in 1998. His first elected position came in 2001 when he became Second Chief, serving with Chief Floyd Leonard. As prescribed by the bylaws of the Miami Tribe Constitution, when Floyd Leonard died in 2008, Second Chief Gamble succeeded him as Chief and finished out Chief Leonard's term of office. He was then elected Chief at the annual General Council meeting in June, 2010 and served until June 2013.
Chief Gamble's attachment to Miami University grew steadily over his years of service with the Miami Nation. Continuing the legacy of Chiefs Olds and Leonard, he devoted significant time and effort to make the long trip to Oxford for invited occasions and campus programs. He was a platform speaker for Miami University's bicentennial celebration in February 2009 and came to Oxford as a special campus guest during the visit of the Dalai Lama in 2010.
Chief Douglas Lankford
Douglas Lankford's leadership with the Miami Tribe includes serving as Second Chief from June 2008 to June 2013, when he was elected Chief. He visits Miami University on numerous occasions and continues the long-standing commitment that the Miami Tribe has to the Myaamia Center and the relationship with Miami University.
Chief Lankford also was a special campus guest during the visit of the Dalai Lama in 2010. He has spoken to classes and especially enjoys attending Miami football and hockey games while on campus. While testifying before a Congressional committee in Washington DC, he had an unexpected meeting with Miami University students who were on a Spring Break trip there. He was very gracious in welcoming and spending time with two J-term nursing classes who spent a week in Miami, OK in January 2014 and January 2015.