Student Connections
Report It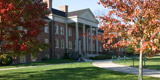 Hate Crime
If you believe you're the victim of a hate crime, you should report it to the appropriate campus security authorities.
Sexual Assault
Students who have experienced sexual misconduct or assault can use this resource to find help and learn about Miami's strategies for prevention.
Harassment/Discrimination
The Office of Equity and Equal Opportunity (OEEO) works to investigate and resolve issues through formal and informal resolution procedures.
Bias Incidents
If you believe you're the victim of a bias-related incident, email biasreporting@miamioh.edu or visit the Bias Incident Reporting site to report it and take advantage of available resources.
EthicsPoint
This program provides a confidential and anonymous method for reporting illegal or unethical conduct that violates Miami's policies.
Office of Diversity Affairs (ODA)
Located within the Division of Student Affairs, the Office of Diversity Affairs offers direct support to diverse student populations through multicultural programming that centers on academic, professional, and social development.
Diversity Affairs Council (DAC)
The Diversity Affairs Council, one of nine councils under the Associated Student Government (ASG), helps promote cultural and intellectual diversity on campus through programming efforts and activities of student groups and administrative offices.
Student Disability Services (SDS)
SDS provides a number of support services and reasonable accommodations to qualified students with physical, medical, psychological, and learning disabilities on the Oxford campus.
Center for American & World Cultures (CAWC)
Implementing programs and activities that celebrate the richness of diversity, the CAWC works to create a richer educational experience for students and to foster the value of continuous learning about cultures and diverse ideas.
Confucius Institute
Serving as a platform to internationalize current and future Miami students, the Confucius Institute uses such efforts as their host outreach program to expand the Chinese language and Miami's cultural offerings.
Women's Center
Offering programs and resources that enhance the lives of women at Miami, the Women's Center works to educate the campus about equity and climate issues and the contributions of women and advocates for women's full access to and participation in the institution.
One Stop
One Stop provides essential information, answers questions, counsels, & provides problem resolution for current/former students, parents/families, alumni, & the broader university community in the areas of registration, enrollment, financial aid, student records, billing, & payment.
Student Organizations
A number of student organizations represent diversity on Miami's campus. For a complete list of student organizations, visit The Hub's Organizations Directory..
The following list offers a sample of what you will find on The Hub: