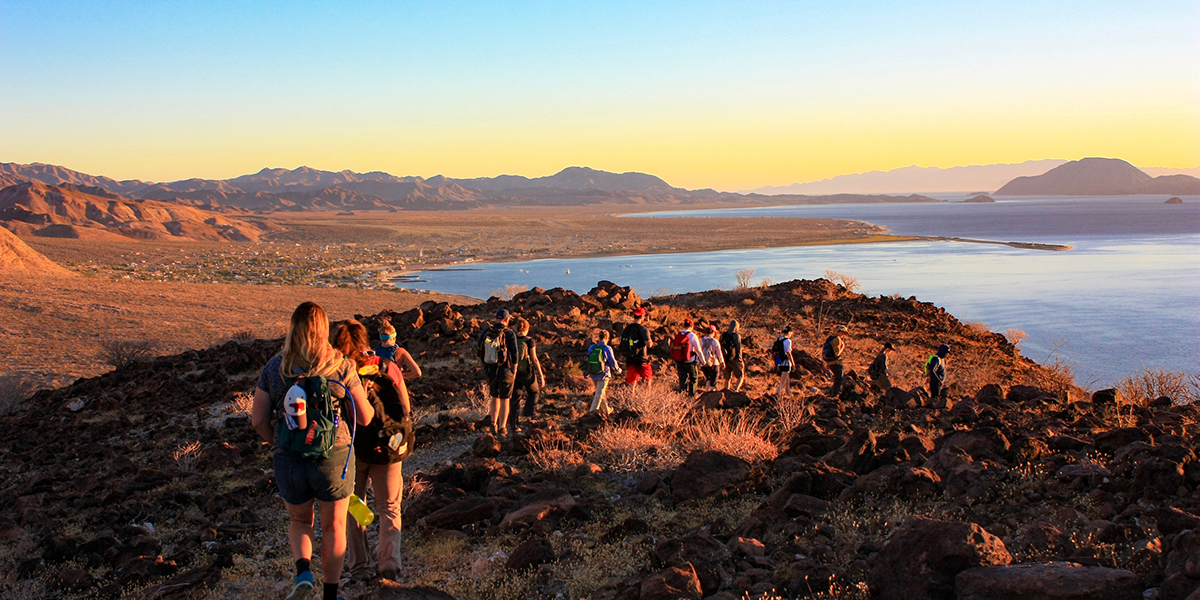 Transformational Learning Without Boundaries
Life-changing, community-impacting education doesn't stop at the classroom door or even at the edge of campus. It reaches across disciplines, borders, and cultures to inspire creativity, drive innovation, and build meaningful relationships. At Global Initiatives, we work to cultivate respect, inclusiveness, and cultural competence by providing global educational opportunities.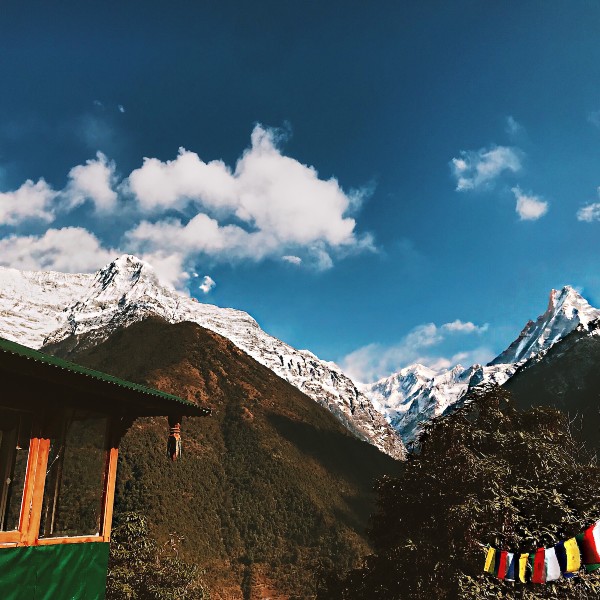 As a Miami student, you'll have access to hundreds of global experiences that enable you to earn academic credit. Select a program that will add even greater value to your Miami degree.
Quick Links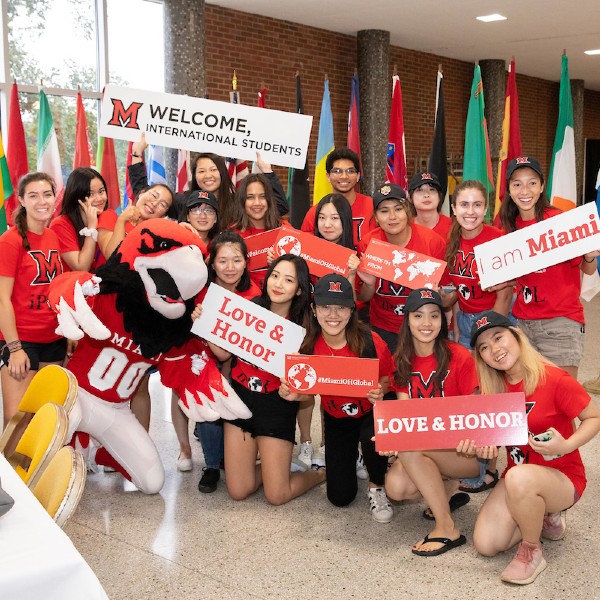 As an institution that values a diversity of people, ideas, and experiences, Miami leads with a Code of Love and Honor. From visa and immigration advising to orientation and transition services, the ISSS team is committed to every effort needed to support the many international students and scholars who call Miami home.
Quick Links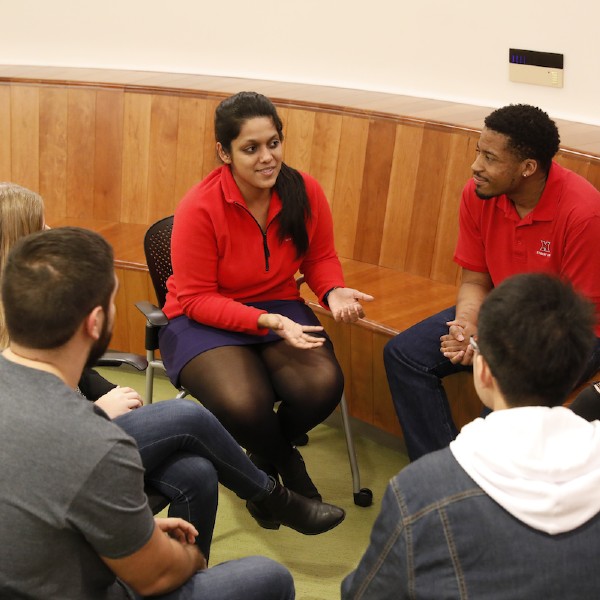 Specialized courses through the Center for American and World Cultures introduce you to cultural skills, promote the intergroup dialogue model of peer learning, and create an environment where you'll learn to understand the diversity found on campus and in the world into which you'll graduate.
Quick Links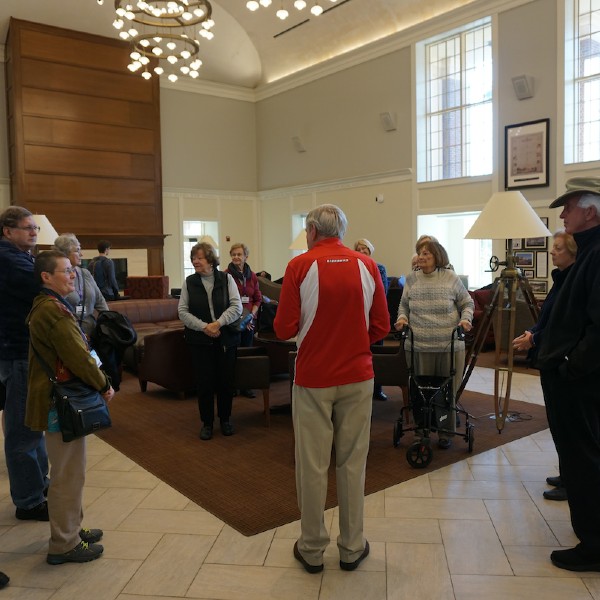 Miami is one of only 70 universities worldwide to earn the Age-Friendly University (AFU) distinction! Learners of all ages are served beyond the traditional Miami classroom experience. Through our premier, non-credit programs like the Institute for Learning in Retirement, ed2go, and the Global Partner Summer School, 
in addition to our globally offered credit workshops
, our Continuing Education program administers a wide range of educational experiences.
Quick Links
Miami University ... in the Heart of Europe
Centrally located in Western Europe, the Miami University Dolibois European Center (MUDEC) offers a unique, immersive experience for Miami students interested in studying abroad. With five other European countries accessible 
within a three-hour train ride
from our Luxembourg campus, cultural exploration is simple.
All courses taught at MUDEC can apply to Miami degree requirements. W
ith tuition and fees comparable to Miami's Oxford campus, our on-site staff and faculty are well-suited to create a nearly seamless international experience. Regular Miami scholarships and financial aid automatically apply, and students can apply for additional funding opportunities provided by generous alumni.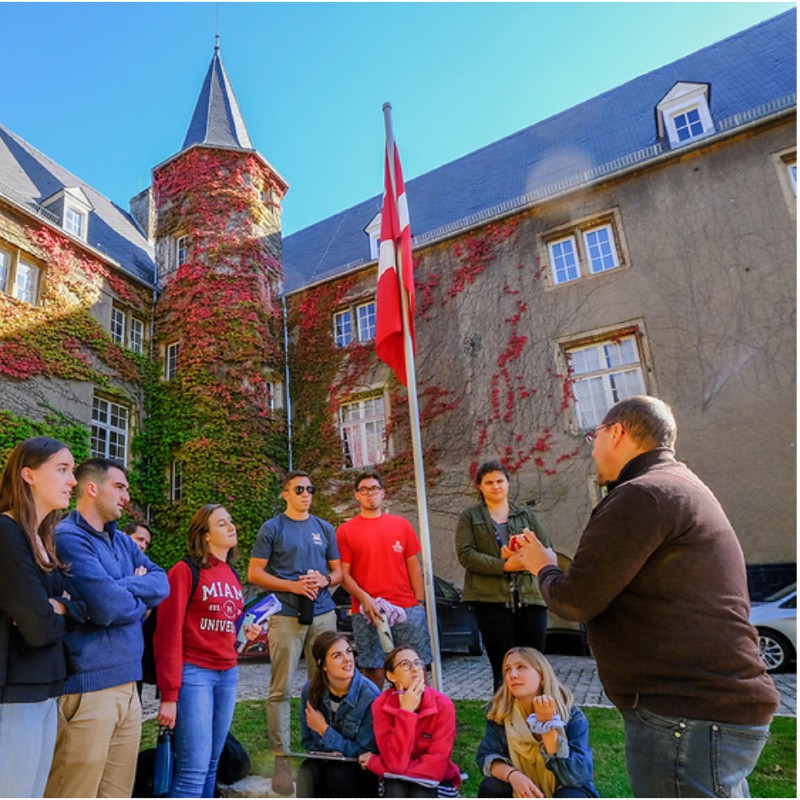 One Miami. Global Reach.
11K
students have studied at the Miami University Dolibois European Campus in Luxembourg
65+
countries represented by more than 1800 international students and 20 visiting scholars
10
Miami students earned Fulbright grants in 2020, earning the school a "Top Producing Institution" designation
Fulbright at Miami University
Founded in 1946, the Fulbright Program is the premier international exchange program of the U.S. Department of State Bureau of Educational and Cultural Affairs. By funding graduate study, teaching, and research in more than 140 countries, Fulbright promotes intercultural understanding through citizen exchange.
Every year, more than two dozen Miami students are among the 10,000+ applicants, typically for English Teaching Assistant (ETA) grants or to pursue specific research opportunities. Over the past 15 years, more than 100 Miami students and faculty have been awarded Fulbright grants.
Our Students Experience Miami's Global Presence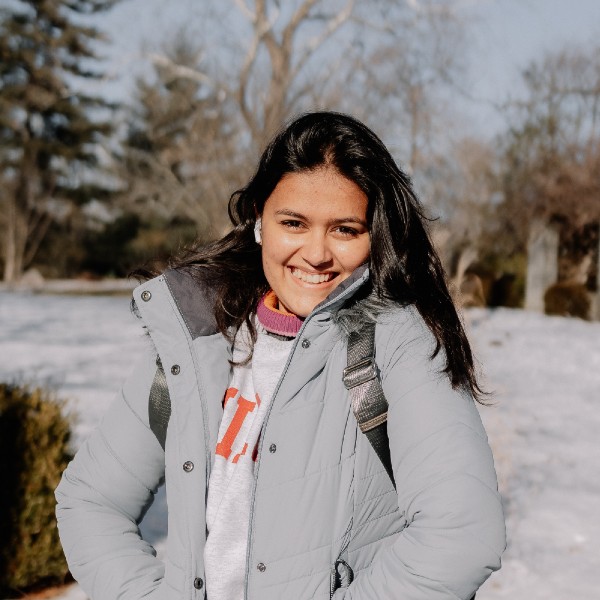 Sakshi Shah
I'm a junior studying Computer Science and I'm from Indore, India. Orientation was one of the most memorable times for me at Miami.
I try to be highly involved on campus and would recommend every student to do the same; take your time to settle into a new environment and then make wise use of the resources that Miami provides you.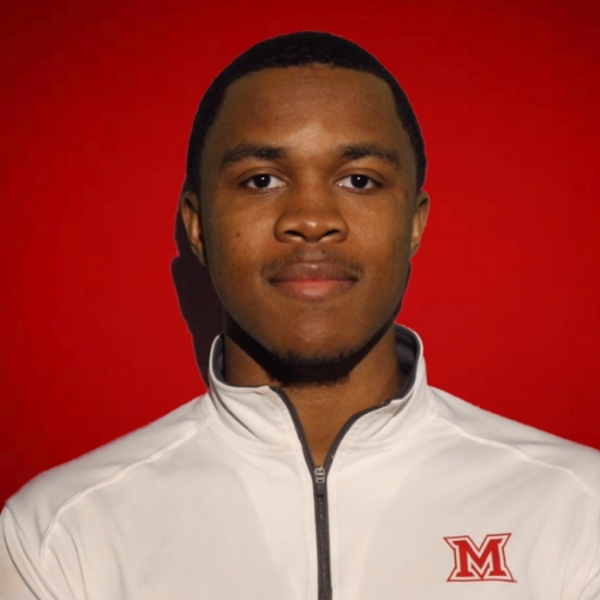 Miles White-Young
While in Madrid, Myles experienced engineering on a global scale and was able to see how they apply concepts differently in Spain than in the United States, particularly relating to thermodynamics and fluid mechanics.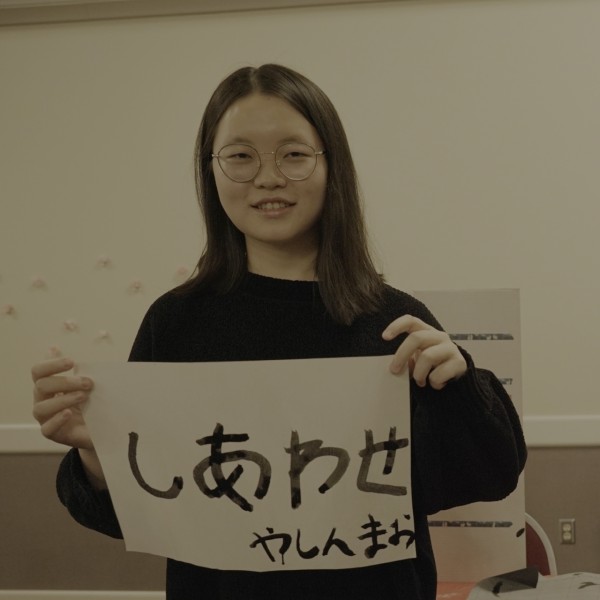 Yaxin Mao
I am a sophomore majoring in Psychology with a minor in Film Studies from Lanzhou, China. I am enthusiastic about video production, and I have been helping the university to create videos for different purposes in the past year. Preserving my stories and memories via these audiovisual archives helps me cope with stress and stay inspired.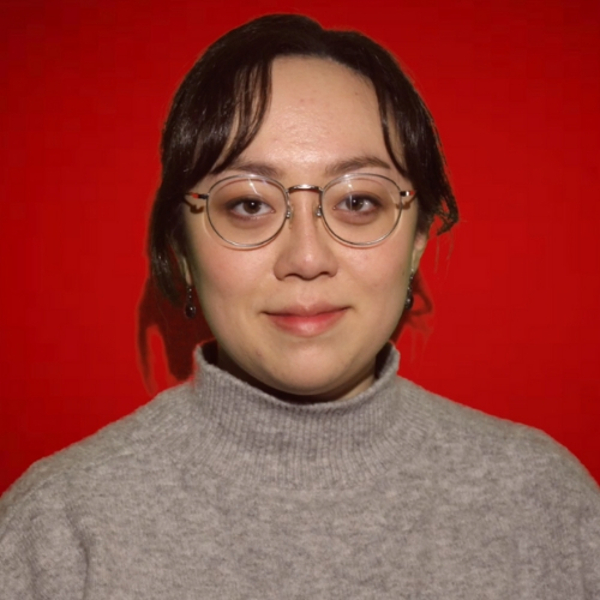 Sarah Berg
"One of my biggest takeaways is that it's really okay to do things on your own; in fact, sometimes it's better off that way as you're completely in control," Sarah said. "It's okay to sort of explore by yourself, to be alone by yourself, to go do things that you want to do without really being dependent on anyone else. I think it's really important especially when traveling to be able to sort of be comfortable being independent."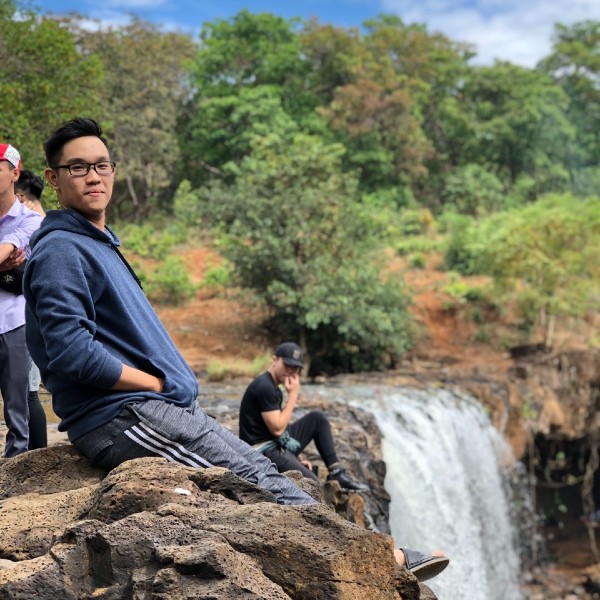 Nghia (Martin) Le
I'm from Ho Chi Minh City, Vietnam, and a sophomore majoring in Education Studies. I'm a pledge of Miami's Alpha Phi Omega chapter - Zeta Delta, a service fraternity that fosters leadership through community service. My best advice for you is to never be afraid to ask for help and build a solid support system including friends, faculty, and even staff members.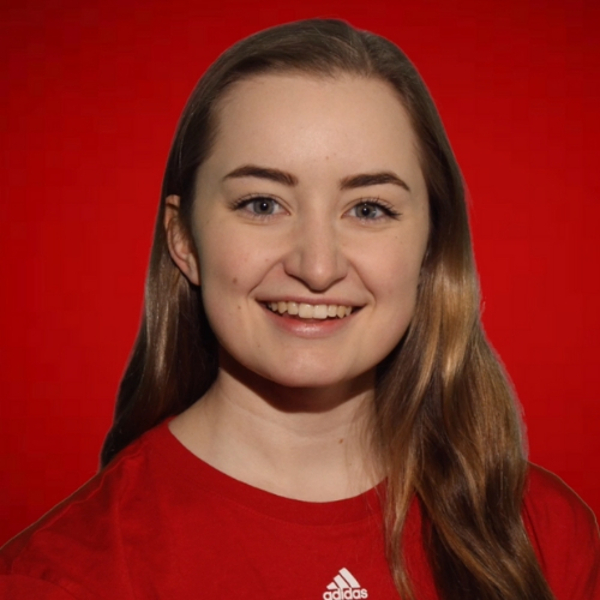 Emily Tatum
As an international studies and political science major interested in foreign policy, studying abroad gave Emily to learn about Latin America and its politics at a greater depth.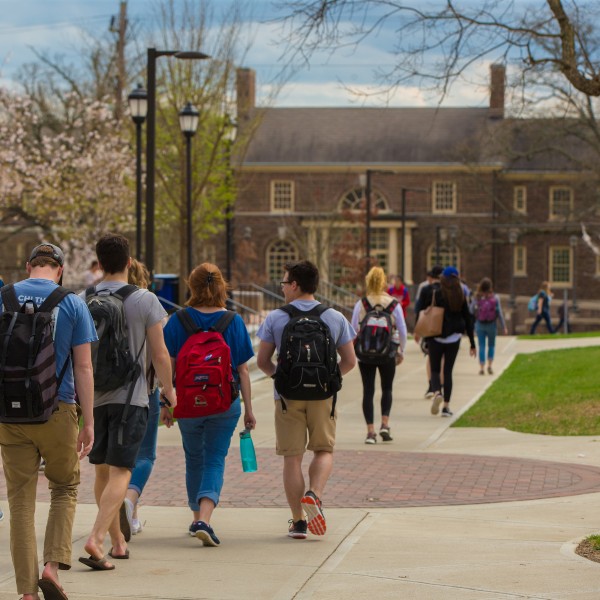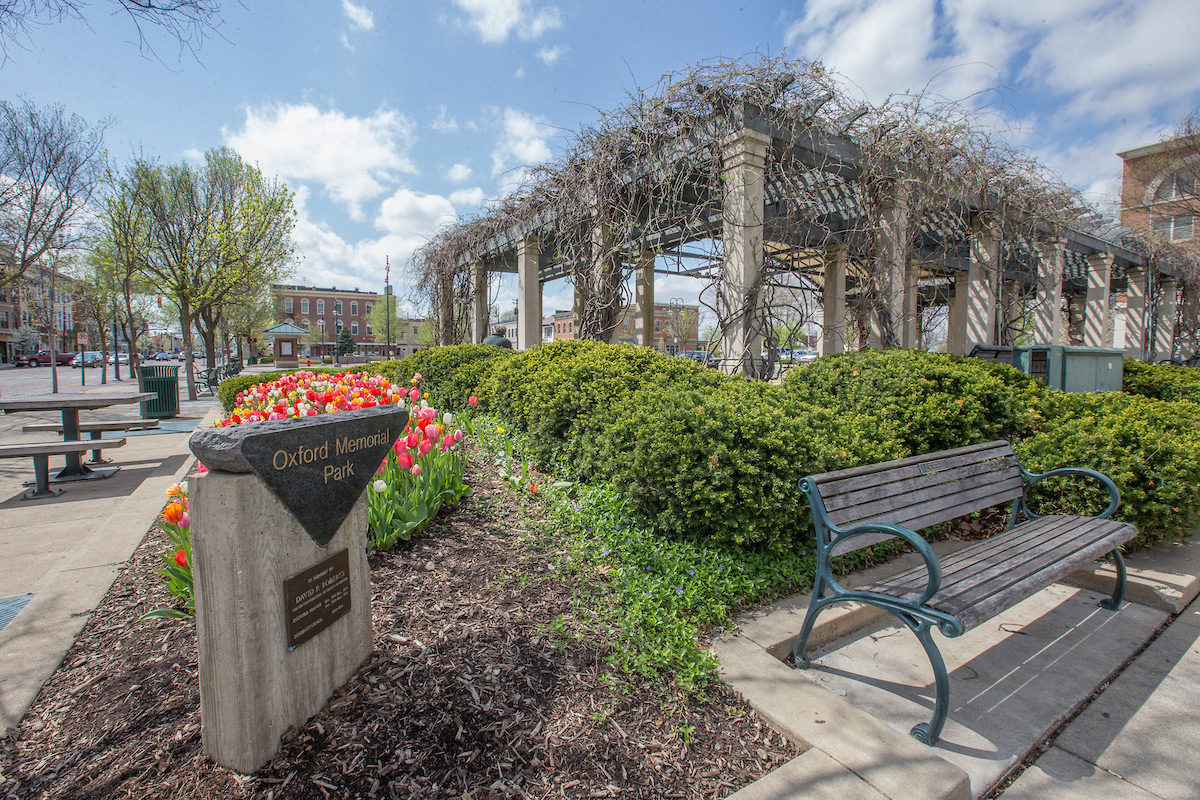 Visit
There's a lot to say about one of America's most beautiful campuses. Find out why so many choose Miami for their most memorable years.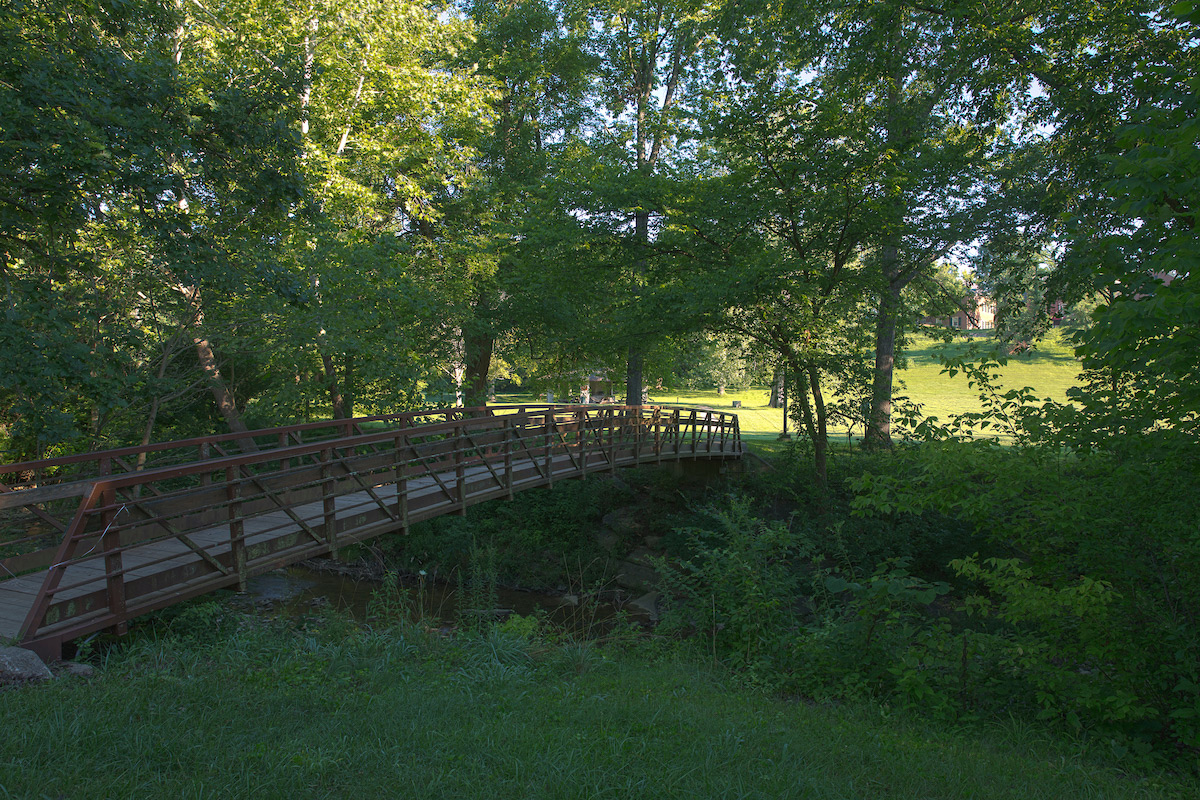 Apply
The big question is, "Where will you go after college?" With a degree from Miami University, the answer is, "Wherever you want."