Biography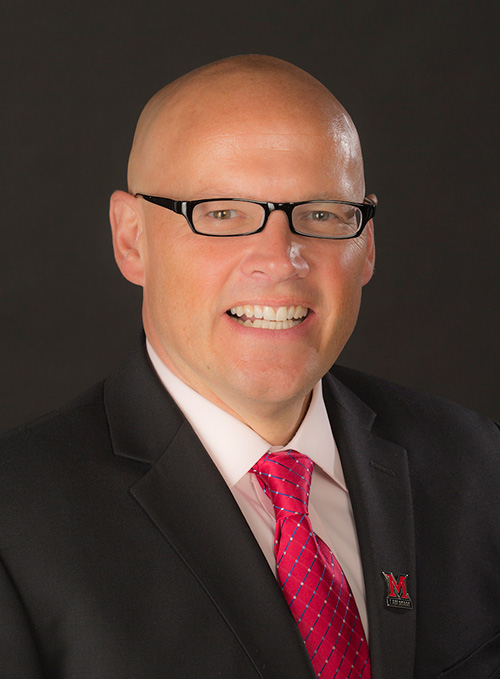 Gregory Crawford is a native of Elyria, Ohio. Before beginning as Miami University's 22nd president July 1, 2016, he was vice president and associate provost at University of Notre Dame, where he led that school's efforts to develop a presence in California. He worked to expand career services, internships, and employment opportunities for Notre Dame undergraduates, recruiting students, enhancing fundraising, and establishing California- based courses and programs.
Dr. Crawford joined Notre Dame's faculty in 2008, serving as the William K. Warren Foundation Dean of the College of Science. As dean, he oversaw the founding of the department of applied and computational mathematics and statistics, the recruitment of more than 60 faculty and the planning and fundraising for significant new ventures such as the Warren Family Research Center for Drug Discovery and Development.
Dr. Crawford previously served as the dean of engineering at Brown University, where he had joined the physics and engineering faculty in 1996.
He earned bachelor's (mathematics and physics), master's (physics), and doctorate (chemical physics) degrees from Kent State University. Dr. Crawford completed two postdoctoral fellowships and was a researcher at the Xerox Palo Alto Research Center before joining the faculty at Brown. An entrepreneur, he applies his research background in optics, photonics, and soft matter materials to address areas related to human health, e.g., the analysis and dating of bruises, which are often key pieces of evidence in child abuse cases. His work includes more than 400 research and education publications, review articles, and book chapters, and 21 U.S. patents and patent applications.
President Crawford is an advocate of inclusive excellence, openness, and shared governance.
He and Dr. Renate Crawford, also a physicist, bicycled across the country to raise awareness and funds for research on Niemann-Pick Type C Disease, a rare and deadly neurodegenerative disease. He has completed five "Road to Discovery" rides, expanding fundraising to include other illnesses being studied at Notre Dame. His efforts raised about $2 million dollars for research and clinical trials.
Selected Publications
"Band Structures of Orientational Modes in Quasi-Periodic Mesoscale Liquid Crystal-Polymer Dispersions," Physical Review Letters 98 173901 (2007), M. Avsec, I. Drevensek-Olenik, A. Mertelj, S. P. Gorkhali, G. P. Crawford, and M. Copic.
"Liquid Crystal Materials Find a New order in Biomedical Applications," Nature Materials 6, 929 (2007), S. J. Woltman, G. D. Jay, and G. P. Crawford.
"Noninvasive Optical, Electrical, and Acoustic Methods of Total Hemoglobin Determination," Clinical Chemistry 54, 264 (2008), J.W. McMurdy, G.D. Jay, S. Suner, and G. P. Crawford.
"A Drug Screening Platform Based on the Contractility of Tissue Engineered Muscle," Muscle and Nerve 37, 438 (2008), H. Vandenburgh, J. Shansky, F./ Benesch-Lee, V. Barbata, J. Reid, L. Thorrez, R. Valentini, and G. P. Crawford.