Ashley Hornsby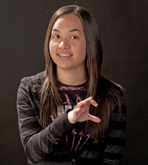 Ashley Hornsby
Bachelor of Science in Education, 2012
Chinese Education/East Asian Studies
What's the best thing about Miami?
Miami has everything you need. There are plenty of job opportunities and areas of study. This makes things very convenient for the students.
What are your goals after you graduate?
I want to get a teaching job. I hope to teach middle school, but I'm open to anything. After working for two to three years, I want to go back to get my master's degree. I would love to end up in China or South Korea for a year to teach English or Chinese.
How has Miami helped you afford college?
Without my financial aid, I don't think all the things I have done thus far would be possible. I have been able to study abroad, which is a once-in-a-lifetime opportunity. I am proud to say that I will be the first in my family to graduate from college.