Meghan Ames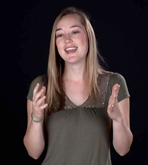 Meghan Ames
Bachelor of Science in Kinesiology and Health, 2010
Dietetics/Women's Studies
What's the best thing about Miami?
The best thing about Miami is the quintessential college experience it allowed me. The school provided me with an array of opportunities from which I could build meaningful friendships, receive a top-notch education, and participate in some of those classic college experiences.
What are your goals after you graduate?
Next year I will be attending Johns Hopkins to pursue my master in health science in human nutrition and registered dietitian credentials. My career goals are to work in the field of health promotion, possibly in a corporate wellness setting or even a rehabilitation center.
How has Miami helped you afford college?
When applying to graduate schools this past fall, I had no idea how I was going to begin to finance such an expense. I was fortunate in my undergrad years to receive a variety of merit-based scholarships from Miami, but none of the graduate programs I applied to offered such aid or assistantships. Nervous about taking on this huge task myself, I scheduled an appointment with a financial aid adviser to figure out what my next step would be. She researched some of the aid application processes for the programs to which I was applying and laid out a plan for me. She explained the different types of federal and private aid and helped me to understand the criteria and benefits of each. I left my advising meeting with a step-by-step plan for financing grad school and felt 100% better!