Ted Robertson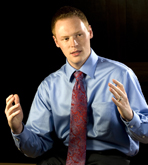 Ted Robertson
Master of Business Administration, 2011
Finance
What's the best thing about Miami?
The best thing about Miami is the people. The instructors are very knowledgeable and interested in your success, and the students are friendly, dedicated, and insightful.
What are your goals after you graduate?
Short term, I am hoping the education I gain from Miami will give me knowledge to better serve my clients. In the long term, I am looking to leverage the educational experience in further broadening my career options.
As a veteran, how has Miami worked with you to make your studies affordable?
Miami's staff has truly gone out of their way to work with me in paying for my education. As a veteran, I am lucky to be able to use the Montgomery GI Bill. Recent legislation has changed the GI Bill and Miami's staff is very knowledgeable on these changes. They provided guidance to me in what requirements needed to be met on my behalf and where to turn for difficult questions. They have been more than accommodating in all aspects of the payment process.