About the College
As the centerpiece of Miami's liberal arts curriculum, the College of Arts and Science (CAS) is where over 75% of all Miami students complete their liberal arts requirements and electives. The CAS offers a broad and diverse spectrum of more than 60 majors, as well as numerous co-majors and minors, from American Studies to Zoology.
For the many students who come to Miami without choosing a major, the CAS is their initial "home," allowing them to take courses and explore majors across the CAS and beyond. CAS advisors help all new students choose courses that meet degree requirements and introduce potential majors.
Mission Statement: The mission of the College of Arts and Science is to develop in our students the knowledge and skills for success in a dynamic, global society and to foster excellence in creativity and research. (adopted April 2012)
Miami's Home for the Liberal Arts
Students and faculty in the CAS study, teach, and conduct research in:
biological and life sciences
global and cultural studies
history, philosophy, and religion
law and public policy
literature and writing
mathematics and physical sciences
media studies and communication
medicine and health
psychology and human behavior
world languages
interdisciplinary programs
We provide a liberal arts education that prepares students with the intellectual framework, critical thinking, and transferable skills needed for success in professional programs, graduate school, and careers in business and industry, government, education, and service organizations.
Small Classes and Student Success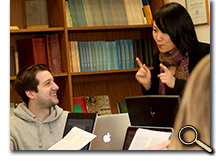 The CAS is Miami's largest division, and as such we are proud to focus on our commitment to undergraduate education, which is ranked first in the nation among public universities:
Of Miami's undergraduate classes, 67% have fewer than 30 students, and the student-to-faculty ratio is 18:1.
Faculty and student interaction in the classroom can lead to collaborative research. CAS undergraduates frequently participate in research projects around the world, attend major conferences, and publish in scholarly journals.
Over 94% of 2014-2015 CAS graduates were employed or in graduate school by fall 2015.
CAS seniors applying to law school in recent years have been accepted at a rate of 98% (compared to 86% national average), while those applying to medical school have been accepted at a rate of 60% (42% national average).
Interdisciplinary Programs
Miami is expanding its areas of inquiry and course offerings to meet the needs of the 21st century. Our interdisciplinary programs in the CAS reflect our commitment to prepare students for active roles in the new global community. Some interdisciplinary programs include:
The Humanities Center, fostering creative exchanges and collaborations among faculty, students, and outside experts
The Center for Community Engagement in Over-the-Rhine residency program, tackling urban problems and policies
Miami's Inside Workshops (Hollywood, Washington, New York, and more) series, for professionalizing the liberal arts
Scripps Gerontology Center, a resource for policy makers and service providers to make a difference in the lives of aging individuals.
International and Multicultural Opportunities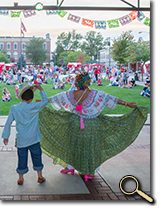 Miami students are encouraged to participate in study abroad and study away programs. Nearly 2000 students do so annually each year, whether it's during the summer, the academic year, or Miami's recently established Winter Term. Undergraduates may earn Miami credit at the Dolibois European Center in Luxembourg, on one of the many faculty-led programs, or through transfer credit programs, such as exchanges. Miami professors offer summer and winter term classes in Africa, Asia, Europe, and South America—as well as in a variety of locations within the United States. Some examples of these international and multicultural opportunities include:
The Social Justice Scholars: Citizenship and Service Living-Learning Community, which develops future leaders and global citizens who are committed to promoting social justice and equity in their personal and professional lives, engaging in public services, building bridges to other communities and educating others with their international perspective.
The Center for American and World Cultures, which plans multicultural events for the entire campus and offers for-credit interdisciplinary courses.
The Minority Association of Pre-Health Students (MAPS), Minority Students Professional Association (MSPA), and other on-campus organizations that focus on special career interests.
Literary London, Cuba in Transition, French Study in Dijon, and other study abroad programs available through Miami's Study Abroad office.
Scholarships, Fellowships, and Internships
Many scholarship, fellowship, and internship opportunities are available to Miami students. Our faculty help students prepare for competitive awards such as the Rhodes, Truman, Goldwater, Marshall, Gates Cambridge, Beinecke, and Udall Scholarships.