The College of Arts and Science (CAS) is:
Miami's largest division, represented by nearly half of all students
the centerpiece of the liberal arts — the wide range of subjects in the natural sciences, social sciences, and humanities crucial for the development of key professional skills desired by employers
made up of more than 60 majors, 11 co-majors, and dozens of minors — everything from American studies to zoology
Our rich diversity of rigorous academic opportunities and experiences provide critical thinking and communication skills, cultivate intellect and creativity, and encourage empathy and working for the common good. All of these are key building blocks to a happy, successful career in our ever-changing, globally-minded workforce.
You'll find that when you engage yourself in these kinds of academic and cultural experiences, your life will be impacted in positive and memorable ways. And that begins here at CAS.
Mission Statement: The mission of the College of Arts and Science is to develop in our students the knowledge and skills for success in a dynamic, global society and to foster excellence in creativity and research. (adopted April 2012)
Liberal Arts: Diverse Paths to Rewarding Careers
Prominent platforms have lately been addressing the essential, employer-supported desire for more liberal arts graduates: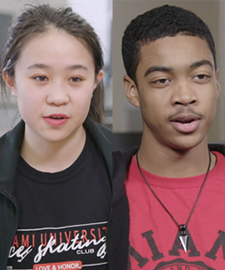 Watch CAS students describe how Miami has helped them discover their majors, embrace research opportunities, know their professors, and more.
What's more:
According to a report by the Association of American Colleges and Universities, at peak earning ages liberal arts majors tend to catch up to (and often even surpass) the salaries of their peers in professional programs like business and engineering.
A 2018 Payscale study determined that Miami humanities graduates ranked #2 in the U.S. and #1 public university in Ohio for return on investment.
As of March 2017, 94% of CAS graduates were either employed or enrolled in school after graduation.
Because employers are looking for job candidates who are broadly skilled and versatile, many majors and minors fit into more than one theme. Even a single major can lead to multiple career opportunities!
CAS majors, co-majors, and minors are organized into themed groups that highlight different fields of study and emphasize the strengths of our programs — like undergraduate research, study abroad, scholarships and awards, and career options.
Our theme areas are:
Biological and Life Sciences
Global and Cultural Studies
History, Philosophy, and Religion
Law and Public Policy
Literature and Writing
Mathematics and Physical Science
Media Studies and Communication
Medicine and Health
Psychology and Human Behavior
World Languages
University Studies (undeclared majors)
Small Classes and Student Success
Interdisciplinary Programs
International and Multicultural Opportunities
Scholarships, Fellowships, Awards, and Internships