About the College
The College of Arts and Science (CAS) is at the center of Miami's liberal arts curriculum. Over 75% of the liberal arts courses completed by all Miami students are taught in the college. Many students come to Miami without choosing a major. The college is the initial "home" for these students. CAS advisors help new students choose courses that meet degree requirements and introduce potential majors.
Mission Statement: The mission of the College of Arts and Science is to develop in our students the knowledge and skills for success in a dynamic, global society and to foster excellence in creativity and research. (adopted April 2012)
Students and faculty in CAS study, teach, and conduct research in the sciences, mathematics, languages, humanities, social sciences, and interdisciplinary programs. We provide a liberal arts education that prepares students for professional programs, graduate school, or careers in business & industry, government, education, and service organizations.
Small Classes and Student Success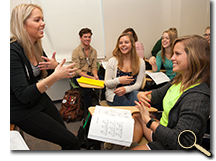 Of Miami's undergraduate classes, 65% have fewer than 30 students and 89% have fewer than 50.
Faculty and student interaction in the classroom can lead to collaborative research. CAS undergraduates frequently participate in research projects around the world, attend major conferences, and publish in scholarly journals.
Over 66% of our 2012-2013 graduates found employment immediately after graduation; 26% continue their education in law, medical, dental, business, or graduate schools.
Interdisciplinary Programs
Miami is expanding its areas of inquiry and course offerings to meet the needs of the 21st century. Our interdisciplinary programs reflect our commitment to prepare students for active roles in the new global community.
International and Multicultural Opportunities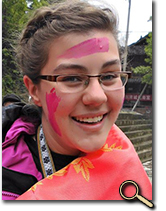 Miami students are encouraged to participate in study abroad programs and nearly 2000 students do so each year. Undergraduates may earn Miami credit at the Dolibois European Center in Luxembourg or the Institute of Buddhist Dialectics in Dharamsala, India. Miami professors often teach summer classes in Africa, Asia, Europe, and South America.
The Social Justice Scholars: Citizenship and Service Living-Learning Community develops future leaders and global citizens who are committed to promoting social justice and equity in their personal and professional lives, engaging in public services, building bridges to other communities and educating others with their international perspective. The Center for American and World Cultures plans multicultural events for the entire campus and offers the for-credit course, Strength through Cultural Diversity (IDS 159). Other on-campus organizations focus on special career interests, such as the Minority Association of Pre-Health Students (MAPS).

Scholarships and Internships
Many scholarship and internship opportunities are available to Miami students. One of the most exciting scholarships is the Undergraduate Summer Scholars (USS) program. If your proposal is funded, you can spend a summer working on a research or creative project with a faculty mentor.
Our faculty help students prepare for competitive awards such as the Rhodes, Truman, Goldwater, Marshall, Gates Cambridge, Beinecke, and Udall Scholarships.