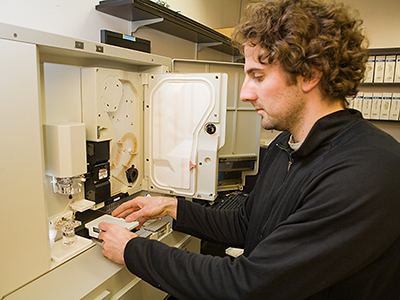 A graduate student conducts research in the CBFG.
Training
Training in the CBFG supports a number of important programs at Miami University. These include the interdisciplinary Cell, Molecular, and Structural Biology (CMSB) and the Ecology, Evolution and Environmental Biology (EEEB) graduate level programs in partnership with several undergraduate specific programs, such as the Undergraduate Summer Scholars (USS), Howard Hughes Summer Internships (HHSI), Doctoral-Undergraduate Opportunities for Scholarship (DUOS), Undergraduate Research Award Program (URA), and the Research Experiences for Undergraduates (REU) program funded by the National Science Foundation.
The center provides students with training and resources to learn the most contemporary techniques in genomics and bioinformatics. Training and hands-on experience is provided to all students whether they are experienced researchers or in their very first research experience. This level of hands-on experience and personal training is not often available at many larger undergraduate institutions.

Outreach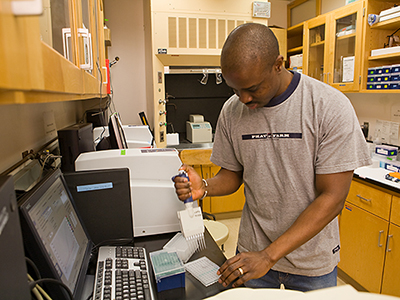 A postdoctoral fellow conducts research in the CBFG.
Undergraduate and graduate students perform much of the work involved in the biotechnology research here in the Center for Bioinformatics and Functional Genomics. Sometimes even local high school students participate in CBFG projects. The center provides all of these students with training and resources to learn the most modern techniques in biotechnology.
The center also supports several local programs such as Butler Biotech where high school students from Butler County learn contemporary biotechnology applications.