Partnerships
CPMRA and the OTA
The CPMRA and the Ohio Township Association have worked in a partnership under a Cooperative Agreement since 1995.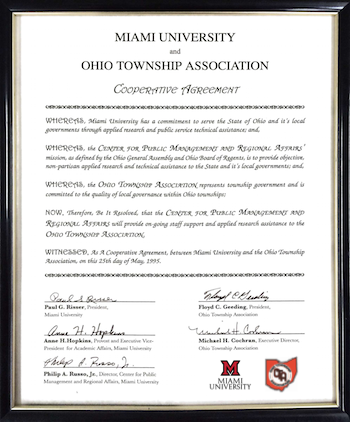 Ohio Township Association (OTA) The Center is pleased to provide ongoing support and assistance to the Ohio Township Association. The Center and the OTA signed a cooperative agreement in 1995 and jointly publish the four volume Township Sourcebook Series. The Center is an active contributor to and participant in the Ohio Township Association's Winter Conference and in the OTA Leadership Academy. Please visit the Center's conference presentations page for more information.
LeanOhio Boot Camp - Miami University
LeanOhio Boot Camp: Transforming the Public Sector is an intensive five-day program that is designed to equip local government organizations with the skills and knowledge needed to make their processes simpler, faster, better and less costly. Miami University now offers the LeanOhio Boot Camp and has scholarships available. The next boot camp will be offered October 5-9, 2015. --> learn more here.
Southwest Ohio Local Government Wage and Benefit Survey
The Center collected and maintained a database on municipal wages, salaries, and benefits and prepares reports on various public employee compensation issues in Butler, Warren, Montgomery, Clark, Greene, Darke, Preble, Shelby, and Miami Counties. NOTE: The survey was last completed in 2011. Future surveys will depend on Center resource availability.