History of the Institute for Food Farm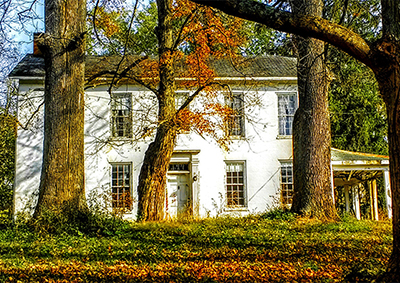 Austin-Magie farmhouse
The Institute for Food continues the legacy of a land rich in history, as well as in nutrients. Our 8 acres are part of the 35-acre Austin-Magie Farm and Mill District, which not only boasts some of the most productive, deepest topsoil in Butler County, but is recognized by the National Register for Historic Places for its significant contributions to 19th-century agriculture.
Aaron Austin, the owner of the farm from 1815 to 1863, built and managed Oxford's largest flour and saw mills, which once fed families all over Butler County.
In 1841, Austin also built the federal style brick farmhouse that still stands today. One of the largest and oldest brick farmhouses in Oxford Township, the house is a classic example of period architecture. Its simple box shape and elegant symmetry create a stately silhouette on the farm's horizon.
For a complete history of the Institute for Food farm visit EducatingfromtheGroundUp.org.