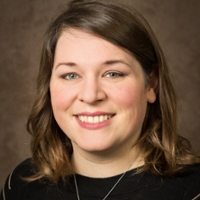 Assistant Professor of Composition and Rhetoric
365 Bachelor Hall
leggem@MiamiOH.edu
Education
PhD, Purdue University, 2016
MA, Rhetoric and Composition, Purdue University, 2011
BA, Literary and Cultural Studies, University of Oklahoma, 2005
Research and Teaching Interests
Indigenous rhetorics
Cultural Rhetorics
Digital writing, Technology, and Rhetoric
New Media and Composition
Professional Writing
Selected Publications
Legg, Emily. "Daughters of the Seminaries: Re-Landscaping History through the Composition Courses at the Cherokee Female Seminary." College Composition and Communication 66:1 (2014): 67-90. Print.
Legg, Emily and Patricia Sullivan. "Methodological Ballast: Storytelling as a Balancing Practice in the Study of Posthuman Praxis." Posthuman Praxis. Eds. Kristen Moore and Dan Richards. (Book under review) 22 pp.
Legg, Emily and Adam Strantz. "Where Composition Goes to Work: A Digital Archive of the Public Face of 4Cs." Pearson Emerging Pedagogies. (2013): n. pag. Web.