Undergraduate Program
Students in the ACE program typically earn 12-17 college credits toward graduation during their first semester at Miami. The specially designed curriculum includes three courses (12 credit hours) focused on English language and American culture, and one elective course (3-5 credit hours) from the regular Miami course catalogue.
ACE Curriculum
All ACE students take the following three required courses:
• ACE 112, Advanced Communication Strategies (5 cr)
• ACE 113, Reading and Writing in Academic Contexts (4 cr)
• one of the following American culture courses (3 cr):
ATH 185, Cultural Diversity in the U.S.
BWS 248, African American Experience
POL 142, American Politics and Diversity
In addition to the above three courses, students take one elective course (3-5 credits) outside of the ACE curriculum.  
Completion of ACE Program
Students admitted into the ACE program are conditionally admitted to the university. This means that the students have the privileges and rights of other Miami students; however, they must complete the requirements of the ACE program in order to receive regular enrollment to the University.
Students must receive a B- or higher in each of the two required English language courses (ACE 112, ACE 113).
Students must pass the American culture course (a grade of C or better).
Students who do not meet the grade requirements above will have a second chance the following semester to complete the ACE program. Students will need to retake the course (or courses) in which they did not receive the required grade. If they complete the course/s successfully, they will be fully admitted to the University at the conclusion of their second term.
Students who do not complete the ACE program requirements after the second attempt will not be admitted to the University. 
FAQ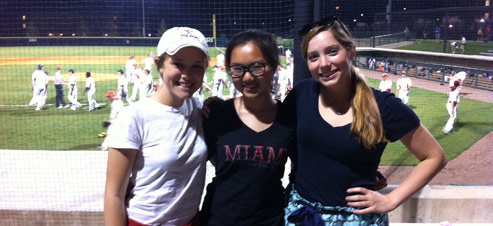 Q: How long will I spend in the American Culture and English (ACE) Program?
A: One semester. Upon successful completion of the program you'll continue to work toward completing your major and earning your degree.
Q: What classes will I take?
A: You'll enroll in four classes and earn 15-17 academic credits which will all count toward Miami graduation: Advanced Communication Strategies, Reading and Writing in Academic Contexts, an American Culture course, and one other elective course.
Q: Who can apply to the ACE Program?
A: The ACE Program welcomes applications from international students with strong academic credentials whose TOEFL or IELTS scores fall just below Miami's proficiency requirements for regular admission. The scores required for conditional admission through ACE are IBT 65-79 or IELTS 5.5-6.0. For more detail, see English Language Proficiency.
Q: Is there a separate application process and fee?
A: No. ACE Program applicants should apply via the regular Miami University application process. If you are admitted through ACE, you will follow the regular confirmation and enrollment processes and procedures.
Q: What does it cost to participate in the ACE program?
A: Students in the ACE program pay the same tuition, fees, and room and board rates as other international and out-of-state students at Miami plus a one-time program fee.  This fee is used to cover the cost of special excursions and other co-curricular activities especially for ACE students. 
Q: How can I get more information?
A: We are happy to answer any of your questions. Please email AmericanEnglish@MiamiOH.edu or call 513-529-1206.