Admission
Miami University Admission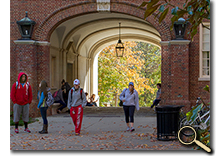 Miami University's admission requirements and procedures vary according to your status as an applicant. Please refer to the specific links below for more information, or visit Miami's main Admission website.
NROTC College Program Admission
Applications for the 2019 spring semester have been processed.  Applications for the 2019 Fall semester can be submitted beginning April 1, 2019 with receipt no later than May 1, 2019.  Incomplete packages will not be considered for enrollment.
Original or Official Copy (i.e. with raised seal) of Birth Certificate (will be returned)
Copy of High School Transcript
Copy of ACT and/or SAT Results
Submitted documents will be reviewed by the command to determine compatibility with, and eligibility for, the NROTC College Program. Students may be asked to conduct a phone interview with a staff member as a part of the selection process. Candidates will be informed of their acceptance as soon as a determination is made.
Send to:
Admissions Officer
NROTC Miami University
67 Millett Hall
Oxford, OH 45056