Individualized Studies - Bachelor of Arts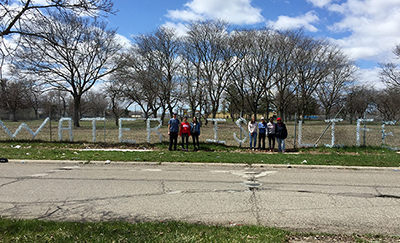 Students in WST 231-Interdisciplinary Inquiry during their Spring 2018 service learning trip to Flint, Michigan
Individualized Studies offers an academic home for students with multiple interests to develop their own plan of study by integrating a set of core classes with courses chosen by the student from almost any area of study.
Major
To major in Individualized Studies, a student must complete at least 43 semester hours distributed as follows:
Core Courses (13 hours)
Individualized Courses (at least 24 hours)
Senior Project Courses (6 hours)
Core Courses
Introductory Courses
Take all of these:
WST 231 - Interdisciplinary Inquiry (3 hours)
WST 251 - Individualized Studies Seminar (1 hour)
Inquiry-based Courses
Take all of these:
WST 301 - Interdisciplinary Problems and Questions (3 hours)
WST 322 - Developing Interdisciplinary Projects: Art and Politics of Representation (3 hours)
WST 341 - Interdisciplinary Synthesis and Action (3 hours)
Individualized

Courses

The individualized portion of the major, which you design in consultation with faculty and staff advisors, enables you to create your unique academic focus.

Select and complete at least 24 credits of coursework at the 200-level or above from around the university to build content knowledge in your specific area(s) of focus. Your plan may include: credit earned at other institutions that has been transferred to Miami, study abroad experiences, independent studies, and/or internships if appropriate.
Senior Project
The Senior Project, a Western capstone, showcases what you've accomplished through your major in Individualized Studies.
Take all of these:
WST 421 - Proposal Workshop (3 hours)
WST 444 - Senior Project Capstone (3 hours)