Undergraduate History senior illuminates perspectives of American history that were often unknown
Madison McQueen '23 explores the effect of social relations between mothers and their children leading up to and following the Civil War.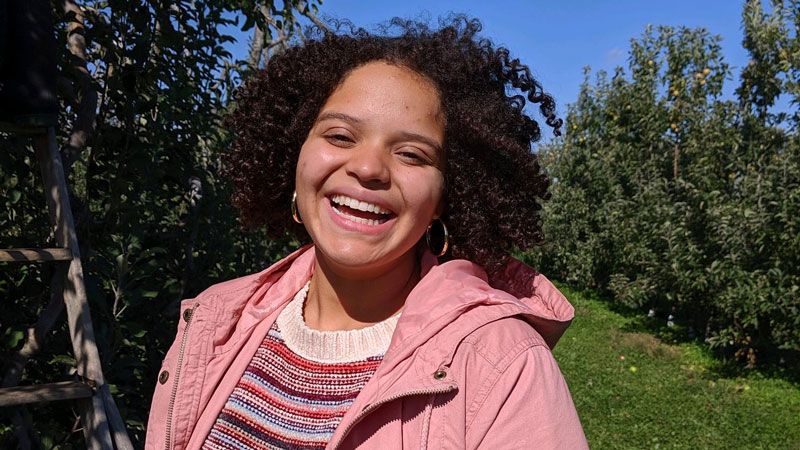 Madison McQueen '23
Undergraduate History senior illuminates perspectives of American history that were often unknown
Madison McQueen '23
Madison McQueen, a double major in History and Integrated Social Studies Education, has dived deep into Civil War history to shed light on women's and children's voices, which were often drowned out by historical perspectives told by men.
After completing the senior capstone for History her junior year, McQueen was invited to participate in the History Honors Program. From there, she learned of the Undergraduate Summer Scholars (USS) program. Her mentor, Associate Professor of History Lindsay Schakenbach Regele, does research on the early American republic, which encompasses the Civil War-era content that McQueen was interested in. 
"The reason I chose this project is because I am a woman and I am black and white, I'm biracial," McQueen said. "So I kind of wanted to see where some of my identities intersected in the past."
Her main focus was the relationship between women, specifically as mothers, in relation to their children. She explored how, in her words, the "antebellum South led to different social relations and the maintenance of the plantation household after the Civil War." Additionally, she was focused on highlighting the voices of women of color. 
"Men, white men, are a very central focus of history because they were the ones who were writing," McQueen said. "I just like being able to bring more awareness and diversify the history field." 
In addition to Schakenbach Regele, McQueen also worked with History faculty members Amanda McVety, Elena Albarran, and Jazma Sutton. All of them proved to be great resources as experts in many aspects of her thesis. 
McQueen revealed that the highlight of her research project was working with a collection of former slaves'  interviews conducted during the mid 1900s. Many of these documents contained various stories and answered questions.
A common detail that stuck out to her was that even though former slaves had better access to resources such as food and shelter during slavery, they would still rather be free.
"I think just being able to look at those documents and read them was really a great way to connect to people, even if you can't be present with them, or even if they have already passed," McQueen said.
While working on the project, McQueen gained important research and writing skills. She uses these skills for student teaching at a local school that provides her with sources for her lessons.  After graduation, she plans on teaching for a few years before heading to graduate school for history, where she hopes to focus on topics such as children's history.
"Madison's careful reading of limited sources has allowed her to provide a neglected analysis of the experience of enslaved Black and biracial children in the antebellum South," said Schakenbach Regele. "This is really impressive work."
"I'm just trying to make people more aware," McQueen said. "I love the idea of getting to teach future students about some of my research."