The Humanitarian Engineering and Computing minor at Miami University is designed to graduate engineering and computing majors who are globally-aware, culturally-sensitive, and socially conscious, and who would use their knowledge to design solutions that enhance the lives of and opportunities for people on a local, national, or international level. Students will select coursework supporting their interests from four broad categories, engage in a service/humanitarian focused activity or research, and complete a humanitarian-focused capstone project in CPB, CSE, ECE or MME.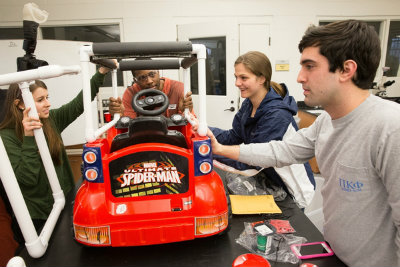 Team works on car for students with disabilities.
This minor is only open to students with a major in the College of Engineering and Computing. Select the Advising tab for the list of advisors by department for the Humanitarian Engineering and Computing minor.