Writing Matters at Miami--and in Life!
Miami Provides Key Foundations for Personal and Professional Success
"With the advent of digital and social media, many may think that writing is no longer an essential skill for today's college graduates. However, at Miami University, we believe that one's writing ability is more important than ever. Indeed, one of the hallmarks of a Miami undergraduate education is excellence in written communication skills." –President Gregory P. Crawford
Executives of 120 major American corporations agree: In order to be hired or to advance in your profession, you must be able to write clearly, persuasively, and concisely.* Miami University offers many opportunities—inside and outside the classroom—for you to develop this necessary life skill.
No matter your interests and professional aspirations, Miami provides a writing venue for you. From campus publications to Global Miami Plan courses to client and community projects, you will be able to work closely with faculty and peers on many writing activities. Whether your passion lies in Anthropology or Zoology or anything in between, what you learn at Miami and what you learn about writing at Miami will launch you for life.
Please flip through this booklet to read what Miami students, alumni, and faculty say about why writing matters to them and discover the many opportunities Miami provides for learning to write—and to write well—for success in college and beyond.
(Use the diagonal arrow to enter/exit full screen mode; use the right and left arrows to flip through the pages.)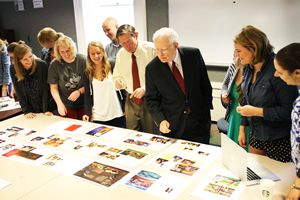 President David Hodge and Roger Howe provide students with feedback on the Writing at Miami booklet.
The Writing at Miami booklet was researched, designed, and written by Miami students with generous support from Roger L. and Joyce Lutz Howe (both class of 1957), who founded and endowed two campus writing centers–the Howe Writing Initiative in the Farmer School of Business and the Howe Center for Writing Excellence. Roger and Joyce Howe explain, "Our hope and vision is that Miami be known as one of the very best universities in the nation for graduating clear, concise, and persuasive communicators with the written word and that all graduates recognize the writing proficiency they gained at Miami as one of the most important benefits of their education."
*(Source: Writing: A Ticket to Work…Or a Ticket Out. A Survey of Business Leaders. Report of The National Commission on Writing. College Board. 2004.)