International Education Week

International Education Week (IEW), November 12–16, is an initiative of the U.S. Department of State and the U.S. Department of Education that draws attention to the value of international education. Aligning with the vision of Miami 2020 to "promote a diverse culture of inclusion, integrity, and collaboration that deepens understanding and embraces intercultural and global experiences," Miami University celebrates IEW annually with a wide range of activities, international food, and events.
Does your department have a globally-themed event taking place during IEW? If so, contact Kristin Magyari and we will add it to the IEW schedule of events!
Monday, November 12
International Instructors: Teaching at Miami
Time: 
4pm | Location: McGuffey Hall 120
As international instructors, 8 Faculty Learning Community members representing 8 countries (Bulgaria, China, India, Indonesia, Iran, Korea, Moldova, Russia), 8 departments (ACE, Classics, Educational Leadership, English, GRAMELAC, Interdisciplinary and Integrative Studies, Management, Mathematics), 3 divisions (CAS, College of Liberal Arts and Applied Science, FSB), and 2 campuses (Oxford and Hamilton) will share their utilization of multicompetences from differing global perspectives and how it impacts their teaching strategies at Miami.
International Education Week Keynote Address: The power of a simple pair of glasses
Time: 
7pm | Location: McGuffey 322
Dr. Jason Singh, Senior Vice President, Doctors, VisionWorks of America and 1994 graduate of Miami University, will present the keynote address for International Education Week 2018.
---
Tuesday, November 13
Live Open Doors Press Briefing
Time: 
9:30am | Location: McGuffey 117
Join Global Initiatives to view the live-stream release of the 2018 Institute for International Education Open Doors Report. Open Doors is the national publication analyzing international student and study abroad data.
Boren Awards for Study and Research Abroad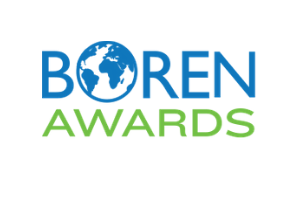 Time: 
12pm | Location: MacMillan Hall 115
This video conference will feature Jeff Cary, Outreach & Recruitment Manager for Boren Awards, and will provide information on funding opportunities for study and research abroad for U.S. undergraduate and graduate students.
The Havighurst Center Presents Listopad ("November")
Time: 
4:30pm | Location: Irvin Hall 40
The Havighurst Center Presents Listopad ("November"), presented by the film's producer Jeffrey Brown. The film tells the story of three teenage boys who were swept up in the Czech Republic's 1989 Velvet Revolution.
Faculty Director Appreciation Reception (Invitation Only)
Time: 
5:00-6:30
pm | Location: Goggin Club Lounge
Global Initiatives is grateful to the faculty, staff, and academic departments who, through their significant contributions and support, have helped to make our global programs possible this year. We appreciate the time, energy, and expertise you have invested, and know that it is because of your dedication that Miami is able to offer such a robust portfolio of programs for our students.

As a small token of our thanks, we invite you and a guest to enjoy entertainment, a variety of light hors d'oeuvres, drinks, and the company of study abroad/away directors who have offered programs this year at the Global Initiatives Faculty Appreciation Reception.
Miami Women's Basketball vs. Eastern Kentucky
Time: 
7
pm | Location: Millet Hall
During this game, Global Initiatives/Athletics will show a special video that features our international student athletes, in honor of International Education Week. Students can enter the game at no cost with their Student ID. 
---
Wednesday, November 14
International Story Time at Mini U
Time: 
9:30am
Four international students and faculty will read stories from their countries to the children enrolled at Mini University.
International Fest at Miami Regionals
Time: 
11:30am-3:00pm | Location: Wilks Conference Center, Miami Hamilton Campus
Join the Miami Hamilton International Club, the Miami Middletown English Language Center, and the Miami Regionals Office of Diversity and Multicultural Services to celebrate International Education Week with food and cultural activities.
Emmett Till: Why His Story Matters | The 2018 American Studies Biennial Lecture
Time: 
4-5pm | Location: John E. Dolibois Room, Shriver Center
Elliott J. Gorn (Ph.D. Yale University, 1983, A.B. University of California, Berkeley, 1973) is the Joseph Gagliano Professor of American Urban History and has a distinguished record of scholarship, publication and excellence in teaching and student mentorship. His books and articles embrace multiple aspects of urban and American culture, particularly the history of various social groups in American cities since 1800.
Let the People See: The Story of Emmett Till (Oxford University Press, October 2018)
A deep investigation of the Emmett Till story using new evidence and a broadened historical context
Delves into the crime, the trial, and the aftermath, chronicling how the story has been told and retold over time
Examines shifting American attitudes towards race since 1955, presenting a timely look at the interaction between race and the media
Work, Teach, Learn: Professional Opportunities Abroad
Time: 
4-5pm | Location: MacMillan Hall 212 (Great Room)
This interactive panel will feature professionals who will highlight opportunities to teach, work, and learn abroad by sharing their own experiences.
National Fellowships for Global Engagement
Time: 
7pm | Location: Harrison Hall 204
Join members of Miami University's National Fellowships Committee for a discussion of competitive fellowships and scholarships that support study, research, and teaching abroad.
---
Thursday, November 15
Intercultural Learning in Education Abroad
Time: 9am
-3pm | Location: Armstrong Student Center
Research on education abroad demonstrates the central role of "cultural mentoring" to help students develop intercultural skills and awareness. This research has also shown that simply traveling to another country by itself does not cause students to develop intercultural competence. Intentionality in designing intercultural experiences abroad for students is essential. This workshop is designed for anyone who is interested in enhancing intercultural learning, from faculty leading programs to education abroad professionals and administrative colleagues. Participants will receive a copy of the book Student Learning Abroad: What Our Students Are Learning, What They're Not, and What We Can Do About It.
Presenter: Steven Duke, Associate Vice President for Global Strategy and International Initiatives, University of Nebraska; President, Institute for Cross-Cultural Teaching and Learning
Cost: $85 which includes a book and lunch–You may register for the pre-conference workshop without having to register for the Lilly Conference.
Global Neighbors Thanksgiving Dinner
Time: 5:30
-7pm | Location: The John Dolibois Room, Shriver Hall
This gathering serves as a time for international students and the Miami and Oxford communities to enjoy a traditional American Thanksgiving meal together. A link to purchase tickets will be posted soon.
---
Friday, November 16
IEW Celebration and Contest Winner Reception
Time: 
3-4:30pm | Location: 
MacMillan Hall 212 (Great Room)
Each International Education Week, Global Initiatives runs a student contest calling for all Miami students to submit essays, photos, and videos about their educational cultural experiences in the world. During this reception, top work will be shown to the audience and winners will receive their prizes.
---