Rave Guardian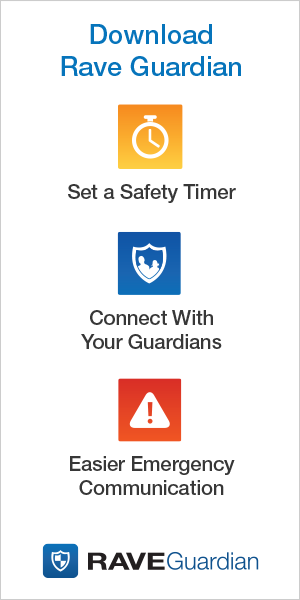 The Rave Guardian application is available to members of the university community at no cost for Android and iOS smartphones. The application allows users to:
Set a "Safety Timer" session.

Once activated, "guardians" in their virtual safety network can monitor the user's status updates and location.
Guardians are automatically notified at assigned check-in times.
If the timer expires or the user initiates a panic call, Rave Guardian automatically notifies the user's trusted safety resources.

Submit Tips & Multi-Media Messaging to Miami University Police

Allows members of a community to send text and photo content direct to Miami University Police via Rave's secure cloud infrastructure.

Emergency Call Button

Through their mobile device, a user can send an alert to Miami University Police with one-click, automatically providing student information and GPS location.

Safety Profiles for Faster Emergency Response

Student-created safety profiles contain details such as residence and medical condition information that are automatically presented to Miami University Police during an emergency call for faster, more precise response.
Student safety profiles are available during emergencies, on and off campus, to Miami University Police and Smart911-enabled 9-1-1 centers nationwide.
MU STUDENTS AND STAFF MUST FIRST REGISTER HERE BEFORE DOWNLOADING AND LOGGING INTO THE RAVE GUARDIAN APP MU Rave Guardian Registration
Download from the Apple Store or Google Play.
A user guide is built into the application under the menu item "About Rave Guardian."
For technical support with the application contact Rave Mobile at: techsupport@ravemobilesafety.com