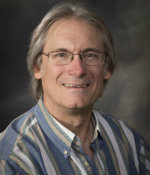 Professor
110 Levey Hall, Middletown Campus
513-727-3258
148 Pearson Hall, Oxford Campus
513-529-3176
---
Biographical Information
Alan Cady is a field ecologist with broad interests in behavioral ecology, biological control, and arachnology, but his main focus has been on spider communities. His investigations employ field experiments to help determine how these predators influence arthropod community structure, mostly in agroecosystems.

Dr. Cady's research over the last 10 years reflects his long-time interest in understanding how spiders, harvestmen, and other generalist predatory arthropods may act as agents of biological control. Current research investigates how the presence of habitat refugia in row crops (corn and soy) increase crop growth and yields. He also has been experimenting with harvestmen in vegetable gardens to assess their ability to protect plants from herbivorous insects.
Dr. Cady's diverse training extends into the classroom where he teaches zoology, ecology, anatomy, and physiology courses for majors, non-majors, and nursing students. He also teaches an Integrated Studies seminar on sustainability.
Courses Taught
Biological Concepts: Ecology, Evolution, Genetics, and Diversity & Lab (BIO 115)

Environmental Biology (BIO 121)

Principles of Environmental Science (IES 275)

Comparative Vertebrate Anatomy & Lab (BIO 201)

Animal Physiology & Lab (BIO 305)

Pathophysiology (BIO 325)

Integrative Studies Seminar on sustainability (BIS 301)

Research Methods (EDL 260)
Selected Publications
Alan B. Cady, Kevin J. Delaney, and George W. Uetz. 2011. ENERGETIC COSTS OF SIGNALING IN TWO WOLF SPIDER SPECIES WITH DIVERGENT COURTSHIP BEHAVIORS. Journal of Arachnology 39(2) 161-165.

Tietjen, W.J. and Alan B. Cady. 2007. SUBLETHAL EXPOSURE TO A NEUROTOXIC PESTICIDE AFFECTS ACTIVITY RHYTHMS AND PATTERNS OF FOUR SPIDER SPECIES. Journal of Arachnology 35(2):396-406.

Cady, A.B. and C. M. Buddle. 2006. SPIDER PREDATORS. IN HANDBOOK OF FORAGE AND RANGELAND INSECTS, W. Lamp, R. Berberet, L. Higley, and C. Baird (eds.).  Entomological Society of America, Lanham, MD.

Finkes, Laura K., Alan B. Cady, Juliana Mulroy, Keith Clay, and Jennifer A. Rudgers. 2006. PLANT-FUNGUS MUTUALISM AFFECTS SPIDER COMPOSITION IN SUCCESSIONAL FIELDS. Ecology Letters 9: 347-356.

Anderson, C., A. Cady, & D. Meikle. 2003. EFFECTS OF VEGETATION STRUCTURE AND EDGE HABITAT ON THE DENSITY AND DISTRIBUTION OF WHITE-FOOTED MICE (PEROMYSCUS LEUCOPUS) IN SMALL AND LARGE FOREST PATCHES. Canadian Journal of Zoology 81: 897-904.

Halaj, J., A. Cady, and G. Uetz. 2000. MODULAR HABITAT REFUGIA ENHANCE GENERALIST PREDATORS AND LOWER PLANT DAMAGE IN SOYBEANS. Environmental Entomology 29(2): 383-393.

Halaj, J. and A. Cady. 2000. DIET COMPOSITION AND SIGNIFICANCE OF EARTHWORMS AS FOOD OF HARVESTMEN (ARACHNIDA: OPILIONES). American Midland Naturalist 143:487-491.