Influenza (Seasonal Flu) Information
Flu symptoms include cough, fever, chills, chest congestion and body aches, and to a lesser degree, nausea and vomiting.
If you are experiencing symptoms of influenza, you are encouraged to visit Miami's student health services center, 421 S. Campus Ave., or a healthcare provider, to be assessed. If flu is diagnosed early within its course, your healthcare provider may discuss the benefits of prescribing an antiviral medication such as Tamiflu. This medication may decrease the severity of symptoms and may shorten the duration of the illness.
If your symptoms become severe, such as having:
Severe shortness of breath or difficulty breathing
Worsening fever
Confusion or weakness
Inability to get up
Any sudden change in the severity of your illness,
You are encouraged to seek emergency medical care.
McCullough Hyde Memorial Hospital, 110 N. Poplar St., Oxford, is the emergency room nearest to the Oxford campus. For other area emergency rooms, hospitals and urgent care locations; visit the TriHealth website or search for area hospitals and urgent care centers.
After-hour non-emergent care is available in Oxford on weekends at Oxford Urgent Care, 5151 Morning Sun Road.
Check the Centers for Disease Control and Prevention reports for weekly updates throughout flu season.
A flu vaccine can help decrease the severity of the symptoms. The vaccination takes about 10 days to two weeks to become effective.
Protect yourself against influenza and prevent the spread of the virus with:
Frequent and thorough handwashing.
Trying not to touch your face and nose area.
Skip handshakes; maybe try fist-bumps.
Sneezing and coughing into your elbow.
Avoiding contact with people with cold or flu symptoms.
Staying away from at-risk groups if you are experiencing symptoms.
Staying home from work or school if you are experiencing symptoms.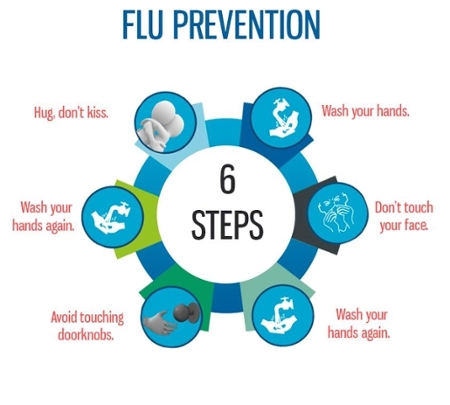 It is especially important to wash your hands:
Before, during and after you prepare food.
Before you eat and after you use the bathroom.
After handling cash.
More frequently when someone in your house or residence is sick.
Please do your part in helping to decrease the spread of the flu and in protecting yourself in the process.
If you have questions, are ill or would like to schedule your flu shot, call Student Health Services at 513-529-3000.