The College of Arts and Sciences at Miami University and external grants from governmental agencies have funded a wide variety of ecological research at the ERC. Those agencies include:
Undergraduate Research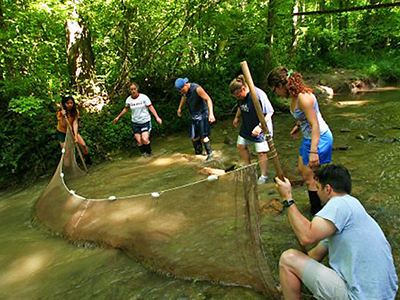 Eco-REU students conducting stream research
Miami University's Ecology and Environmental Science Research Experience for Undergraduates (Eco-REU) program provides an opportunity for undergraduates to perform ecological research at the ERC, attend professional meetings, participate in field trips, and hear well-known scientists speak. Students also have the opportunity to present their research results at a public symposium. Participants receive up to 12 free tuition semester hours, free housing, and a stipend for the work they complete.
Gary W. Barrett Research Grant
The Ecology Research Center is pleased and honored to offer an annual award of the Gary W. Barrett Research Grant. This grant provides funds, up to $1000, for materials and supplies for undergraduate research conducted at the ERC.
Dr. Gary W. Barrett, currently Odum Professor Emeritus of Ecology at the University of Georgia, was the founding director of the ERC in 1969 and served as its director until 1992. He is a strong supporter of undergraduate research and, while at Miami, fostered numerous undergraduate research projects, many of whom published their work in peer-reviewed journals. This grant is supported by an endowment donated primarily by Dr. Barrett to continue the tradition of quality and excellence in undergraduate research at the Ecology Research Center.
Proposals for undergraduate research are accepted each fall by the office for Research and Innovation (R&I). R&I encourages, initiates, assists, and celebrates faculty research, scholarship and effective teaching at Miami University by providing both internal and external grant funding opportunities. The Barrett Award Committee will review all ecologically related proposals that are received by R&I and will make their awards separately from R&I. For more information on the Gary W. Barrett Research Grant contact the Director, Ann Rypstra (rypstral@MiamiOH.edu).
Cost Sharing
The ERC is occasionally able to provide a small amount of support for research conducted on site. The ERC can typically provide matching costs for equipment or materials that individuals need as long as those items are kept at the ERC and are available for use by other researchers. If cost sharing interests you please submit a brief description of the item, how the item will be used and an estimate of the cost to the Director, Ann Rypstra (rypstral@MiamiOH.edu).