There are several great nearby places to see geology for yourself, whether you're interested in collecting Late Ordovician fossils, exploring glacier-carved landscapes, or observing streams as they shape the modern landscape.
In fact, Miami University's own Peffer Park is only a 5-minute walk from Shideler Hall. Peffer Park is a great place to see outcrops of glacial deposits and much older bedrock exposed along Collins Run Creek. In fact, students in the introductory geology laboratory course (GLG 115.L - Understanding the Earth) explore this creek every semester to learn about local geology.
Brookville Lake
Brookville Lake, which is located in southeastern Indiana, formed as a result of construction from a flood-control dam in the Whitewater River Valley in the 1970s. Additionally, the lake is used as an important recreational area, and it is known for the prehistoric Indian mounds that can be found in several locations in the valley.
Caesar Creek State Park
Caesar Creek State Park is one of the foremost outdoor recreation and nature preserve areas in the state of Ohio. The 7,900-acre park offers a wide variety of recreational, geological, and educational opportunities. You can enjoy the quite solitude of a wooded hiking trail filled with fascinating geology or hunt for fossils in Caesar Creek's spillway to learn about local geology.
Great Parks of Hamilton County
Great Parks of Hamilton County is composed of 21 different parks, in the greater Cincinnati area, which span more than 16,000 acres. At these parks, you can enjoy many different activities, including golf, fishing, camping, paddling, picnicking, hiking, and much more! Many different types of rocks can be found in Great Parks, from local fossil-rich limestone to igneous and sedimentary rocks brought here from the north by glaciers during the last Ice Age.
These parks also offer a variety of different activities, including programs where you mine for precious metal, make metamorphic rocks, and find geology where you least expect it.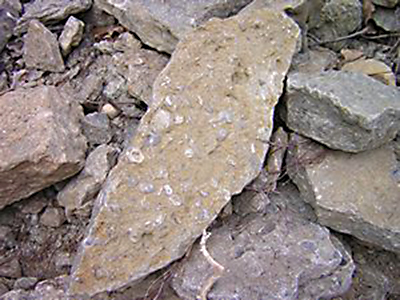 Rocks filled with fossils (lighter colored areas on the rock) can be found in Hueston Woods State Park.
Hueston Woods State Park
Hueston Woods State Park, located in Butler and Preble counties, is nearly 3,000 acres of natural resources for outdoor recreation, such as hiking, fishing, canoeing, and unique to this region — fossil hunting. The park surrounds 625-acre Acton Lake, with campsites, cabins, and a resort lodge.
"The limestone and shale bedrock of the area is evidence of an ancient shallow sea that once covered Ohio. Fossilized remains of ancient marine animals are so abundant that people from all over the world come to Hueston Woods to collect them." [from the website]
Peffer Park
Once a pastureland and farm, this 80-acre plot was purchased as two parcels in 1955 and 1966 by Miami University. Later, Fred C. Yager generously donated money to Miami University in order to develop a park on this land south of campus along Highway 27. Yager stipulated that the park was to be developed in memory of his nephew, G. Maurice Peffer. William Amos and Dorothy R. Amos contributed funds for the park's development as well.
A small portion of the land is a recreational park. The balance is maintained as a natural area to promote outdoor recreation, education, and research in the natural sciences. Common activities include hiking, snow skiing, mountain biking, birding, and a unique program conducted by Miami University's Outdoor Pursuit Center.