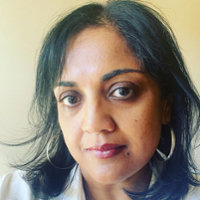 Professor of English and Asian/Asian American Studies
321 Bachelor Hall
Oxford Campus
mannura@MiamiOH.edu
Education
Ph.D Comparative Literature, University of Massachusetts, Amherst, 2002
B.A. (with honors) Comparative Literature, University of Wisconsin, Madison, 1996
Teaching/Research Interests
Asian American literature and culture
South Asian diasporic literature and culture
Transnational and diaspora studies
Food studies
Gender studies
Selected Publications
"'That Night': Seeing Bhopal Through the Lens of Disability and Environmental Justice Studies" in Disability Studies and the Environmental Humanities Eds. J.C. Sibara and Sarah Jacquette Ray. Lincoln: University of Nebraska Press, 2017. 381-401

"Un-homing Asian American Studies: Refusals and The Politics of Commitment" in 

Flashpoints for Asian American Studies.

 Ed. Cathy Schlund-Vials. Fordham University Press, October 2017.

"The Danger of a Singular Fashion: Studies of Race, Fashion and Beauty in American Studies." American Quarterly. 69.2 (2017): 411-420.
"Edible Discourse: Thinking Through Food and its Archives" American Literary History 27.2 (2015): 392-403.

"Diaspora" in Oxford Handbook for Feminist Studies. Coauthored with Jana Evan Braziel. Eds. Mary Hawkesworth and Lisa Disch. Oxford University Press, 2016. 164-178.

"

From Heterogeneity to Multiplicity: Asian American Literary Critique" in History of Asian American Literature.  Coauthored with Allan Punzalan Isaac. Eds. Min Song and Rajini Srikanth. Cambridge University Press, 2015, 324-339.
"Food" in Keywords for Asian American Studies. Eds. Cathy Schlund-Vials, Linda Vo and Scott Wong. New York University Press, 2015. 95-98.
"Perfection on a Plate: Readings in the South Asian Transnational Queer Kitchen" in Eating Asian America 

Eds. Robert Ji-Song Ku, Martin Manalansan and Anita Mannur. New York: NYU Press, 2013. 393-408.

"Eat, Dwell, Orient: Food Networks and Asian/ American Cooking Communities" Cultural Studies. 27.4. (2013): 585-610.
Eating Asian America: A Reader. Coedited with Martin Manalansan and Robert Ku. New York University Press, 2013. "Eat Dwell Orient: Food Networks and Asian/ American Cooking Communities" Cultural Studies (Sept 2012): 1-26.
Culinary Fictions: Food in South Asian Diasporic Culture. Philadelphia: Temple UP, 2010.
"Culinary Nostalgia: Authenticity, Nationalism, and Diaspora" MELUS 32.4 (2007): 11-31.
"'Peeking Ducks' and 'Food Pornographers: Commodifying Culinary Chinese Americanness" in Culture, Commodity, Identity: Chinese Diasporic Literatures in English. Eds. Kam Louie and Tseen Khoo. Queens/ McGill Press & Hong Kong University Press, 2005.
"Model Minorities Can Cook: Fusion Cuisine in Asian America" in East Main Street: Asian American Popular Culture. Eds. Shilpa Davé, Leilani Nishime and Tasha Oren. NYU Press, 2005.
"Culinary Fictions: Race and Immigration in Asian American Literature" in After Critical Mass: New Directions in Asian American Studies. Ed. Kent A. Ono. Blackwell. 2004.
"Feeding Desire: Challenging Domestic Heteropatriarchy in South Asian Cultural Production" Journal of Commonwealth and Postcolonial Studies 10.1 (2005):34-51.
Ed."Food Matters" Special issue of Massachusetts Review. 45.3 (2004).
Theorizing Diaspora: A Reader. Coedited with Jana Evans Braziel. Malden, MA: Blackwell, 2003.
Grants and Awards
Early Career Award, Association for Asian American Studies, 2012.
Fairchild Grant for Faculty Development, Denison University, 2005–2008.
Freeman Foundation Post Doctoral Fellowship. Asian American Studies. Wesleyan University, 2003–2005.
Post Doctoral Fellowship. Asian American Studies, University of Illinois, Urbana-Champaign, 2003-2004 (declined).
Post Doctoral Fellowship. Asian American Studies, University of Illinois, Urbana-Champaign, 2002–2003.
Graduate School Fellowship. University of Massachusetts Amherst, 2001–2002.
Graduate Student Scholar Award. Children's Literature Association, May, 2000.
Work in Progress
Anita Mannur is completing a book titled Intimate Eating Publics. Currently under review, the book examines Asian and Arab American cultural production in which forms of intimacy occur within the home via eating and cooking. Mannur argues that within the literary-cultural realm, non-normative intimacies can be brokered through food in the realm of the public. Through an analysis of two South Asian films, The Lunchbox and Nina's Heavenly Delights; several popular memoirs including Elizabeth Gilbert's Eat Pray Love, Julie Powell's Julie and Julia and the lesser known Ginger and Ganesh by Nani Power; a romance novel Bodies in Motion by Mary Ann Mohanraj; one cooking show, The Great British Bakeoff; several cookbooks by a winner of the British Bakeoff, Nadiya Hussain; and two culinary art inspired ventures, including the now defunct Conflict Kitchen and art installations by Michael Rakowitz titled "The Spoils of War" and "Enemy Kitchen." Mannur argues that this particular constellation of texts and cultural objects—spanning different locales across post-9/11 USA, post-Brexit UK and India—allows us to inquire into how racialized South Asian and Arab brown bodies become visible through acts of culinary intimacy at moments of heightened anxiety about brown and queer bodies.
At heart, the book looks at how social worlds are formed, mediated and sustained through forms of eating while recognizing that different forms of sociality structure the experience of eating. Attending to the notion that eating publics contain ambiguities and contradictions, Intimate Eating Publics argues that how one eats, consumes and distribute food reconfigures how we think about networks of intimacy beyond the familial, the heteronormative, the couple and the nation.