Nugrahenny Zacharias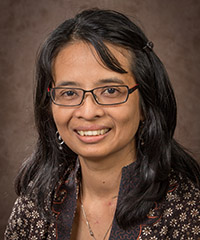 Visiting Assistant Professor
283 Bachelor Hall
Oxford Campus
zacharnt@MiamiOH.edu
EDUCATION
PhD in Composition and TESOL. 2010. Indiana University of Pennsylvania.

MA in English Language Teaching. 2004. Assumption University, Bangkok.

BA in Teaching English as a Foreign Language. 1997. Satya Wacana Christian University, Indonesia.
TEACHING INTERESTS
ESL Composition

Reflective Teaching & Learning
RESEARCH INTERESTS
Identity Issues in English Language Teaching an Learning.

EIL/WE pedagogy
Second Language Writing
SELECTED PUBLICATIONS
"The relocation of culture in the teaching of English as an international language." In R. Marlina and R. A. Giri (Eds.), The Pedagogy of English as an International Language: Perspectives from scholars, teachers and students. Ed. Roby Marlina and Ram Giri. Switzerland: Springer International. 2014. 129-142. 

Publishing.- with Manara, Christine. eds. Contextualizing the Pedagogy of English as an International Language: Issues and tensions. Newcastle upon Tyne, UK: Cambridge Scholars Publishing, 2013.
"Bilingual narratives in English (BNEs) in a language pre-service teacher education program." International Journal of Innovation in English Language Teaching and Research (IJIELTR), 2.2 (2013):1-13.
"Navigating the selves through English medium of instruction policy: Voices from the field." Current Issues in Language Planning 14.1 (2013): 93-108.
"EFL students' understandings of their multilingual English identities." Electronic Journal of Foreign Language Teaching (e-flt), 9.2 (2012): 233-244.
"Qualitative Research for Second Language Education." News Castle upon Tyne: Cambridge University Press. 2011
"The teacher identity construction of 12 Asian NNES teachers in TESOL graduate programs." The Journal of Asia TEFL, 7.2 (2010):177-197.
WORK IN PROGRESS
Henny has recently completed a book chapter "EIL pedagogy in a Microteaching class" to be published in Preparing Teachers to Teach English as an International Language. Publisher: Multilingual Matters. (Editor: Aya Matsuda, Arizona State University). She also has completed a book chapter "Attitudes of non-native English speakers teachers toward themselves" to be published in The TESOL Encyclopedia of English Language Teaching (Eight volume set). Publisher: Wiley and TESOL International and a manuscript "Indonesian teacher identity construction: Insights from practicing ELF pedagogy" for Journal of Asian Pacific Communication (JAPC). Publisher: John Benjamins Publishing. These three manuscript are now still under review. She is now working on a plenary and workshop proposals for the 2016 RELC conference in Singapore.