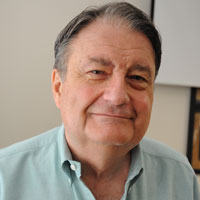 Professor of English
376 Bachelor Hall
Oxford Campus
(513) 529 5982
harwoobj@miamioh.edu
Education
Ph.D. in English Language and Literature, State University of New York at Buffalo, 1970
M.S. in Education, Canisius College
B.A. in Philosophy, Hamilton College
Teaching Interests
Middle English literature
Theory of genre
Theory of criticism
Research Interests
Chaucer
Epic and society in the Middle Ages
Theory of genre
Selected Publications
"Anxiety Over Peasants: Textual Disorder in Winner and Waster." Journal of Medieval and Early Modern Studies, 2006.
"Chaucer and the Gift (If There Is Any)." Studies in Philology, 2006.
"Same Sex Desire in the Unconscious of Chaucer's Parliament," Exemplaria 13:1 (Spring 2001).
"Psychoanalytic Politics: Chaucer and Two Peasants," ELH, 2001.
"The Political Use of Chaucer in America at the Present Time," in Medievalism in the Modern World, ed. T.A. Shippey and Richard Utz (Brepols, 1998).
Class and Gender in Early English Literature: Intersections, co-edited with Gillian R. Overing. Indiana University Press, 1994.
"The Alliterative Morte Arthure As a Witness to Epic," in Orality in the Middle English Period, ed. Mark Amodio (Garland, 1994).
Piers Plowman and the Problem of Belief. Toronto: University of Toronto Press, 1991, 1992, 1994.
"Gawain and the Gift." PMLA 106 (1991).
"Pearl as Diptych," in Text and Matter: New Critical Perspectives of the Pearl-Poet, ed. Robert J. Blanch, Miriam Youngerman Miller, and Julian N. Wasserman (Troy, N. Y.: Whitson, 1991).
"Chaucer's Pardoner: The Dialectics of Inside and Outside," Philological Quarterly, 1988.
"Chaucer and the Silence of History." PMLA 102 (1987).
Work in Progress
Dr. Harwood's principal piece of work in progress is Pluralist Chaucer: Synthesis and Difference in Contemporary Critical Theory. In it, he attempts to dialecticize critical pluralism and political pluralism, arguing that only a pluralism of critical procedures can produce the historical specificity that political pluralism supposes. He is also working on two freestanding essays: an argument that the therapy employed by the narrator in Chaucer's Book of the Duchess in effect anticipates Freud's point in the famous Fort-Da passage in Beyond the Pleasure Principle, and a feminist reading of the Middle English Sir Orfeo.