Rendering Nature: Animals, Bodies, Places, Politics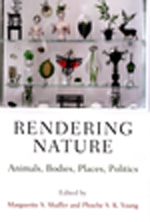 We exist at a moment during which the entangled challenges facing the human and natural worlds confront us at every turn, whether at the most basic level of survival -- health, sustenance, shelter -- or in relation to our comfort-driven desires.  As demand for resources both necessary and unnecessary increases, understanding how nature and culture are interconnected matters more than ever.
Bridging the fields of environmental history and American studies, Rendering Nature examines the surprising interconnections between nature and culture in distinct places, times, and contexts over the course of American history.  Divided into four themes -- animals, bodies, places, and politics -- the essays span a diverse array of locations and periods:  from antebellum slave society to atomic testing sites, from gorillas in Central Africa to river runners in the Grand Canyon, from white sun-tanning enthusiasts to Japanese American incarcerees, from taxidermists at the 1893 World's Fair to tents on Wall Street in 2011.  Together they offer new perspectives and conceptual tools that can help us better understand the historical realities and current paradoxes of our environmental predicament.
University of Pennsylvania Press, 2015