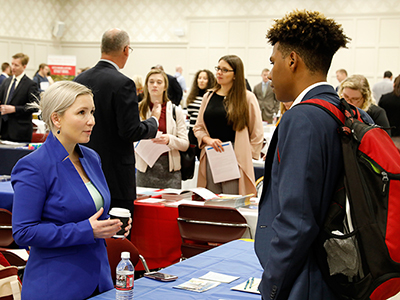 A student chats with a law school representative at Law Day (October 2018).
April 2020
FREE Practice LSAT!
(April 4)
Applying to Law School Workshop for Juniors
(April 17)
April LSAT
(April 25)
June 2020
July 2020
October 2020
Ohio Law Expo (Ohio Union Ballroom, Columbus)
(October 2)
Women in Law and Leadership Symposium
(date forthcoming)
Notes
The Law School Admission Council (LSAC) provides more information about LSAT deadlines and Law School Recruitment Forums.
Free Application for Federal Student Aid (FAFSA) deadlines for the coming school year vary by school and state; the FAFSA website provides more information regarding the FAFSA deadlines.