Adelaide Fries (Class of 2017)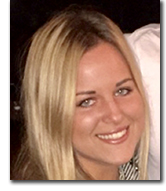 senior major in Public Administration
minor in Management and Leadership
from Cincinnati, OH
Campus Fellow for the Generation Financial Knowledge Development student organization
interned as a Fellow in the Ohio Public Leaders program (January 2016)
interned as a Management Analyst for Hamilton County (Summer 2016)
studied abroad in Florence, Italy (Summer 2015)
"The education at Miami is so amazing that any major you're interested in is going to equip you with the skills to get a job in the future."
Why Miami?
"I've loved Miami ever since I was younger, when my family used to come up to Oxford from Cincinnati to pick pumpkins in the fall. I always thought Miami was this big, grandiose place, and I aspired to be a Miami student. I've been able to have an independent life here to grow as a person while keeping my family life a priority with many visits home.
"My first year was amazing, and I had an overall positive transition into college. As a freshman I lived in Dennison Hall, and I loved meeting new people from all over the country, many of which I am still friends with today. I'm a social, outgoing person, so I loved the excitement that came with living on a campus with thousands of people my own age. Needless to say, the social opportunities were endless. I was able to balance my social and academic life, and though I was nervous about being a good student, I came to realize how well my high school prepared me for the rigors of college-level courses.
"I came in as a University Studies major, with plans to become a business student at Farmer School of Business. I was taking the required Econ 201 course for transferring there, but it was an art class (ART 188) that I took with Prof. Andrew Casper that actually changed my mind! He told us to follow our interests and passions, and not to be afraid to major in creative or liberal arts. I took his advice and decided that this was my time as an undergraduate to study something I loved, political science.
"I'd always had an interest in political science, but I learned from Dr. Phil Russo in that department that the Public Administration (PA) major included the core political science classes with additional economics, statistics, and administration courses to learn about the functions and processes of the public sector. I declared my PA major at the end of my freshman year, and I couldn't be happier with it! At the end of my sophomore year, I also picked up a minor in Management and Leadership."
Best Miami Experiences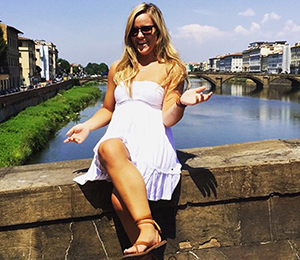 Adelaide Fries sits atop the Ponte Vecchio over the Arno River in Florence, Italy.
"Miami has a traditional college feel. I love the scenery, the architecture, the aesthetics. It's the perfect size—big enough to give you networking opportunities, but small enough that there are familiar faces everywhere I go. Oxford has a unique small town character that I have come to appreciate and love.
"Greek life at Miami has been a huge part of my college experience. I joined Alpha Phi my freshman year to become part of a network of women who care about each other and for the Greek community as a whole. It's so much more than a social sorority. They encourage my strong academics, leadership on campus, and drive to be a well-rounded, positive influence on campus. I wanted to become part of something bigger than myself, and I was able to do that through Alpha Phi. My junior year I was appointed as director of external philanthropy, focusing on our financial and participative support of the Greek philanthropic community.
"Two summers ago, I went to Florence, Italy for a program led by professors Daniele Fioretti and Annie Blair called Writing, Media, and Culture. Those 6 weeks became the best experience of my life as I was forced into a completely new world. Until then I had never been out of the country. I studied journalism and Italian film during the weekdays and got to travel around Italy and other European countries on the weekends. Study abroad taught me how to live and thrive in a culture other than my own.
"I was thrilled to be accepted into the Ohio Public Leaders fellowship program this past January. I worked for the Ohio city of Wyoming, where I was able to focus on community development, something of my interest.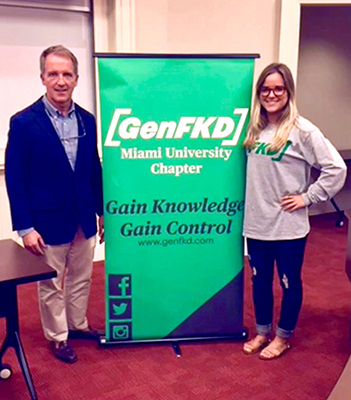 Adelaide Fries and her father Joe Fries pose in conjunction with the Generation Financial Knowledge Development workshop at which he spoke.
"That experience led me to another opportunity this past summer, when I was the management analyst intern at the Hamilton County Office of Budget and Strategic Initiatives. It was a great public administration related work experience where I learned about county government and the functions of a budget office. I presented my final research project on sales and property taxes to the budget staff and county administrator. I tried to attend every meeting possible and networked with organizations working with the county. It was awesome to meet the people who make the city of Cincinnati and surrounding areas a great place to live, work, and play!
"Finally, I'm involved as the campus fellow for a student organization called Generation Financial Knowledge Development, or GenFKD. GenFKD is a national nonprofit that advocates for new education for the new economy and is on close to 30 campuses. At Miami, our mission is to educate students to better financial literacy and foster financial self sufficiency upon graduation. GenFKD is designed to be a campus resource for students by providing workshops on topics such as student debt, entrepreneurship, investment, and the 2016 presidential election."
Being an Ohio Public Leader
"I personally believe that government at all levels—local, state, and federal—needs young people to be more politically aware and engaged. That's what led me to the Ohio Public Leaders (OPL) fellowship program, which identifies students who can be involved in the governance of their cities and towns here in our state.
"OPL is coordinated by Phil Russo and Mark Morris in the Center for Public Management and Regional Affairs, which is part of the Department of Political Science. They assign OPL students to various, individualized positions at different local and state governments during January Term.
"My assignment took me to the Department of Community Development in Wyoming, Ohio, where I was paired for 3 weeks with Megan Statt-Blake, who is the assistant community development director and a 2003 Miami alum. This was my first real internship, and although I was only there for a short time I feel that I learned a lot.
"As my OPL mentor, Megan assigned me to different tasks in the office, one of the main ones being working to revise and update Wyoming's 10-year Master Plan. The document comes out next year and will be used in the city for decades to come. I also met with the city manager, Lynn Tetley, and the different department heads of finance, public works, and recreation to work on this project and understand the functions of city government.
"OPL was a great opportunity to establish a professional platform for my future career while being a politically engaged millennial. The experience encouraged me to consider working in the public sector at some point in the future, but before that I plan to explore other opportunities in business and nonprofit organizations after graduation."
Advice to Students
"Don't be afraid to follow your interests when looking for a major. It's OK to major in something that's not popular. You will be the happiest and most successful when you are gaining critical thinking skills in an area of your interest. Money is important, but it isn't everything. The education at Miami is so amazing that any major you're interested in is going to equip you with the skills to get a job in the future.
"I also recommend being involved on campus in various activities and organizations, because this is the time to build leadership skills—a key element in any professional endeavor. You can build a network of connections with other students, professors, and alumni who can introduce you to opportunities you never knew existed, and this is all at your fingertips as an undergrad. Be open minded and flexible, since you never know where that conversation or phone call will take you!"
[October 2016]