Hannah Kempf (Class of 2018)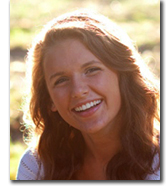 honors junior major in Geology
minor in Spanish
from Indianapolis, IN
conducted research on sediment extracted from road cuts (University Summer Scholar, 2016)
Residential Assistant (RA) in Porter Hall
"My professors have always encouraged me to ask questions, which is important in order to learn. You can't just sit there and absorb all the information—you have to actively engage, and this has helped me grow in ways I didn't know were possible as a student."
Why Miami?
"My older sister visited Miami and recommended it to me, so I came to see it for myself. I loved it immediately—the size was perfect, Oxford isn't too far from my home in Indianapolis, and I met great people. Everything just felt right. So, I decided to stay in the Midwest where I knew I belonged—at least for my undergrad degree!
"I didn't know exactly what I wanted to study at first. I had always liked science, so I took a few different classes, including chemistry, biology, and an honors cluster that included geology and English. I realized I loved geology after my honors cluster took a field trip to Mammoth Cave in Kentucky.
"When I began to understand the concept of geologic time, I knew that geology was something I would be forever fascinated by and possibly something I could see myself pursuing a career in. There are things that have been going on for millions and even billions of years that we can see today in the rocks under our feet. It's really fascinating as well as humbling, making us humans seem pretty insignificant, but certainly not in a bad way. It just gives a unique perspective, like, 'Wow, that's from 450 million years ago! That's pretty cool.'
"Soon after taking that field trip I decided to take another geology class the next semester, which led me to my major, which led me to doing field work and research. I really love it. I've always been an outdoorsy person, even when I was little, because that's where I've always felt most comfortable. And doing field work is just so much fun, even though it can be physically hard and you get sweaty and gross!"
Best Miami Experiences
"The people that I've met here, both students and faculty, are so passionate about not only what they study, but also about the well-being of the world and making a difference. This is particularly true for the Department of Geology and Environmental Earth Science, but it really applies all over campus. Honestly, I cannot recall a single professor that hasn't been a good fit for me, though maybe I'm just lucky!
"Dr. Elisabeth Widom, who's the chair of the geology department, is great. She reached out to me to work with her and Professor Todd Dupont as an undergraduate assistant for one of the UNV 101 courses. It's like being a TA, but for undergrads. I sit in the class to provide input, but I also prepare for the week's lecture and meet with the faculty after the class every week to discuss upcoming content. It's a lot of fun to work with the faculty and students, and the experience has really motivated me to teach and do geological research in the future.
"This past summer I participated in the Undergraduate Summer Scholars Program, which was definitely one of the greatest experiences I've had at Miami. My advisor, Dr. Carrie Tyler, has taught me so much about what it takes to be a scientist. She's really been spectacular. She's always there if I need help but also pushes me to go outside my limits and learn things that you can't really learn in a different type of setting. My research experiences with Dr. Tyler will help me immensely later on in grad school.
"Another great experience is my involvement with the student organization called 'I Am That Girl'. I'm really passionate about its focus on women's empowerment. We work to change young women's self doubt and self love. It's really about being vulnerable, speaking your truth, and providing support to all women in various settings, regardless of background. We've held events in Armstrong Student Center. For example, we set up a table and asked people to reflect on and write down what they're confident about. It's a really great, welcoming community.
"Finally, I'm an RA (residential assistant) in Porter Hall, where I've been making important connections with sophomore women—a total of 24 residents. The staff has been amazing and welcoming. Everyone is really passionate about building an inclusive community in the halls and on Miami's campus, and it all really clicked with me. I didn't think I'd like it as much as I do. I spend a lot of time learning about the residents' lives, doing what I can to make sure that they all have good experiences here at Miami and are aware of the resources available to them."
Miami and the Liberal Arts
"I think it's incredibly important for students to take a variety of classes in order to be a more well-rounded person. The most interesting people I know can converse about a lot of different things, not just one specialty!
"Miami's liberal arts curriculum requires you to take classes outside of your major. The advantage is that these classes make you think in new ways that can still be applied to your major. For example, as part of that honors cluster I took as a freshman, I took a really neat English course, ENG 180H, where we read Walden and Emerson and applied it to what we were learning in geology.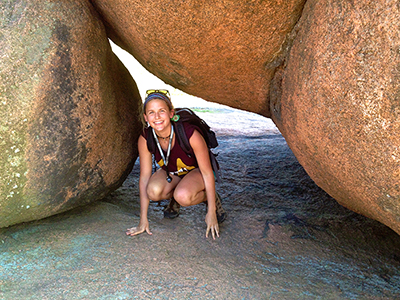 Hannah Kempf poses in the field during a GLG 357 - Igneous/Metamorphic Petrology class.
"In a roundabout way, things like analyzing poems from an English class can be really helpful to science majors. It makes them think outside of the box and work both sides of the brain. You learn to think in creative ways, a necessary skill for making real scientific progress.
"My geology courses have been really great. One of my favorites has been my Igneous/Metamorphic Petrology class (GLG 357), taught by assistant professor Dr. Claire McLeod. She's a really great teacher, and the fact that it was her first year at Miami and she did such a fantastic job made me realize this is something I could do someday as well.
"My professors have always encouraged me to ask questions, which is important in order to learn. You can't just sit there and absorb all the information—you have to actively engage, and this has helped me grow in ways I didn't know were possible as a student."
Getting Dirty as a University Summer Scholar
"This past summer I worked with Dr. Carrie Tyler on a project that encompassed a lot of field work around Cincinnati and in northern Kentucky. We collected a total of 100 gallons of sediment from road cuts, which are those giant exposed rock walls usually found along highways. You can get some interesting sediment samples from the layers, all from different geological time periods.
"My work with Dr. Tyler began after I reached out to her during my sophomore year. She told me about the University Summer Scholars (USS) program, and so I applied and got the fellowship. Besides doing a lot of field work, I spent hours processing data and identifying our specimens. Also, I got to present our initial results at the Geological Society of America's national conference in Denver this fall.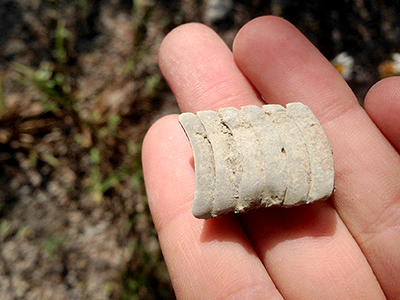 A fossilized cephalopod
"My USS research project is focused on ~450-million-year-old ecosystems, when Ohio was submerged under a shallow sea and located near the equator. There are lots of tiny shells and other organisms that remain in the sediment, which Dr. Tyler and I would go looking for. We'd hit about 4 or 5 field sites close to Cincinnati in a single day. We only had the summer, and it was just the two of us, so we had to work really hard. We'd go out in the 90-degree weather with buckets, shovels and other tools, and dig. It wasn't particularly glamorous, but it was fun!
"We then took the sediment back to our lab for processing, which entailed wet sieving, meaning that I would dump the sediment into a 1-mm sieve submersed in water and shake it for hours at the lab to get the excess dirt off and pick out the fossils. This took a really long time, and in fact it's what I did for most of the summer!"
Advice to Students
"It's important for students, especially freshmen, to have an open mind when they come to college. I feel like so many people arrive to Miami with this idea that they want to be this, this, and this—but it's really hard to know exactly what you want to be when you're 17!
"After you start taking a variety of classes, you might be surprised with something that you end up being really fascinated by. Just step back from the pressures of your peers, breathe, and reflect on what's right for you. It's not worth pursuing a career in something if you're not passionate about it. If you're motivated enough, chances are you'll be successful.
There's always a reason not to do something, but with research or studying abroad or internships or anything else, it's important to listen to your gut. That's what college is about—getting those experiences and growing as students and as researchers and as people. It's about getting out there and doing it!"
[September 2016]