Bob Carmichael (Class of 2016)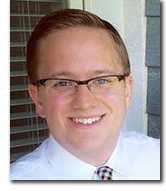 senior double major in Political Science and International Studies
from Cincinnati, OH
interned on Capitol Hill as part of the Inside Washington program (Spring 2014)
studied European politics during study abroad experiences in Spain, Germany, Bosnia, and Turkey
College of Arts and Science Ambassador and member of the Dean's Student Advisory Council
"Don't be afraid to talk to your professors and advisors, because they will point you in the right direction of a class or an extracurricular. They might also suggest a study away or abroad program you might not have considered previously. They may even offer to do a research project with you."
Why Miami?
"As I was looking around at different colleges, I made a list of ones that had a program I liked, how close it was to home, its size, and how the campus felt. Miami ended up fitting all those criteria. It's nationally ranked in many different aspects, especially for undergraduate education. I honestly have never seen a college campus that is more beautiful. It was only an hour away from home, but far enough that I could feel independent, and I was offered a competitive financial aid package. What's not to like?
"I didn't know many students when I started here, so I reached out to others living in the Governmental Relations Network Living Learning Community (LLC) in Wells Hall. Many of them are still great friends of mine today. I also got involved with the university's Office of Institutional Relations, which brought me along to Washington, DC for a student engagement experience. This really prepared me for the Inside Washington program later!
"I started off with a major in Diplomacy and Global Politics, but I decided to pick up Political Science and International Studies instead after I completed Inside Washington in Spring 2014. I found that it was a much better use of my credits to get two degrees instead of one. Both of my majors really complement each other and set you up well for a future career."
Best Miami Experiences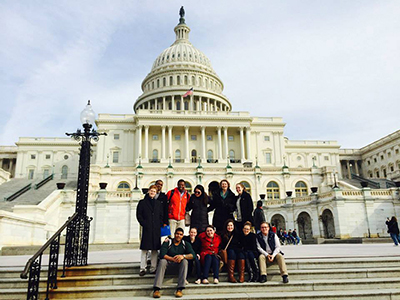 Bob Carmichael (far right, front row) and other members of Inside Washington group in front of U.S. Capitol building
"What I love about Miami is the amount of opportunities available for students, especially for a school of this size. You will never be bored.
"Miami is particularly well known for study abroad, which is a requirement for the International Studies major. My first experience was during Winter Term 2015, when I went to Spain to take a class on European politics and enjoyed the warm, sunny, Spanish weather. Then, the following summer, I studied abroad in Germany, Bosnia, and Turkey, where I also studied European politics but with more of a focus on security in Russia and the Middle East. I also took a class on the Balkan States, an incredible area of the world that a lot of people don't know much about.
"In both cases, I was glad to be able to immerse myself in an unfamiliar culture while earning college credit and learning about subjects that will advance my career prospects. In order to go into diplomacy, knowledge of a wide range of countries and cultures is essential.
"Miami is also known for its commitment to undergraduate teaching, and that is evident in every class I've taken. The professors here are passionate about their subjects, and often their research is even more impressive than the topics they teach in class!
"One professor in particular who has always been there for me is Patrick Haney, the chair of the political science department. I've enjoyed his classes and have worked with him on the biannual Janus Forum, which has provided me with a lot of opportunities. I've been really kept engaged by that popular event."
Interning on Capitol Hill and Researching Hockey Fans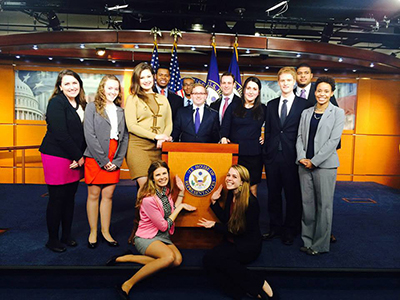 Bob Carmichael (center) and other members of Inside Washington group at the U.S. House of Representatives podium
"The Inside Washington program is hands-down the favorite experience I've had at Miami. I found out about the program at orientation and knew immediately that I wanted to get involved. I ended up going the spring of 2014 as a sophomore.
"The program lasts an entire semester and is divided into two parts. For the first 5 weeks, you participate in a speaker series, which involves meeting with members of Congress, judges, the media, specialists in election forecasting, journalists, everyone and anyone in Washington. Our group met with Senator Ted Cruz, Senator Paul Ryan, and John Boehner's chief of staff, and that was really incredible. We also conducted an ethnographic research project, which involves picking a specific community within DC and observing work in the field.
"For my research project, I decided to study the Washington hockey fan community. I'm not a big sports fan and have only been to one Miami hockey game, but I wanted to challenge myself with a topic I wasn't very familiar with. Many of the people who live in Washington aren't originally from there, so they come into the city with alternate fan loyalties.
"I gathered data by going to a [Washington] Capitals hockey practice and a game, and I also talked to people on the metro. It was interesting to me because although sports fans have various allegiances, I didn't pay much attention to their rituals in the past. It was intriguing to see how they organize themselves and dedicate their time.
"In the final 10 weeks of Inside Washington, you intern for a politician. I did so with a representative of a district in Cincinnati. We did clerical work, attended several Congressional hearings, and wrote up memos. My favorite part was guiding families and schools from the area around the Capitol Building. How many universities take you to the Capitol like that, as an undergraduate? It was such a rewarding experience!
"Overall, Inside Washington fueled my desire to move to Washington after graduation. At first I had little interest in Congress, but I found that I really like the idea of working there, and the program opened my eyes to how DC really works. You come to realize how complex the government is — there are so many moving parts competing for different interests. It's a very exciting place to be, and I can't wait to be more involved."
Miami and Liberal Arts Education
"The liberal arts are all about opening your mind. What you learn in class is incredibly important, but to me it's more about exposing you to different ways of thinking.
"Political science and international studies have two very different mindsets, even though they gel well together. Then you throw in a geography class, a language class, a music class, and so on — and you have to approach each with a different perspective. Sometimes it is difficult switching from one subject to the other so quickly, but having those skills will help you adapt to diverse environments in the workplace.
"Because every academic subject has its own way of looking at the world, even if you are covering the same topic in two different classes, you're always learning a new way of thinking. For example, political science covers the Soviet Union in a different way than anthropology does. Economics covers healthcare costs differently than political science does. You will learn more when you can see things from multiple views.
"Both my majors are preparing me for a variety of career options. Political science takes more of a scientific approach — you make a hypothesis, conduct an experiment, and see if you can get a result. You're also placed onto the track toward a career in Washington.
"However, the field of international studies looks at things holistically, encouraging you to broaden your studies in a way that political science doesn't. You will explore many different subjects, such as history, political science, geography, economics, anthropology. In today's job market, you don't want to be too focused on one particular thing. You need to be versatile and open to new ideas. That's why I feel my two majors complement each other really well."
Advice to Students
"Anyone and everyone should do Inside Washington. It can appeal to anyone, in any field of study. Even if you don't want to pursue a career in politics, it still gives you a great understanding of how our government works, and that kind of knowledge is invaluable if you want to be an active citizen in American society.
"Don't be afraid to talk to your professors and advisors, because they will point you in the right direction of a class or an extracurricular. They might also suggest a study away or abroad program you might not have considered previously. They may even offer to do a research project with you.
"It's really cool to find what you are interested in and nail it down. If you find what you like to learn about and pursue it, you'll really enjoy your time at Miami more. Get involved outside of class — that's where you learn the most!"
[January 2016]