Spencer Aitken (Class of 2017)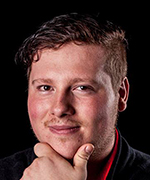 honors senior quadruple major in Classical Humanities, Classical Languages, History, and Biology
from Denver, CO
President of LGBTQ organization Spectrum
President of the Classics Club
member of Collegiate Chorale
member of Undergraduate Conference in Classics student committee
"In terms of Miami's student organizations, remember that there's definitely something for you…There are so many opportunities — you just have to be willing to put yourself out there and try a few. Look at the Hub, be open, and channel your inner nerd!"
Why Miami?
"I first visited the university during the annual Make It Miami sessions, and I felt that Miami was one of the more beautiful campuses I'd seen. I could see myself getting lost within the historic red brick buildings. The meetings I had with professors and staff members during that visit really solidified that Miami was a place where I could see myself. On top of that, I was interested in leaving Colorado and exploring a different region of the country. My scholarship made my decision financially easier as well.
"My first year was fascinating. I lived in Emerson Hall, and it was really easy to bond with other students. The Ohio climate and lack of mountains took some getting used to, however. I often lost my sense of direction, because in Denver we orient ourselves by seeing the mountains to the west. But it was exciting to figure out what I wanted to do, and being an Honors student taking cluster courses with other Honors students definitely was a good way to get a feel for the range of what Miami has to offer.
"My first declared major was Classical Humanities, but I realized it wouldn't give me as much language experience as I wanted, so I soon added the Classical Languages major and started taking Greek and Latin. I then added a minor in History, but I soon realized, 'Why not just do it as a major?' I then realized I missed my sciences, so I chose Biology as my last addition. I had to laugh when I realized I'd allotted just about all of my time at Miami to work on these 4 majors!
"What I like most about Miami is the level of academic performance that's expected. Undergraduate education receives a high level of focus, and professors have high expectations. I enjoy being pushed and feel bored if I'm taking less than 20 credit hours in a semester. However, I've found that throwing myself into student organizations helps me feel more productive."
Best Miami Experiences
"I'm the president of the LGBTQ group known as Spectrum, which I learned about when I was a freshman living in Emerson. I entered Miami having already come out and feeling comfortable with who I was, and I ended up loving Spectrum from the beginning and took my first leadership position there midway through my sophomore year.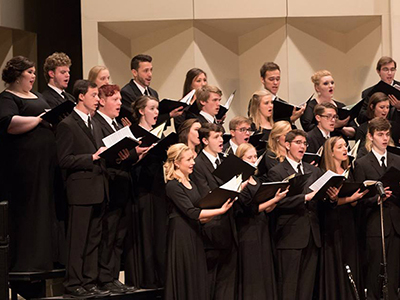 Collegiate Chorale and Glee Club 2015 Winter Concert
"One of the best experiences I've had at Miami was being part of the Collegiate Chorale. The choir is mixed with both women and men. Everyone is a wonderful singer, and we do beautiful and technically challenging pieces of music. It's not just an academic music group, but also our own little family. Some of my best memories are with Collegiate Chorale, where I've made a lot of wonderful friends.
"On the academic side of things, I've enjoyed being a part of the Department of Classics. While I also love the History and Biology departments, they are comparatively larger and less intimate. I enjoy knowing the professors by name, and every now and then I'll just stop in for a visit. Many of them are from multiple classes — I've had Dr. Denise McCoskey, for example, for both a number of my Latin and Classical Humanities courses. In Classics, it never feels like I'm getting lost in the crowd.
"Dr. McCoskey has always been among my most accessible professors. She's always willing to answer my questions not only about Classics but also about graduate school and other topics. I've also become close with history professor Dr. Charlotte Goldy, who's just wonderful. As my counselor during orientation who helped me plan my first semester, she actually remembered me a year and a half later when I came to declare my History major. It's obvious that she cares about her students, as does Dr. Renee Baernstein, who is also in history.
"Dr. Baernstein is my thesis advisor, and by working with her I've been figuring out my career goals. I'd like to be a college professor and teach classics and/or history. I could even incorporate my biology major to do work in the field of medical humanities. All of this takes another 5 or so years of education, and my plans may change, but I've learned that you never know what life will bring — I came to Miami only planning to do Classics, but then came History, and Biology after. This was a curveball that I did not expect to see, but learning how to adapt and determine how to do what you want to do is the key!"
Miami and the Liberal Arts
"The biggest aspect of the liberal arts that I've wholeheartedly embraced is moving towards the 'well-rounded individual' approach. They provide the skills you need to adapt. English majors, for example, learn more than just Shakespeare — they learn how to analyze texts. And in history, you learn the skills of analyzing data, recognizing trends, and expressing them in a coherent way that may sway the outcome of a business deal or partnership.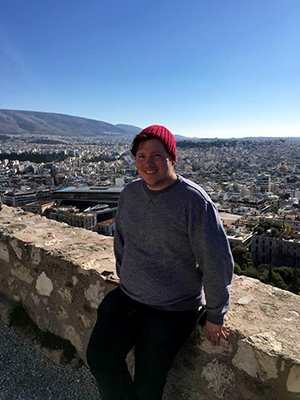 Spencer Aitken poses on top of the Acropolis in Athens, Greece (Discovering Greek study abroad trip).
"The liberal arts are also interdisciplinary. Classics is a very temporally restricted combination of history, sociology, and linguistics. Being able to combine different aspects of your personal or professional life, see where fields meet, and bring together different kinds of knowledge is a great thing.
"In many of my classics and history courses, we analyze historical speeches and treatises and other writings that came out of that ancient time period. One of the huge misconceptions I keep hearing is that the classics are just about mythology and not much else. While mythology does overlap with philosophy in some ways, especially when we talk about Plato or Aristotle, there's really so much more. One of my favorite assignments in my Greek classes has been translating bits of Plato or Aristotle, which helps us better understand that there's philosophy, there's history, and weirdly enough there's even science, which appears in medical texts or analyses of battlefield medicine described in such texts as Homer's Iliad. Mythology appeals to the fun, nerdy part in everyone, but it only scratches the surface.
"I've had two classes at Miami that had a particularly special influence on me. One was a 400-level history course on Florence taught by Dr. Baernstein. Up until that point, I had focused mostly on fairly broad topics, like the Renaissance, but this class showed me a new way forward. Half of my classmates were grad students, so they were in the next phase of their studies, and that put the idea of going to grad school in my head. Since then I've decided that grad school was my next step.
"The other class that really changed me was the first class I'd taken at Miami: Latin 310, with classics professor Dr. Zara Torlone. Its focus was on the elegy, which is Roman love poetry. We translated Latin documents, looking at the trends and tropes of this genre. This experience led me to present papers on that topic three times at Miami's Undergraduate Conference in Classics (UCC), where I'm also a member of the committee."
Supporting the LGBTQ Community; Educating Peers as Campus Leader
"This is my third year of being both president of the Classics Club and serving on the committee for the Undergraduate Classics Conference. The Classics Club works with a faculty member to put on the conference, which is our big event that brings people from across the nation. We also have a lot of fun looking at how popular media these days interpret the Greek and Latin classics, such as Disney's Hercules. Mythology is a blast!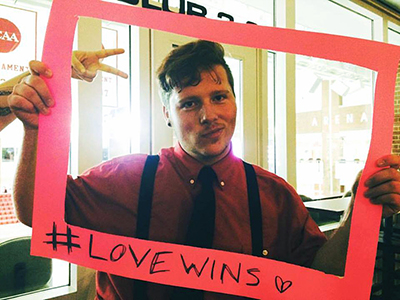 Spencer Aitken celebrates the Summer 2015 Marriage Equality ruling. (Spectrum's AlternaProm 2015 dance for Miami's LBGT community)
"In Spectrum, our first priority is making sure that there's a place for LGBTQ students on campus, especially the younger ones. Our secondary goal is to show that we're normal people. This can be a bit of a challenge sometimes, but I like challenges, and we're definitely moving in a very good direction.
"We hold weekly meetings, which can entail fun craft activities — such as our Pumpkin Pride event around Halloween — as well as discussions and dialogues about current events that affect the LBGTQ community. We have two big weeks during the academic year: our 'Out Week' in October to celebrate National Coming Out Day, and Awareness Week, where we try to educate others about LBGTQ issues.
"Out Week is set up to encourage people to show their support for those who want to come out and for those who are out. Spectrum is always looking for ways to try to raise awareness of what our issues are and who we are as people. We sometimes get questions about the so-called 'gay agenda,' but my favorite response to that is, 'I don't know what kind of agenda you're talking about. I know what I have to do today, which is go to class and do homework!' In other words, our 'gay agenda' is to not fail out of school!
"Spectrum also holds fun activities like Pride Pals, where we visit various classes, like psychology and women's, gender and sexuality studies, and share our experiences. We've made impact on the campus already, including working with Residential Life to enact changes to restroom policies and introduce gender-inclusive housing. Seeing the number of people who attend our events to show their support, including those who don't identify as LBGTQ, has been very encouraging. I'm really glad that the university community as a whole seems to be moving in a positive direction."
Advice to Students
"Though the Miami Plan does a good job of forcing you to do it, don't be afraid to go outside your major or something you would normally do. You never know what you might end up falling in love with. For me, at first I only focused on classics, particularly ancient history courses — but then I took a Renaissance history class, and then a medieval history class, and I realized that I loved those time periods too. That's what prompted me to declare my History major. You never know what you can learn, especially from a department that you normally wouldn't have considered taking.
"In terms of Miami's student organizations, remember that there's definitely something for you. Going to MegaFair as a freshman can be intimidating, with all the people loudly trying to draw your attention. That's what MegaFair is — being louder than the person next to you! But if you like Renaissance festivals, Miami has the Society for Creative Enactments. Or if you really like sign language, the Signing Club is a thing you can do. There are so many opportunities — you just have to be willing to put yourself out there and try a few. Look at the Hub, be open, and channel your inner nerd!"
[September 2016]