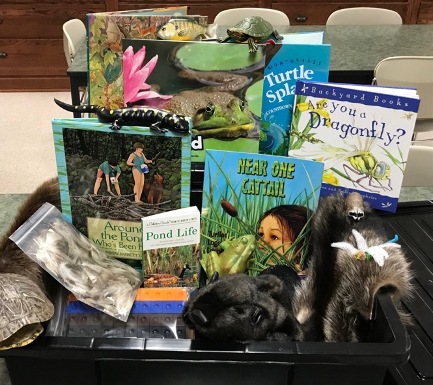 Discovery Trunks
We send a big shout-out to the Ohio Environmental Education Fund (OEEF) for their financial support of the grant, Sowing SEEDS (Science, Environmental Education, Discovery and Synthesis). OEEF provided funding for several much needed Museum and class tasks:
the creation of new Discovery Trunks. 

Sowing

 

SEEDS provides funding to purchase and create natural-world objects and teacher guides for the Trunks.

the introduction of our newest certification class, BIO 320 Middle Childhood Environmental Educator Certification specifically offered to undergraduates with a desire to work with children ages 9-14.

The undergraduates in this class create the Discovery Trunks for our outreach. 
Middle Childhood Environmental Educator Certification joins our pre-existing certifications, Early Childhood Environmental Educator Certification, and the Environmental Education Council of Environmental Educators. 

Outdoor Area Kits (OAKs) for undergraduates who earn the certification to start environmental education with children ages 9-14 in any educational setting.

OAKs provide emerging educational professionals with science resources at their fingertips, including a plant press, window nest box, thermometers, measuring tapes, magnifying glasses, educational activities, and a science library.

a face-lift to our popular discovery center, the Imaginarium.

The Imaginarium remodel will include new exhibits and an invertebrate vivarium to connect people of all ages to the nature around them.
Want to reserve a Discovery Trunk?
Discovery Trunks are available for loan to the community and to educators, whether in a formal or educational setting, in the Ohio-Indiana-Kentucky area. The museum is open from 9:00 am-4:00 pm on weekdays (year-round, but closed on university holidays). Discovery Trunk reservation requires a $25 deposit fee (cash or check made out to Hefner Museum of Natural History), which is returned to you if the Trunk is brought back completely intact.
Contact Carla Blackmar, by email at blackmc3@miamioh.edu to secure a Discovery Trunk. Discovery Trunks may be borrowed for two weeks and must be picked up and returned to the Hefner Museum of Natural History, rm 100 Upham Hall. 
There are many parking options from which to choose when picking up and returning the Trunks.  
Parking is available at the

 

North Campus Parking Garage, 645 E Withrow, Oxford, OH, for a nominal fee. This is the closest and allows for the most flexibility. Parking is located beneath the Engineering Building. Take the elevator to the Ground Level, cross High Street, and proceed to Upham Hall, located just past Laws Hall. 
You may also purchase a

 

$3.00 one-day parking permit

 

from the University Parking Portal as a Visitor. This allows you to park in any university surface lot.
Any

 

parking meter

 

located at Maple Street, Oak Street, or Shriver Center East Lot off Patterson Rd costs $2.00 for the first hour. All meters are cashless.  
For additional information regarding parking areas, see

 

Miami Parking Areas and

 

Miami University Frequently Asked Questions. 
Upon the Trunk's return, we will ask for you to fill out an evaluation as your feedback helps us to create better educational products for our community.
Discovery Trunks for loan
The following Discovery Trunks are currently available for loan:
Deciduous Forest
Unlock the remarkable phenomena of the Deciduous Forest with inquiry activities for early childhood students. Discover the seasonal behaviors of animals and plants of the deciduous forest. Who migrates, who stays, and who hibernates?  Finally, capture the imagination of a child with hands-on inquiry activities, authentic objects, and literature books that spark a trek of life-long learning. Authentic and replica specimens include Redbud tree leaf, seeds, pods, tree wafer, branches, Ohio buckeye seed pods, White pine seeds, needles, cones, log, Pawpaw leaf, seeds, tree wafer, log, chicken feathers, White-tailed deer antler and bear scat.
Food Chains (Vernal Pool or Forest/Meadow)
In this tote, students explore food chains, food webs and vernal pool habitats. The trunk includes laminated photos of producers and consumers used to create food chains or webs. The animals and plants included are beechnuts, Northern short-tailed shrew, spicebush berries, Great horned owl, Swallowtail caterpillars,  Black rat snake,  Blue jays, Coopers hawk, Flying squirrels, Red fox and White-footed mice. Game instructions and supplemental reading books are included in the tote. 
Fossils
This kit contains fifteen sets of Ordovician fossils, each with 50 small specimens including brachiopods, bryozoans, gastropods, cephalopods, crinoid stems, petrified wood, and leaves. Also included are several activities and supplemental reading books. 
Freshwater Mussels
Students explore freshwater mussel shells that are native to Ohio's rivers and lakes. Each lesson is designed to introduce students to a freshwater mussel's life cycle, conservation issues, and body structure. The trunk includes inquiry activities and seven mussel shells, button-drilled mussel shells, shell buttons, and a set of dichotomous keys to identify mussels.
Model Eggs
Camouflage and adaptations take center stage in this trunk offering wooden model bird eggs representing 10 species ranging from small to large eggs. Activities range include matching bird to egg and building a habitat-specific nest for the different species of birds represented. Model Eggs offers a replica representation for eggs that are not readily accessible and can be replaced easily if damaged.
Molluscs
Six sets of gastropod and bivalve shells, mollusk anatomy diagram, identification keys, and animal natural histories. 
Mystery Mammals
Twelve mammal boxes contain five clues to the identity of an animal located in the Tri-State region.  How are these clues similar to sign tracking? One clue at a time, students document their observations and ask questions to determine the animal's identity.  Twelve mammal sets include eastern fox squirrel, red fox, opossum, whitetail deer, raccoon, meadow vole, short-tailed shrew, big brown bat, striped skunk, eastern cottontail rabbit, groundhog, and deer mouse. Each set includes some or all of the following items: track replica, scat replica, skull, fur sample, habitat photo, and food photo.
Pond Life 
The Pond Life Discovery Trunk inquiries are designed to connect children to our local natural areas. Learn about and identify the relationships intel the pond that connects even the smallest animals or plants to the larger ecosystem beyond the pond.  How do animals survive in the pond throughout the seasons of the year? North American beaver, Spotted salamander, Mallard duck, Raccoon, Great horned owl, and Red-eared slider are just a few specimens included in this trunk. A puppet play, Where do they go? is also included that discusses what happens to the pond's inhabitants in winter.
Puppet Plays-Two Trunks
Trunk 1 Anti-bias puppet plays:
Our plays, Who will eat the blackberries? I am who I am, We're all in it together and Standing Tall, easily combine puppets, museum collections and real/replica specimens to teach about the natural world to children.  Nature provides science content and the backdrop for puppet plays used as a springboard for teaching the National Association for the Education of Young Children's (NAEYC) four goals of Anti-bias Education-Identity, Diversity, Justice and Activism. Puppets, plays, inquiry activities and supplementary books are included in this trunk.
Trunk 2 Tiny Turtle:
Follow the Tiny Turtle Trilogy as Tiny Turtle learns about the weather, his habitat and where his home is located. Puppets, plays and props are included in this popular trunk used by all ages.   
Real Eggs
Explorations using real bird eggs from puffins, geese, ducks and penguins are included in this kit. 
Eggs from the following birds are included: Patagonia crested duck, Mandarin duck, 
Wood Duck,
Hooded merganser,
Gentoo penguin, 
Chinstrap penguin, North American ruddy, 
Atlantic puffin, Tufted puffin, Hawaiian goose, 
Rockhopper penguin, 
King penguin and 
Common murre.
Science of Sorting
Children possess an innate curiosity about the natural world. This trunk was created as an educational outreach component for an NSF grant in which Miami University got a cell sorter. That's right...sorting at its most basic level, the cell! This Discovery Trunk explores the topic of sorting, or classification, in the study of life science through many inquiry activities and lots of cool specimens. 
Skulls
Students explore the exciting world of skulls. They tackle questions related to feeding patterns, trophic levels, and predator-prey relationships. Students and teachers alike will find out how to make skulls and scientific findings an ally in uncovering the mysteries in the natural world. Included with the teacher guide are fourteen mammal skulls, class set of dichotomous keys and diagrams showing parts of a skull.
The Call of the Wild
This was funded by the Big Read. The trunk includes eleven canid skulls: gray wolf, red wolf, coyote, African hunting dog, black-backed jackal, hole, arctic fox, gray fox, red fox, St. Bernard, and Siberian husky. Also included are class sets of dichotomous keys, The Call of the Wild cd by Jack London and purchased activities funded by the grant. 
Tropical Cloud Forest
Animals over three thousand miles away in the tropical cloud forest share many of the same survival tactics as the animals of Ohio.  Learn how camouflage and mimicry protect the animals of the tropical cloud forest and the animals in Ohio, even those in your own backyard. Finally, discover the water cycle, an immensely important factor of the Cloud forest. 
Turtle Shells
Activities reflect interactions between an organism and its environment. Shells or shell fragments represent Blanding's turtle, Red-eared slider, Common snapping turtle, Eastern box and Ornate turtle.
Coming soon: Above/Below Ground, Wet/Dry, Ice Age, Invasive Species and Life Cycles!
Materials for loan
The following materials are also available for loan:
Museum Specimens—specimens of preserved fish, amphibians, reptiles, birds, and mammals
Plastic Lizards—for sorting (includes dichotomous key and lesson plan)
Plastic Insects—for sorting (includes dichotomous key and lesson plan)
Survival: African Savanna Game—set of large game tiles and photographs (includes lesson plan)
Puppets—Additional puppets not used in the Trunks listed above are available. 
Beetle Bark—elm bark with evidence of elm bark beetle infestation
Oranges in Various States of Decomposition
Skulls—additional skulls not contained in a traditional trunk. Kinds of skulls vary, but there are several mammals available. 
Hefner Museum of Natural History
100 Upham Hall
Bishop Circle
Oxford, OH 45056