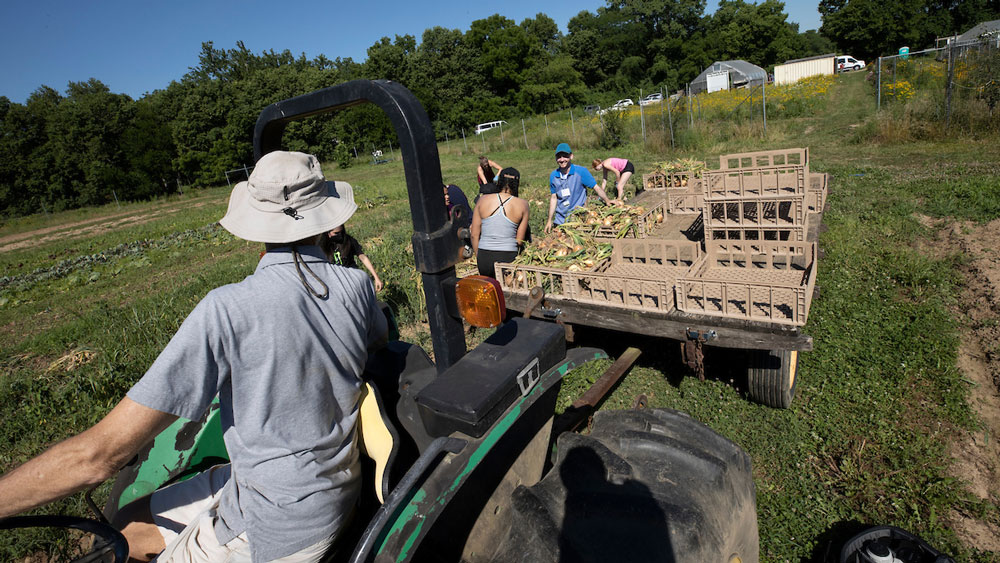 The Institute for Food is a Provost Interdisciplinary Innovation project to engage the Miami University community around issues of food, health, and sustainable agriculture. Its mission is to foster healthy food, healthy eating, healthy communities, and a healthy planet.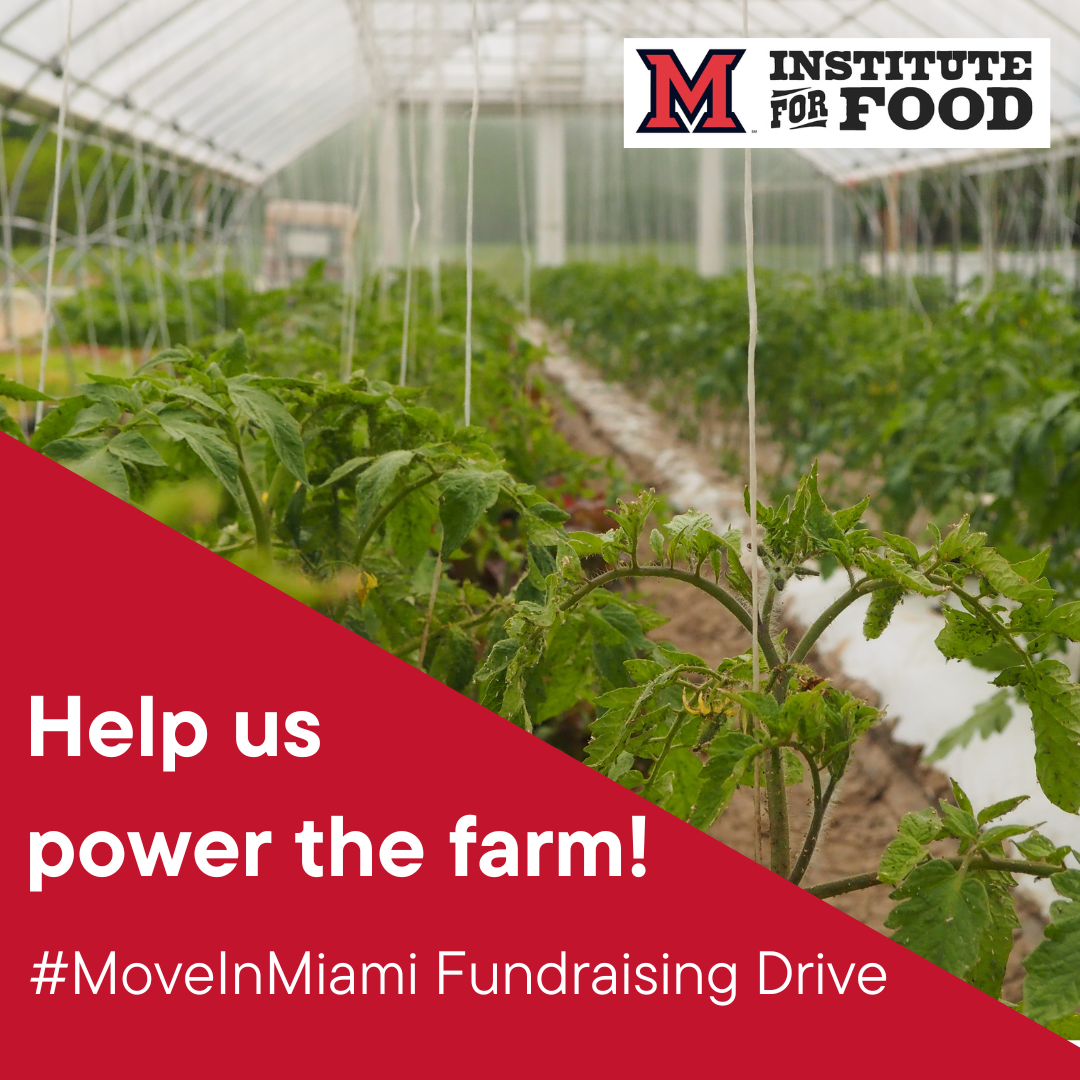 Join us in supporting the Institute for Food during the #MoveInMiami fundraising drive! Help us empower our community through innovative food initiatives, create a healthier, more sustainable future for all, and be a catalyst for positive change in creating a more sustainable and equitable food system for the future.
Our Mission
Our mission is to foster healthy food, healthy eating, healthy communities, and a healthy planet.
To this end, the Institute for Food:
operates a

 

sustainable farm

 

on the historic Austin-Magie Farm and Mill District, which serves as a living laboratory for experiential learning,

 

collaborative research, and community engagement
cultivates extensive

 

partnerships

 

with community organizations both in Oxford and the greater Cincinnati area — working to enhance food access and resilience within our region
Institute for Food Farm

At the farm, Miami students work alongside university faculty and Oxford community members to cultivate the land, plant seeds, and harvest crops — selling and donating our fresh local produce to students and community members alike.
Charles Griffin,
Director of Farm Production and Operations
griffic8@MiamiOH.edu
Charles Griffin is a seasoned organic farmer. Over his 20-year career, he has built, managed, and inspected organic farms, consulted for sustainable farm projects and community initiatives, and educated students and staff on the practice and business of sustainable farming.
---
Ross Olson,
Assistant Director and Farm Outreach Coordinator Institute of Food

Olsonre@MiamiOH.edu
Ross received his B.S. in Natural Resource Science at Humboldt State University in Arcata, CA which provided a strong foundation in natural resources, climate, and environmental issues. His focus and passion have been around our food system and food security.

Here are some of Ross's contributions:
Coordinated multiple market-enhancing programs, including Produce Perks, Farmers' Market WIC, Senior Farmers' Market Nutrition Program vouchers, and SNAP payment processing administration

Oversaw health code and agricultural regulatory compliance licensing and certification at Farmers Markets

Cultivated community with vendors and patrons alike at two different area farmers' markets

Founding Community Engagement Committee member of the IFF Steering Committee
Building a Better Future Through Our Students
The Institute for Food at Miami University offers a holistic approach to food systems and food studies, integrating hands-on learning about sustainable agriculture, food production, distribution, and consumption with health and wellness, food equity and security, and food cultures and cuisines.
The Institute for Food provides numerous opportunities to learn about food as it moves from the farm to the table and apply principles from a diverse range of academic disciplines across the university.
Miami's Food Systems & Food Studies Co-major, food-related courses, and institute internships provide new perspectives and paths to careers in food industries and the agricultural sector.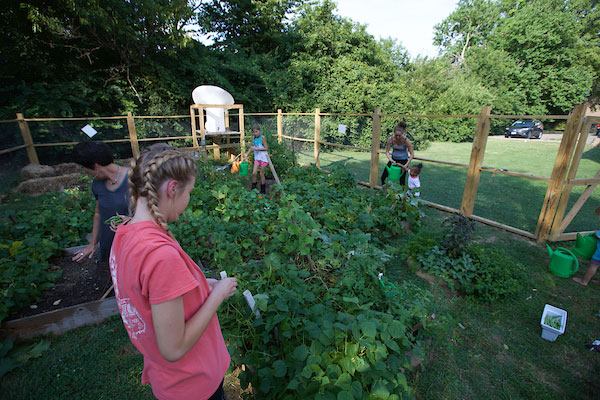 The Institute for Food offers a variety of internships for those who desire to create change in the local food system.
These internships are available to students who have taken IES 278 - Introduction to Food Systems or by permission of the advisor to the Food Systems and Food Studies Co-major. Typically, interns exhibit a strong interest in the workings of the farm and often have some previous farming or gardening experience.
Interns are awarded 3 semester hours for completing:
a semester-long internship (working 10 hours per week)
or
150 hours during the summer term
What Interns Do
As part of their experience, interns perform a wide variety of tasks to support the Institute for Food Farm and to help promote the Institute for Food, including:
Marketing
Researching
Maintaining a photo database of the farm
Planting vegetables
Harvesting vegetables
Preparing new beds/rows with compost for planting
Pulling weeds
Assisting with other projects around the farm
Courses
Miami University offers various courses related to food systems, food studies, sustainability, and experiential learning (often in collaboration with the Institute for Food Farm). Past classes have helped the Institute for Food partner with new organizations in the community, design plans for the distribution of produce, as well as build a wash station, storage container, and greenhouse to increase efficiency on the farm.
IES 278 -
Introduction to Food Systems

Introduction to food from an interdisciplinary perspective exploring the interrelationships between food, agriculture, environment, and society. Course materials focus on food from a systems-based perspective, examining the origins implications, and practices of our current food systems, and exploring new approaches to sustainable agriculture, agroecology, and resilient food systems.
IES 278L -
Understanding Food Systems
Laboratory course exploring the interrelationships between soil, water, plant resources, and other biotic components of agricultural ecosystems. (Must be taken with IES 278)
ATH 405 -
Food, Taste and Desire
This course examines food consumption from a social, economic, and political perspective and analyzes cultural meanings of food-related practices.
ATH 411/511 -
Applied Anthropology
This course involves an investigation of the accessibility of fresh produce for low-income families in Oxford, including a service project with the Oxford Choice Pantry and the Institute for Food.
HST 238 -
Food in History
This course explores the role of food in history. Selected topics include the history of food as a resource linked to markets, migration, empire, and globalization; as well as food as a cultural artifact linked to social position, political agency, culinary practices, and local identity.
HST 290 -
Food and History
Multiple professors collaborate to provide students with an interdisciplinary study of food culture and practices throughout history.
ENG 495R -
Capstone: Rhetorics of Food and Agriculture
Students critically analyze rhetorical texts about food and agriculture while also composing multimedia web content for the Institute for Food.
WST 341 -
Synthesis and Action: DOING the Commons: Food & Community
Students work in groups to facilitate community partnerships with the Institute for Food and implement a new sustainable program promoting local food production and consumption.
Give a Gift Today
Support a program through a designated gift or give an unrestricted gift that will be applied to our greatest area of need. Your gift will impact future generations today. 
Contact Us
Miami University
Oxford, OH 45056