Awards and Accomplishments
2022-2023 Scholarship and Award Recipients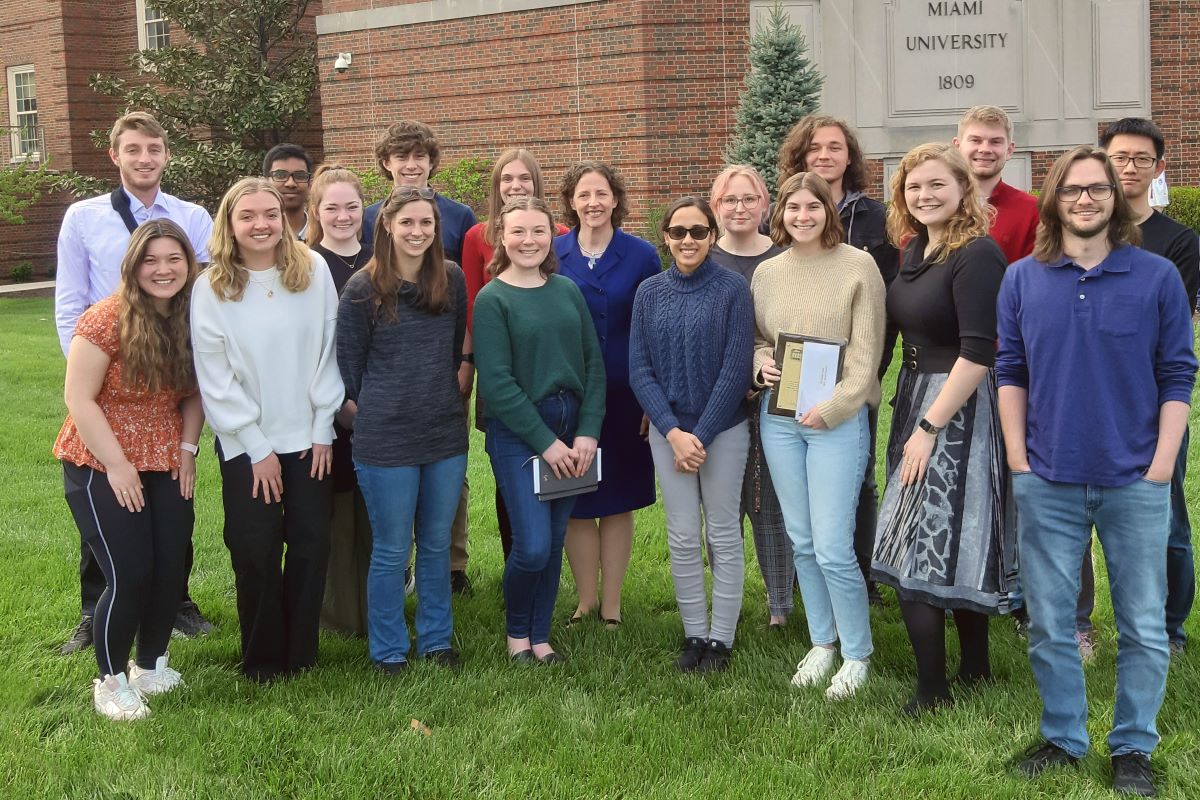 Front row (left to right): Katelynn Wang, Katy Rusche, Madisen Kimbrel, Devon Popson, Rochelle Pereira, Kristina Gara, Annabelle Hauss, Reily Combs
Back row (left to right): John Fazio, Aminul Islam, Natalie Young, Benjamin Nagle, Maria Spaeth, Speaker: Dr. Janine Danko, Malory Wolfe, Eckhardt Karsten, Max Brenner, Shaun Jiang
A variety of scholarships and academic awards are given annually to Miami Microbiology undergraduate and graduate students, including the latest recipients.
In addition, several Microbiology undergraduates received research awards this academic year from the Undergraduate Research Award program, the University Summer Scholars program, and the Howard Hughes Summer Internship program. Their accomplishments are highlighted in Undergraduate Research.
Past Awards
Miami Microbiology graduate students receive presentation awards
Three Minute Thesis is a research communication competition that challenges graduate students to present a semester's worth of research and study in a three-minute oral presentation with language appropriate for a nonspecialist audience. MBI graduate student Steven Distelhorst won the competition in 2015, and colleagues Wei Li and Chris Sedlacek were top ten finalists.
At the 2016 Ohio Branch Meeting of the American Society for Microbiology, Heather Beck won the Donald C. Cox Award for Research Excellence for the best podium presentation and Greg Cook received the J. Robie Vestal Award for Research Excellence for the best environmental/evolution poster.
In the 2014 Miami University Graduate Research Forum, Amber Teufel was a recipient of a top three oral presentation award.
Former Miami Microbiology majors recognized by NSF
Two Miami Microbiology alumni pursuing graduate degrees at other institutions received Graduate Research Fellowships from the National Science Foundation. Ashley Richards is currently in graduate study at the University of Louisville, and Mark Noviski is at the University of California, San Francisco.
Susan W. Rockwood Awards
"In Recognition of Excellence in Teaching and Research by a Woman in Graduate Study"
Please send questions and comments to:
Marcia R. Lee, D.V.M.
Scholarship Committee Chair
1991
K. Siobhan Barone
Sudha Rajnarayan
1992
Tonia S. Agin
Mary B. Farone
1995
Christine L. Weingart
 
1997
Laura M. Smoot
Paula Jo Wilderman
1998
Angela R. Currier
1999
Amy J. Allman
2000
Kara Corbin-Lickfett
2001
Karen L. Mumy
2004
Sumithra Jayaram
Kari Ann Shirey
2005
Erin Crowgey
Shomita Mathew
2006
Melinda Clark
Chiachi Hwang
2007
Jacqueline Giliberti
Jennifer Hatchel
2008
Racheal Desmone
Jennifer Gaddy
2009
Christin N. McQueary
Jianli Xue
2010
Dominika Jurkovic
2011
Jenna Dolhi
Elizabeth French
Rachel Pritchard
2013
Ryann M. Brzoska
Amber G. Siebenaler
Heather J. Beck
2014
Tzvia I. Cuperman
Nicole Marotta
Sarah E. Stahl
2015
Emily J. Ohneck
Sarah R. Steimer
2016
Gabrielle M. Lopez
Hui Shang
Cecily R. Wood
2017
Monica Feng
Keeley M. Icardi
Isha Kalra
Jananie Rockwood
2018
Jenna M. DeLuca
Jyoti S. Kashyap
Lydia E. Mack
Mariah S. Squire
2019
Shasten S. Sherwell
2020
Shrameeta Shinde
Orton K. Stark Awards
"In Recognition of Academic Achievement of the Highest Order and Efforts and Talents Reflecting the Learning Traditions of the Department of Microbiology"
Please send questions and comments to:
John R. Stevenson, Ph.D.
Distinguished Lecture Series Coordinator
Lecturer
Graduate Recipient
Undergraduate Recipient
2020 - None due to Pandemic

Mariah S. Squire
Maegan Murphy
2019 - Dr. Max Cooper
--
Ashlyn Anderson
Conor Dolson
2018 - Dr. Helen Blackwell
Isha Kalra
Cecily R. Wood
Jana M. Cable
Clairissa A. Hansen
Rebecca L. Wyma
2017 - Dr. William Cramer
Gabrielle Lopez
Hui Shang
Brian V. Donohue
Blake J. Rasor
2016 - Dr. Kim Lewis
Steven L. Distelhorst
Kristin DeMange
Maeva L. Metz
Neena K. Patel
Stephanie M. Swedik
2015 - Dr. Thomas M. Schmidt
Wei Li
Chelsea Abshire
Torinda Evans
Jason McCoy
Abraham Moller
2014 - Dr. Victor Nizet
Amber G. Siebenaler
Sarah E. Stahl
Lindsay M. Tirell
2013 - Dr. Warwick F. Vincent
David C. Ream
Chad M. Liber
Michael J. O'Connell
Adam K. Spurling
2012 - Dr. John Glass
Rachel Pritchard
Christopher Sedlacek
Mark Noviski
2011 - Dr. B. Brett Finlay
Racheal Desmone
Jenna Dolhi
Christine Barrett
Michael Bucci
Anna Hang
Sankalp Malhotra
Chelsea Yanda
2010 - Dr. Paul W. Doetsch
William F. Penwell
Andrew W. Allbee
2009 - Dr. Thomas A. Wynn
Jacqueline Giliberti
Kelley J. Bricker
Patrick C. Feasel
2008 - Dr. Harry L.T. Mobley
Melinda Clark
Phillip D. McMullen
2007 - Dr. Christopher Karp
Jennifer Hatchel
Shomita Mathew
Justin Eddy
Christopher Shoemaker
2006 - Dr. Terry Hazen
Jay Brock
Carrie Koenig
2005 - Dr. Robert Schneider
Eric Rhodes
Matthew Gittinger
2004 - Dr. Paul W. Ewald
Andrew Tomaras
Leah Chapman
2003 - Dr. Andrew Camilli
Michael Day
Glen McGillivary
Brenda Boll
2002 - Dr. Abigail Salyers
Kara Corbin-Lickfett
Christoph Carter
2001 - Dr. Derek Lovley
--
Nicola Fynn
2000 - Dr. Curtis Suttle
Michelle Wehner
Michelle Hamilton
1999 - Dr. Moselio Schaechter
Laura Smoot
James Smoot
Tricia Babcock
Deanna Hall
1998 - Dr. David Stahl
Don Langworthy
John Benjamin
Jill Buss
1997 - Dr. Madilyn Fletcher
Susan Sutton
Anthony Marchetta
Erin Bell
Anne Zilles
1996 - Dr. Julian Davies
--
Alison Scott
1995 - Dr. Gail Cassell
Bruce Hissong
Heather VanBuskirk
1994 - Dr. Ronald Atlas
--
Alicia Scheffer
1993 - Dr. Norman Pace
Mary Farone
Richard Ford
Kay Sadler
Elizabeth Erwin
1992 - Dr. Kenneth Nealson
Tonia Agin
Richard Garrad
Susan Stitzel
1991 - Dr. Ernest C. Borden
Deanne Guthrie
Anthony Farone
Sudha Rajnaryan
Aparna Priyanath
Kirk Cunningham
Amber True
1990 - Dr. Hamilton O. Smith
K. Siobhan Barone
Clayton Collier
Elizabeth Fish
1989 - Dr. Edward S. Golub
Richard Garrad
Meena Subra­manyam
Douglas Pope
Brian Howard
1988 - Dr. Alice Huang
Clayton Collier
Lisa Alberico
1987 - Dr. Barbara H. Iglewski
Paul DeLange
David Velazco
Marcia Jutte
1986 - Dr. Jonathan Warner
Denise Connolly
Thomas Wynn
1985 - Dr. Samuel Kaplan
Christopher W. Borell
Michael Roner
Kelly Cunningham
1984 - Dr. Bernard N. Fields
Larry Wenko
Mary Wilmes
1983 - Dr. Arnold Demain
Douglas Storts
Mathew Bunyard
1982 - Dr. John W. Costerton
Melissa Winston
Mark Foster
Andrew Geiser
1981 - Dr. Bernard D. Davis
Jerome Kinzel
Mary Howard
Mariana Ovnic
1980 - Dr. John B. Neilands
Thomas Petro
Susan Dominy
1979 - Dr. Philipp Gerhardt
Nicholas Landolfi
Patricia Ferguson
1978 - Dr. Roger Porter
Martha McCabe
Diane Ehrbar
1977 - Dr. L. Joe Berry
James Kvach
James Foy
Celese Simon
Kelly Switzer
1976 - Dr. Harlyn Halvorson
David Brunner
Patricia Gallagher
1975 - Dr. Thomas Jukes
Gary Gray
Susan Graumlich
1974 - Dr. John Hanks
Ross Caputo
Tanya Malavich
1973 - Dr. Evelyn Oginsky
Spencer Hiraki
Dale Spriggs
1972 - Dr. Sidney Raffel
Gerald Byrne
Robert Becker
1971 - Dr. Werner Braun
David Cahall
Mark Kurtz
Jayne Kelechi
1970 - Dr. Guy Youmans
John Rees
Mark Kurtz
Ann Murrer
1969 - Dr. Morris Pollard
Carole Golden
Alice Vreeland
1968 - Dr. Frank Putnam
Elpidio Dosado
Dianne McBride
1967 - Dr. Roger Reed
Glenn Chambliss
John Salstrom
1966 - Dr. Rene Dubos
--
Ronda Dock
1965 - Dr. Jan Hirschfeld
Stephen Elliot
Martha Klein
Distinguished Lecture Series
Funded by an Academic Challenge Award from the State of Ohio to bring lectures by outstanding microbiologists to Miami University.
Past Distinguished Lecturers
Year
Lecturers
2020
Dr. Michael Rother
University of Dresden

Dr. Daniel Wall
University of Wyoming
2019
Dr. Cristina Takacs-Vesbach
University of Mexico

Dr. Max Cooper
Emory University School of Medicine
2018
Dr. Norman Hüner
Western University, Ontario

Dr. Helen E. Blackwell
University of Wisconsin- Madison

Dr. Joshua S. Yuan
Texas A&M University
2017
Dr. James Imlay
University of Illinois - Urbana-Champaign

Dr. Jamey D. Young (J.K. Bhattacharjee Lecturer)
Vanderbilt University
2016
Dr. Kurt Fredrick (G.R. Janssen Lecturer)
The Ohio State University
2015
Dr. Marvin Whiteley
University of Texas at Austin

Dr. Thomas Hanson
University of Delaware

Dr. John Cronan (J.K. Bhattacharjee Lecturer)
University of Illinois - Urbana-Champaign
2014
Dr. Blossom A. Damania
University of North Carolina School of Medicine

Dr. Robert E. Davis
USDA - Agricultural Research Service

Dr. John Cavanagh (J.K. Bhattacharjee Lecturer)
North Carolina State University
2013
Dr. Duncan C. Krause
University of Georgia

Dr. Thomas Mock
University of East Anglia, UK
2012
Dr. Clay Fuqua
Indiana University

Dr. Martin Keller
Oak Ridge National Laboratory
2011
Dr. Fiona Brinkman
Simon Fraser University
2010
Dr. John Priscu
Montana State University
2009
Dr. Richard Gourse
University of Wisconsin-Madison

Dr. Gijs Kuenen
Delft University of Technology, Netherlands
2008
Dr. Tina Henkin
The Ohio State University
2007
Dr. Louis Justement
University of Alabama - Birmingham
2006
Dr. Joel Baseman
University of Texas Health Sciences Center - San Antonio

Dr. Susan Gottesman
National Cancer Institute - Bethesda
2005
Dr. Gary Blissard
Cornell University

Dr. Jizhong Zhou
University of Oklahoma
2004
Dr. John A. Breznak
Michigan State University

Dr. Judy Wall
University of Missouri - Columbia
2003
Dr. Neal Pellis
National Aeronautics and Space Administration

Dr. James Fredrickson
Pacific Northwest National Laboratory

Dr. Arturo Casadevall
Albert Einstein College of Medicine

Dr. Michael Starnbach
Harvard Medical School
2002
Dr. Edward DeLong
Monterey Bay Aquarium Research Institute

Dr. Alison O'Brien
Uniformed Services University of the Health Sciences

Dr. Melissa Moore
Brandeis University
2001
Dr. William S. M. Wold
St. Louis University School of Medicine

Dr. Judith A. Kapp
Emory University

Dr. Bonnie L. Bassler
Princeton University

Dr. John R. Perfect
Duke University
2000
Dr. Virginia Miller
Washington University

Dr. Bruce Roe
University of Oklahoma

Dr. Glenn Chambliss
University of Wisconsin - Madison
1999
Dr. Nicholas Muzyczka
University of Florida - Gainesville

Dr. Scott J. Hultgren
Washington University

Dr. Madeleine Cunningham
Oklahoma Health Sciences Center, University of Oklahoma
1998
Dr. Richard Losick
Harvard University

Dr. Priscilla B. Wyrick
University of North Carolina - Chapel Hill

Dr. Albert E. Dahlberg
Brown University
1997
Dr. John W. Kappler
Howard Hughes Medical Institute, University of Colorado Health Science Center

Dr. James M. Musser
Baylor College of Medicine

Dr. Daniel A. Portnoy
University of Calilfornia - Berkeley
1996
Dr. Mario T. Philipp
Tulane University Medical Center

Dr. Joseph R. Nevins
Duke University
1995
Dr. Ellen S. Vitetta
Southwest Medical Center, Dallas, Texas

Dr. John Monaco
Howard Hughes Medical Institute, University of Cincinnati Medical College

Dr. Pete Magee
University of Minnesota
1994
Dr. Amiya K. Banerjee
Cleveland Clinic Foundation

Dr. Frederick C. Neidhardt
University of Michigan

Dr. Robert Tabita
The Ohio State University

Dr. Roberto Kolter
Harvard Medical School

Dr. Gary Sayler
University of Tennessee
1993
Dr. Arnold Levine
Princeton University

Dr. Simon Silver
University of Illinois Medical Center

Dr. Toby K. Eisenstein
Temple University School of Medicine

Dr. Kenneth Berns
Cornell University Medical School
1992
Dr. Edward Harlow
Massachusetts General Hospital

Dr. Carol A. Nacy
Walter Reed Army Institute
1991
Dr. Rita Colwell
University of Maryland

Dr. Marian E. Koshland
University of California - Berkele

Dr. Eugene W. Nester
University of Washington

Dr. Marilyn Kozak
New Jersey Medical School

Dr. David White
University of Tennessee - Knoxville
1990
Dr. Robert D. Wells
University of Alabama Schools of Medicine and Dentistry - Birmingham

Dr. Lynn Margulis
University of Massachusetts

Dr. John L. Ingraham
University of California - Davis
1989
Dr. W. K. Joklik
Duke University Medical Center

Dr. Barry T. Eisenstein
University of Michigan

Dr. David Schlessinger
Washington University School of Medicine