Miami's SUSI Program resumes in-person intercultural engagement for student participants from Latin American countries
Miami hosted 15 students from Colombia, Venezuela, the Dominican Republic, Panama, and Nicaragua to take classes, visit various Oxford organizations, and learn about life in the United States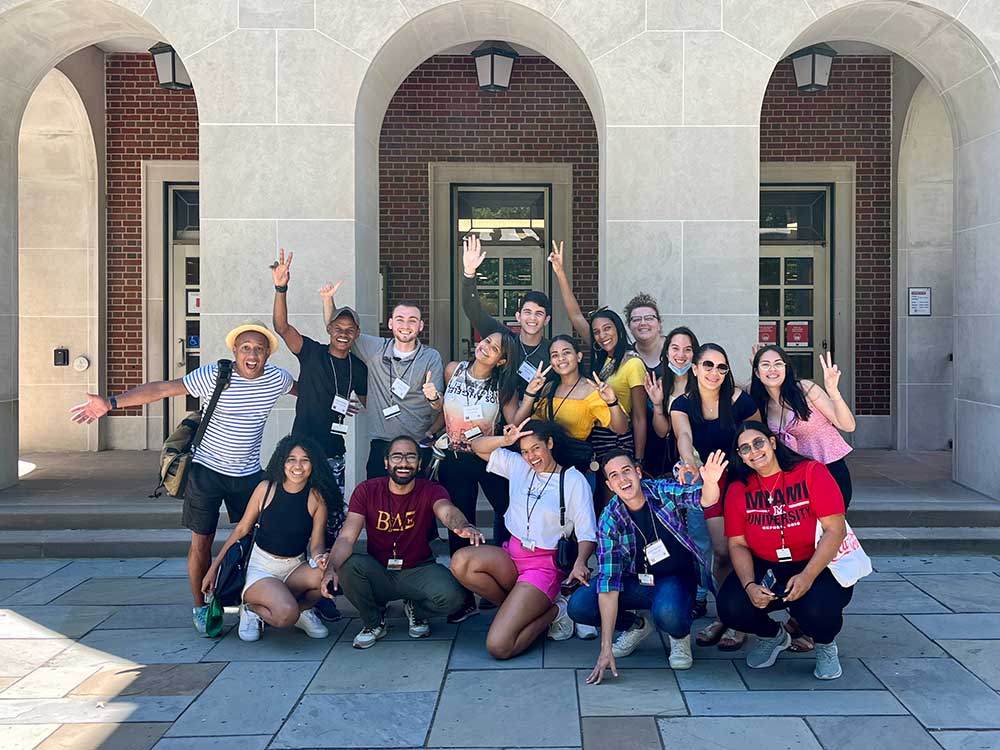 SUSI 2022 students pose with Senior Lecturer Juan Carlos L. Albarrán in front of King Library.
Miami's SUSI Program resumes in-person intercultural engagement for student participants from Latin American countries
SUSI 2022 students pose with Senior Lecturer Juan Carlos L. Albarrán in front of King Library.
For about three weeks this summer, Miami hosted 15 undergraduate students from Colombia, Venezuela, the Dominican Republic, Panama, and Nicaragua to take classes, visit various Oxford organizations, and learn about life in the United States in the Study of United States Institutes (SUSI) program for student leaders.  
SUSI is sponsored by the U.S. State Department and Educational and Cultural Affairs (ECA). Miami's SUSI program was led by Juan Carlos L. Albarrán, senior lecturer of Global and Intercultural Studies.  
SUSI program coordinators Heather Harper and Ricardo Sosa were also on hand to help navigate them through their experiences.
Deepening intercultural understanding
"To correspond with our theme of Economic Development and Social Entrepreneurship, the students took classes covering everything from U.S. civil rights history and Pan Americanism to American entrepreneurship," Albarrán said.
This year's SUSI program, held July 9-Aug. 1, marks a return to in-person activities, since last year's program had been conducted virtually due to COVID-19. Fortunately, at long last, that 2021 group was able to visit Miami as well for two weeks this past June.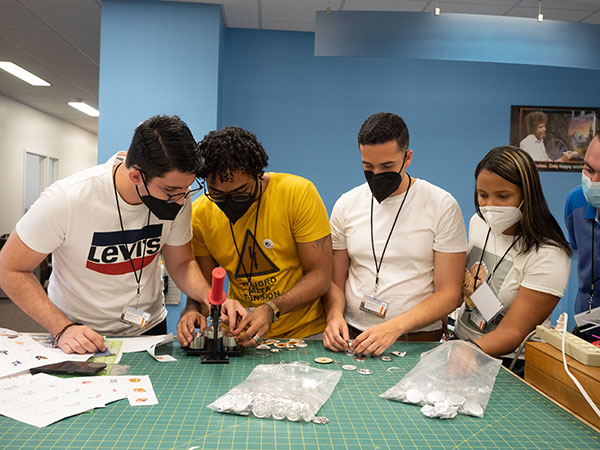 SUSI 2022 students work on a project in Makerspace in
King Library.
"By teaching about the history, culture, and economy of this region of the United States, our SUSI program promotes diversity and inclusion as well as the work of the Latin American Studies curriculum within the College of Arts and Science and the university overall," said Albarrán.
"My SUSI experience has immersed me in high quality cultural knowledge and expanded my vision into other social perspectives," said Mauricio David Gonzalez, one of the SUSI student participants from Nicaragua.
"SUSI groups deepen their perceptions of the United States by being exposed to universities, business entrepreneurs, nonprofit and community organizations, student mentors, local residents, and faculty from a range of backgrounds," said Elena Albarrán, associate professor of History and Global and Intercultural Studies. "This helps to ground their perceptions of the country that has had such a large role in shaping their own national destinies."
Key partners and collaborators
Miami, partnering with the University of Arizona and the Amherst, MA nonprofit organization Institute for Training and Development, Inc. (ITD), applied for the federal grant to host up to 20 students per institute in summer programs, each with their own distinctive topic.  In addition to Miami's theme, ITD Amherst's theme was Public Policy and Citizen Participation and the University of Arizona focused on Afro-Latin and Indigenous Women Leadership.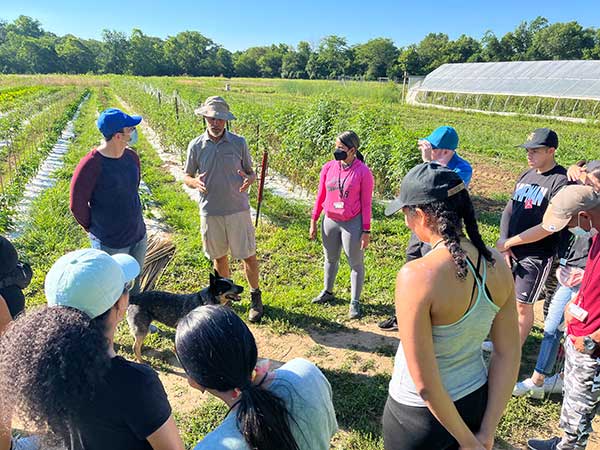 SUSI 2022 students listen to a presentation from Charles
Griffin at Miami's Institute for Food Farm.
Albarrán has conducted the SUSI program at Miami since 2018.
"Despite the ongoing challenges of COVID-19, the value of having the SUSI students experience the U.S. personally is the best opportunity for these future leaders to build strong ties within the hemisphere," he said. "This year in particular, coordination of SUSI has required extraordinary efforts at many levels throughout Miami."
Miami SUSI partners this year included:
Cristina Alcalde, vice president for Institutional Diversity and Inclusion 
Karla Guinigundo,

director of Global Partnerships at Global Initiatives

Chris Makaroff,

dean of the College of Arts and Science (CAS)

Susan Brehm,

associate dean of CAS

Luis Ignacio Prádanos

, professor and chair in the Department of Spanish and Portuguese

Michael Conger,

 associate professor of Entrepreneurship

Brad Reitz,

visiting instructor in the Farmer School of Business

Katie Gibson

 and 

Elias Tzoc

 from University Libraries

CAS faculty and staff members 

José Amador, Elena Albarrán

, 

Kenna Neitch, Damon Scott, Matt Regele
"I'm proud and grateful for the assistance and participation we received from all our partners throughout Miami," said Albarrán. "They have helped give the SUSI students a new lens through which to see their own countries." 
"Being part of this program has been a privilege, because it has allowed me to enrich my culture and see the United States from different perspectives," said SUSI student participant Luisanny Cordero, from the Dominican Republic. "It has provided so much to my professional, personal, and social development."