Health Careers Week prepares students for the future of medicine and healthcare
During the week of Oct. 17, Miami students had the opportunity to acquire real-life experience in healthcare careers through the Mallory-Wilson Center for Healthcare Education.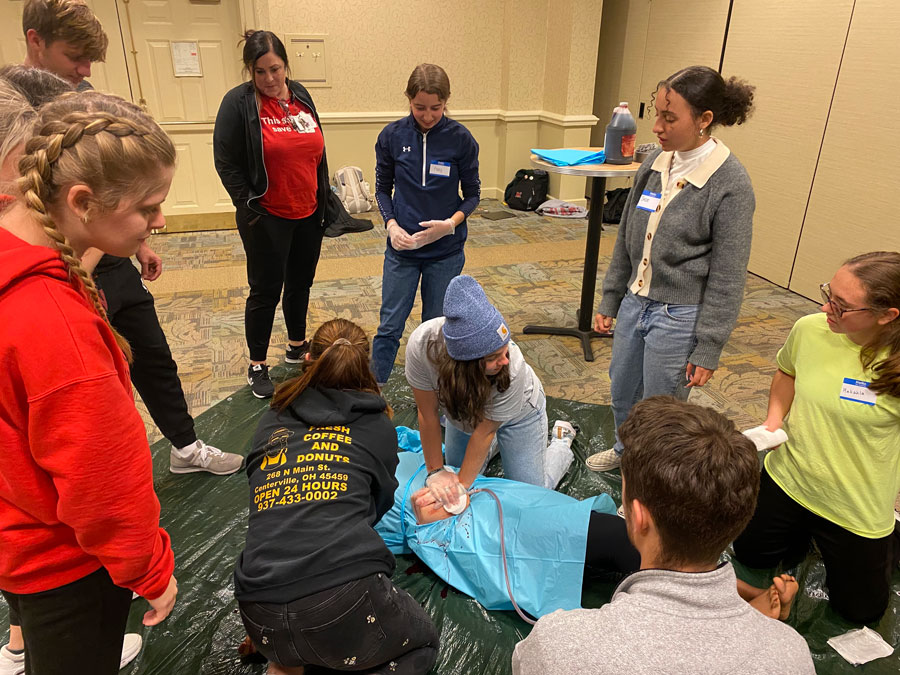 Miami students practice scenarios for how to pack a wound in real life. Photo by Abby Gerold
Health Careers Week prepares students for the future of medicine and healthcare
Miami students practice scenarios for how to pack a wound in real life. Photo by Abby Gerold
The Mallory-Wilson Center for Healthcare Education focuses on preparing students for careers in healthcare and medicine through exploration, experience and expertise. The week of October 17 featured a number of events involving community connections at Miami, two of the most prominent being the Stop the Bleed training session and a screening and keynote panel for The Color of Care documentary. 
Tailyn Walborn, assistant director and pre-health professions advisor in the Mallory-Wilson Center, coordinated many of the offerings throughout the week to emphasize the importance and wide variety of careers in healthcare for Miami students. 
"Health Careers Week gives these students a chance to dive into their career path of interest," Walborn said. "Despite just being in introductory coursework, they can meet other students interested in the same pathway and have the opportunity to meet healthcare professionals early. They get exposed to various hot-topics related to healthcare that hopefully empassions them to dive in deeper.
Stop the Bleed awareness and training course
Founded in 2015, Stop the Bleed is a national awareness campaign and call-to-action. It encourages bystanders to become equipped and trained to help in a bleeding emergency before professional help arrives. Miami students participated in a two-hour training course on Oct. 18 to learn how to identify life threatening bleeding and intervene effectively. 
Megan Kerlin, co-president of the Anatomy and Physiology Club and a senior Biology major and Neuroscience co-major, shared her appreciation for the event. 
"It's a great way for college students to get their hands on a program that could potentially save a life and also get a free certification," she said. 
Kerlin added that this was the first time since the pandemic that the Anatomy and Physiology Club has collaborated with the Mallory-Wilson Center for Stop The Bleed, like it had in past semesters. 
Miami alumna Grace Chaney '21, who currently is a research assistant in Orthopedic Surgery at the Mayo Clinic in Rochester, Minn., partnered with UCHealth in Cincinnati to make it possible for Stop the Bleed to come to Miami. 
"I felt very strongly that students would be greatly impacted, like I had, if they heard stories of mass bleeding," Chaney said. "So, we began inviting survivors to come and share their powerful experiences. Not only does it allow students to develop a deeper understanding and awareness of mass bleeding, but it also provides survivors with a safe place to speak, share and heal." 
During this training, students were given the opportunity to put their skills to the test after a presentation about how to act fast in an emergency situation. 
"Students from different cities, states, and even countries are able to take this life-saving information back to their friends and family at home. Just from Miami classes alone, we have reached students from 21 different states and 5 different countries!" said Chaney. 
Screening of The Color of Care and expert panel
The 2022 documentary, The Color of Care, was screened virtually over Zoom, both to allow students to watch it free-of-charge and to utilize the chat function to discuss the issues as they were addressed in the documentary. The film explores the race-based discrepancies present in the healthcare system, specifically those experienced by families during the COVID-19 pandemic.
Following the screening, a panel of four experts in both healthcare practice and research of health care answered student and faculty questions. They were: 
Jennifer Bulanda, associate professor in the Department of Sociology and Gerontology 

Cameron Hay-Rollins, professor and chair of the Department of Anthropology 

Dr. David DeLaet, assistant medical director of the Miami Physician Associate Studies program and associate professor at the University of Cincinnati College of Medicine, Pediatrics and Internal Medicine

Dr. Bi Awosika, assistant professor of Internal Medicine at the University of Cincinnati College of Medicine 
The panel addressed questions and comments about incidents of racism in the U.S. healthcare system, whether through data or directly in the hospital. 
Ally Lakew, a freshman Psychology major, said that she found value in events like these that provide more insight from many perspectives. 
"I feel like the more events [like this] that I attend, they reminded me why I wanted to be in the medical field, so I think it's really important to participate in," Lakew said.
Dr. Awosika, who was raised in the Chicago area, found a similar drive to be in healthcare from seeing the inequalities discussed in the documentary and panel. She explained that, due to the healthcare-related racial inequities she had experienced in her life, she decided to combat those in her career and is continually finding ways to do so.
"I got into a position as a physician, and I told myself that I really wanted to make a difference," Awosika said. "I am in a position where I have the power to be able to serve and provide that expertise."
Students were able to learn about her specific insights, as well as those from other panelists, about racial healthcare inequities. 
Chloe Arrasmith, a senior Public Health and Epidemiology major with a co-major in Premedical Studies, thought the panel helped her learn about the specifics of racial discrepancies in healthcare and what role she can play as a future healthcare professional.
"I'm used to seeing signs of healthcare inequality and differences like racism throughout healthcare," Arrasmith said. "I think it showed what role I can possibly play in it more because I just knew it was an issue. And at some point, I'd see it, but now I know how."
Walborn said this was the exact reason that the Mallory Wilson Center planned the Health Careers Week for students: to know how.
"
It's no secret that healthcare inequities plague our country, and throughout the week, we educated students about this and encouraged them to get involved and help in whatever ways possible," said Walborn.