Psychology senior explores the efficacy of psilocybin for depression treatment
Jon Sciortino '23 works in Dr. Matthew McMurray's lab to find a similar non-hallucinogenic compound that can alleviate symptoms faster and with less side effects.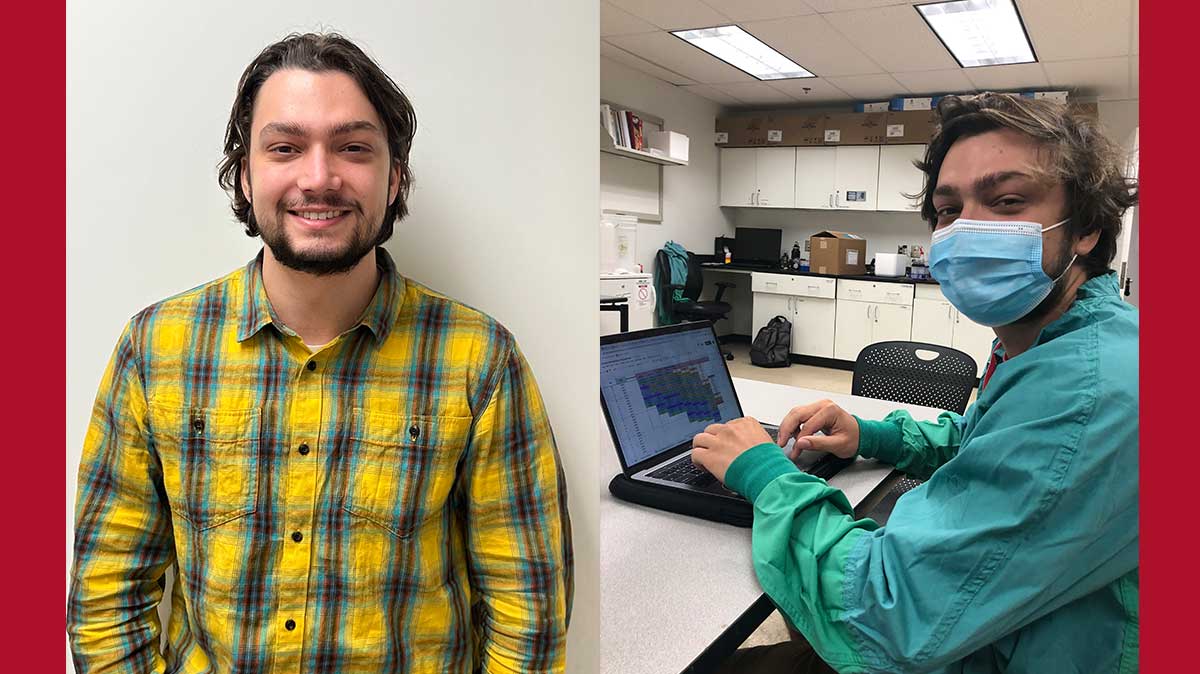 Jon Sciortino (left) and working on datasheets in the McMurray Lab (right).
Psychology senior explores the efficacy of psilocybin for depression treatment
Jon Sciortino (left) and working on datasheets in the McMurray Lab (right).
From the time Jon Sciortino was in high school, he knew he wanted to pursue an integrated and scientific path. Now, he's set to graduate from Miami in May 2023 with a Psychology major and Neuroscience co-major and has done research on the potentials of psilocybin, or "magic mushrooms." 
Sciortino works in Assistant Professor of Psychology Matthew McMurray's lab in hopes of finding a treatment for depression that is more effective than medications prescribed today. Studies dating back to the 1970s indicate that psilocybin, a compound found in hallucinogenic mushrooms, may hold the key. Research on this substance was largely halted when the drug schedule system was adopted. 
Sciortino's project intends to find a compound similar to psilocybin - one that has the same antidepressant effects, but without inducing hallucinations. 
"The hallucinogenic effect is really what's making these drugs harder to access or prescribe," said Sciortino. "That's what gets them locked away, sealed up."
Such a drug would be "like the miracle thing," he explained. While antidepressants give relief to a lot of individuals, they aren't without issue. They can take a long time to take effect, cause adverse side effects, or even just not work at all for some individuals. Established research and literature on psilocybin indicate that it is more efficient, with a rapid onset and limited side effects.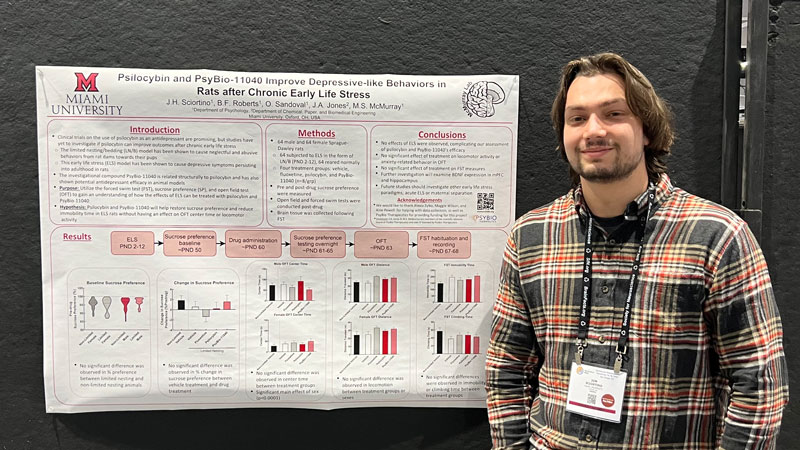 Jon Sciortino and his project poster that he presented
in San Diego
To learn more, Sciortino and his team work closely with rats. Previously in the lab, a chronic-variable stress model was primarily used. It would put adult rats through day-to-day stressors to replicate depressive states of adult humans. Then the team attempted to reverse it by using novel tryptamines - psilocybin and similarly related compounds.
"That's one very effective way to model depression in animals, but it doesn't grasp the entire scope of depression," said Sciortino. "When you look at humans, some people are depressed, and you can accredit that to their life as an adult. But other people have adverse childhood experiences, or things that have been happening all along, that can manifest as depression when they get older."
Sciortino thought it would be interesting to test the efficacy of these compounds using an early-life stress model to encompass a wider range of causes of depression. He uses a "limited nesting" model, which involves restricting the amount of nesting materials available to new rat mothers. This will provoke these mothers to show neglectful and troublesome behaviors towards their pups, mirroring the lasting effects of an adverse childhood environment. 
Sciortino works closely with his faculty mentor, Dr. McMurray, the principal investigator of the lab. They've collaborated all throughout the project on experimental design, paradigms, behavioral measures, and execution of the research. 
"[Dr. McMurray] was instrumental in designing the whole thing," said Sciortino. "When it came to executing the project, he was always present to help guide and how to properly do everything."
McMurray's research coordinator and lab manager, Brianna Roberts, assists Sciortino in handling the animals and making sure everything is done in a timely manner. Oscar Sandoval, a Psychology graduate student, helps with behavioral testing and administering the drugs. 
"Jon was the driving factor in all of this," said McMurray. "Sure, many folks contributed, but Jon was the lead on the project. He directed us and coordinated all of the complex overlapping elements of the study. It was a truly impressive level of commitment and skill, rare among the students I have worked with in the lab."
In addition to the tangible impact this project will have on society, Sciortino said he has gained a lot of experience during the process. 
"I think the biggest highlight, for me, is the amount of hands-on work I've been able to do," Sciortino said. "There's a lot of pieces you don't see from the outside, but then once you're in it - when you do something like this - you're fully integrated."
Sciortino said his involvement from first designing the project to coding and analyzing all the data will serve him well in the future. He encouraged others to get involved in research early. He plans to continue his education in graduate school, either in neuroscience or pharmacological studies, as his research made him interested in developing and discovering more about novel compounds.
"I really think if you're interested in research, just jump into it as soon as possible," he said. "The more time you have to spend in the lab over a couple of years, the more opportunities you'll have to get experience in every stage."
To learn more about Sciortino's work in the McMurray Lab or to find out how to get involved, contact Matthew McMurray at matthew.mcmurray@MiamiOH.edu.