Local professionals explain the rigors and joys of working in mental health
A panel of mental health professionals discuss their path to helping others with psychological challenges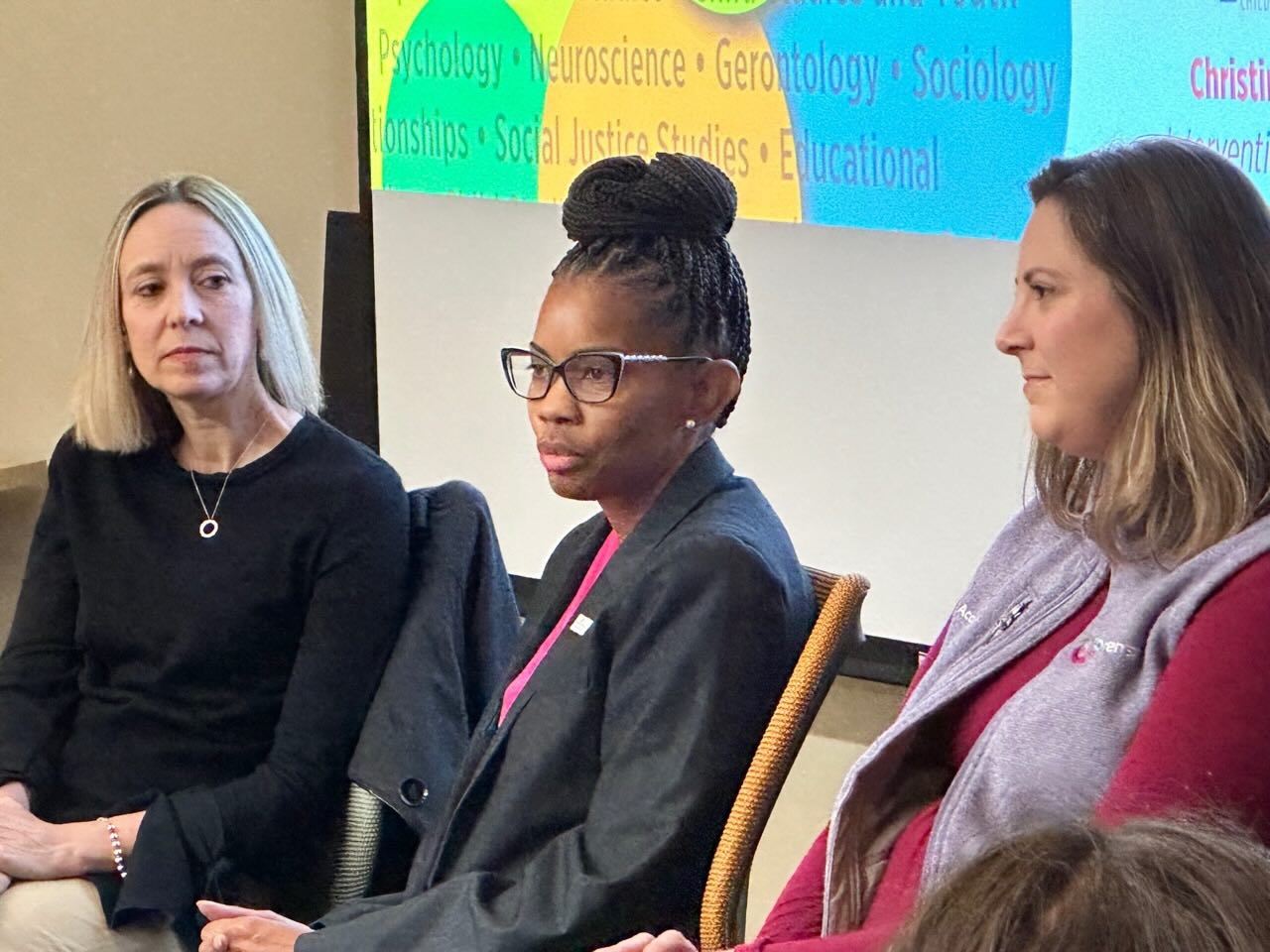 Christine Hodges, Angela Satterfield, and Kelly Hastings (left to right)
Local professionals explain the rigors and joys of working in mental health
Christine Hodges, Angela Satterfield, and Kelly Hastings (left to right)
On Nov. 1, Miami's Center for Career Exploration and Success (CCES), in collaboration with the Department of Psychology, hosted a panel of professionals in the fields of psychology and social work to welcome student questions and discuss how they got into their line of work as well as the reality of it. About 60 students attended, with majors ranging from Neuroscience to Spanish.
The event, "I Just Want to Help," was held in the auditorium of the Psychology Building and moderated by Katie Bowling, senior director of career development, and Michael Swain, CCES assistant director and CAS liaison. The three panelists all came from regional mental health organizations.
Angela Satterfield (director of addiction for residential services at Talbert House) served in the military out of high school. Eventually, she got an associates degree, leading her to getting her masters in Social Work and Criminal Justice.  
Christine Hodges (intervention supervisor for Butler County Children Services) studied social work and began at a group home for teenage girls. She now does an array of work from investigation to adoption for Butler County.
Kelly Hastings (senior talent acquisition specialist for Cincinnati Children's Hospital) got her masters in organizational psychology. She currently works to hire behavioral health specialists. 
---
"I never know who will walk through my door."
– Angela Satterfield
---
With this amount of mental and emotional commitment, a toll is taken on the professionals. Satterfield explained that all of her patients are in the criminal system. She has had to treat overdoses, seen infected open wounds from drug use, and even intervened when some patients tried to jump out of windows.
"You have to see someone day in and day out, watch them hit rock bottom," Satterfield said. "You have to go back in and do it all again."
Hodges talked about having to ask tough, confrontational questions and about the struggle of balancing work and personal life. She tries to limit late night visits and be flexible with family time. However, when emergencies arise she must be there.  
---
"People have access to me all the time."
– Christine Hodges
---
Satterfield said that with the rise of technology, she needs to be available 24/7, ready to leave anything to go help. Both she and Hodges expressed the importance of a support system.
"It's important to have somebody to release [the mental toll]," Satterfield said, "It'll consume you, and you'll get gray hair faster than you want."
Even with these challenges, each panelist emphasized that they do this line of work to help people, and there are parts of the job that make it worthwhile.  Hastings said that she enjoys talking about mental health-related careers and being able to guide people that can help children in need.  
---
"It's not about the resume, it's the experiences to speak to."
– Kelly Hastings
---
How one helps others can change over time. Hastings said that it's important to get comfortable with not knowing what you want to do.  
"I still don't know what I want to be when I grow up," she said. "It's healthy to think about other options throughout your career."
The panelists told the audience that almost any major can get into the mental health field. Some roles have specific degree and licensure requirements. For example, a four-year degree is required to become a social worker, and licensures will raise salaries. It is important to get some experience now, whether it is through an internship or volunteering.  
The panel also expressed that anyone can help others through any avenue of their choosing. From Pre-Med to Political Science, there are ways to help others beyond traditional routes.  
"I think it's inspiring to be in a room with this many people who want to help others," said Hastings.
For more career resources, visit the CCES website.