Assistant Professor
Art History
2015-present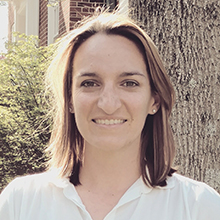 Dr. Annie Dell'Aria holds an bachelor's degree in History of Art and Architecture from Harvard University and a PhD in Art History from The Graduate Center of The City University of New York. Her research and teaching interests are interdisciplinary, bridging contemporary art and media studies.
Her recent research investigated contemporary public art projects that utilize moving image media, including articles in Moving Image Review and Art Journal and Public Art Dialogue, as well as a book chapter on her research methodology, which incorporates ethnographic spectator response. She is currently working on a book project related to this research that charts a typology of screen spectatorship in public space and argues for the effectiveness of media-based public art in engaging diverse audiences. Dr. Dell'Aria is also interested in other connections between art history and media industries, such as the function of art and architecture within television series and the history of artist-in-residence programs at technology corporations.
As a dedicated educator, Dr. Dell'Aria has taught as Visiting Assistant Professor at Hanover College and previously at various institutions in New York City, including Parsons, City College, Queensborough Community College, and The Art Students League. Her goal at the end of her classes is to instill lifelong art-viewing habits and increase student confidence in speaking about art and culture, which relates to her research and advocacy for public art and open access to culture.
Email: dellarab@miamioh.edu