Assistant Professor
Art History
2016-present
PhD, The Graduate Center of the City University of New York (CUNY)
MPhil, The Graduate Center of the City University of New York (CUNY)
AB, Harvard University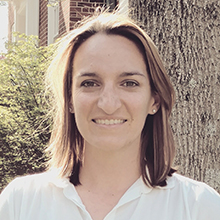 Dr. Annie Dell'Aria's research interests concern the intersection of contemporary art, screen media, and public space. Her writings have appeared in Moving Image Review and Art Journal, Public Art Dialogue, International Journal of Performance Arts and Digital Media, Millennium Film Journal, and other venues. She is currently writing a book on the moving image as public art in the United States. This project charts the emergence of this kind of art and the modes of spectatorship works create within cities. The book argues for the ability of moving image-based public art to prompt shared encounters in public spaces.
As a dedicated educator, Dr. Dell'Aria has taught previously at Hanover College, Parsons, City College, Queensborough Community College, and The Art Students League. She is currently also an affiliate of the Film Studies and Comparative Media Studies programs. Her goal at the end of her classes is to instill lifelong art-viewing habits and increase student confidence in speaking about art and culture, which relates to her research and advocacy for public art and open access to culture.
Selected Publications
Single-Authored Books
The Moving Image as Public Art: Sidewalk Spectators and City Screens (in-progress), under contract with Palgrave Macmillan.
Peer-Reviewed Journal Articles
"From rallying cry to dysfunctional site: surveying participation in HEWILLNOTDIVIDE.US." International Journal of Performance Arts and Digital Media 15.1. 2019. 84-103.
"The Enchanting Subway Ride: Bill Brand's Masstransiscope." Public Art Dialogue 5.2. Fall 2015. 141-161.
"Cinema-in-the-Round: Doug Aitken's SONG 1 (2012), the Hirshhorn Museum, and the pleasures of cinematic projection," Moving Image Review and Art Journal 3.2. December 2014. 208-221.
Book Chapters
"Spectatorship in Public Space: the Moving Image in Public Art." In Making Sense of Cinema: Empirical Studies into Film Spectators and Spectatorship. Eds. CarrieLynn Reinhard and Christopher Olson. Bloomsbury Publishing, 2016.
"Situating Urban Moving Images: Illuminating Place." In O Chiado e o Cinema. Do Cinematógrafo ao Videomapping. Artes na Esfera Pública. Ed. Jose Quaresma. Lisboa, 2015. 98-104.
Online
"The Urban Light Festival as Branding and Commons." Mediapolis: A Journal of Cities and Culture 3 no. 1. February 28, 2018.
"From Kitsch to Park Avenue: The Cultural History of the Plastic Pink Flamingo." The Conversation. July 22, 2015. Picked up by Newsweek and Time online.
Reviews
"Moving Image Installation, Dance, and Resistance at the 2019 Venice Biennale." Afterimage: The Journal of Media Arts and Cultural Criticism 46, no. 4 (2019): 1-7.
"Barbara Hammer: In This Body." Afterimage: The Journal of Media Arts and Cultural Criticism 46, no. 3 (2019): 49-54.
"Tony Oursler Tear of the Cloud (2018)." Millennium Film Journal 69 (Spring 2019).
"Northern Spark 2018: Commonality." Afterimage: The Journal of Media Arts and Cultural Criticism 45, no. 4 (2018): 4.
"Kino Skulptur Projekte: Moving Image Installation as Public Sculpture at Münster's Decennial Exhibition." Millennium Film Journal 67 (Spring 2018): 24-27.
Public Art Dialogue: book review of C. Albu, Mirror Affect: Seeing Self, Observing Others in Contemporary Art (Minnesota, 2016) and A. Rounthwaite, Asking the Audience: Participatory Art in 1980s New York (Minnesota, 2017).
Woman's Art Journal: book review of M. Yoshitake, et al, Yayoi Kusama: Infinity Mirrors (Hirshhorn Museum, 2017).
Email: dellarab@miamioh.edu