Associate Professor
Art History
2016-present (Assistant Professor Aug. 2016 – June 2022)
PhD, The Graduate Center of the City University of New York (CUNY)
MPhil, The Graduate Center of the City University of New York (CUNY)
AB cum laude, Harvard University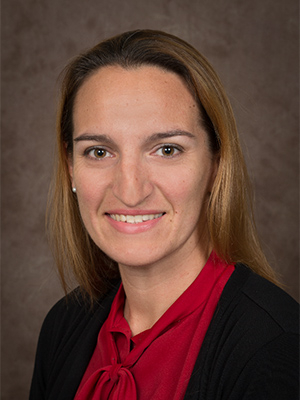 Dr. Annie Dell'Aria's research concerns the intersection of contemporary art, screen media, and public space. Her writings have appeared in numerous scholarly journals and edited volumes in the fields of both art history and film and media studies. She is the author of The Moving Image as Public Art: Sidewalk Spectators and Modes of Enchantment (Palgrave Macmillan, 2021). This
book examines how contemporary artists employ moving image media in public spaces to prompt shared encounters on the street and reconfigure spectatorship.
Her current research interests include other forms of connection between public art and screen media, such as the use of public art within television narratives and the allusion to cinematic montage in contemporary war memorials. She is also interested in contemporary biennials, how artists respond to gun violence, and public art in airports.
As a dedicated educator, Dr. Dell'Aria has taught previously at Hanover College, Parsons, City College, Queensborough Community College, and The Art Students League. She is currently also an affiliate of the Film Studies and Women's, Gender, and Sexuality Studies programs. Her goal at the end of her classes is to instill lifelong art-viewing habits and increase student confidence in speaking about art and culture, which relates to her research and advocacy for public art and open access to culture. She was the recipient of the 2020 Affordable Education Leader Award granted by the Associated Student Government and the Affordable & Open Educational Resources Committee
Selected Publications
Single-Authored Books
The Moving Image as Public Art: Sidewalk Spectators and Modes of Enchantment (Palgrave Macmillan, 2021).
Peer-Reviewed Journal Articles
"Enchanted encounters: moving images, public art, and an ethical sense of place."
Architecture_MPS 20, issue 1 (October 2021).
"From Vertical Roll to .MOV File: Tracing the Haptic in Video Art" Afterimage: The Journal of Media Arts and Cultural Criticism 47 no. 2 (September 2020): 22-42.
"Loaded objects: addressing gun violence through art in the gallery and beyond" What Guns Mean: The Symbolic Lives of Firearms, special issue edited by Jonathan M Metzl, Palgrave Communications 6, article 15 (2020).
"From rallying cry to dysfunctional site: surveying participation in HEWILLNOTDIVIDE.US." International Journal of Performance Arts and Digital Media 15.1. 2019. 84-103.
"The Enchanting Subway Ride: Bill Brand's Masstransiscope." Public Art Dialogue 5.2. Fall 2015. 141-161.
"Cinema-in-the-Round: Doug Aitken's SONG 1 (2012), the Hirshhorn Museum, and the pleasures of cinematic projection," Moving Image Review and Art Journal 3.2. December 2014. 208-221.
Book Chapters
"Screening the Capitol Riots." In Architecture, Media, Populism. Ed. Graham Cairns. Routledge, 2022. Forthcoming.
"Examining Public Art in Parks and Recreation's Pawnee, Indiana." In Screening the Art World. Ed. Temenuga Trifonova. Amsterdan University Press, 2022. Forthcoming
"Mapping Public Art." In Teachable Monuments: Using Public Art to Spark Dialogue and Confront Controversies. Eds. Jennifer Wingate and Sierra Rooney. Bloomsbury Academic, 2021, 40-50.
"Moving Image Artworks Along Sites of Transit: Enchantment and a Sense of Place." In Levande bilder – levande stad. Eds. Geska Helena Brečević and Annika Wik. Film Capital Stockholm, 2020, 72-75.
"Spectatorship in Public Space: the Moving Image in Public Art." In Making Sense of Cinema: Empirical Studies into Film Spectators and Spectatorship. Eds. CarrieLynn Reinhard and Christopher Olson. Bloomsbury Publishing, 2016, 17-36.
Co-authored Book Chapters
"Recontextualizing a Campus Monument of George Washington through Collaborative Engagement in the Arts." co-authored with Mary Rogero, Jeff Kruth, and Stephanie Danker. In Fallen Monuments and Contested Memorials, Routledge, 2022. In process.
"Giving Words to What We See: Threshold Concepts in Writing Art History" co-authored with Jordan Fenton and Pepper Stetler. In Making Room for Liminal Learning Across the Disciplines, edited by Elizabeth Wardle, Ann Updike, Caitlin Martin, Angela Glotfelter, and Mandy Olejnik. University Press of Colorado. Forthcoming.
Periodicals and Online (selected)
"Point Blank: the Gun and the Readymade." Artforum online, June 23, 2022.
"Synthetic Utopia: Installations by Jónsi," Nordic Kultur: The Magazine of the Nordic Museum,
Seattle, WA. (2022-2023), 38-41.
Reviews
"The Regional." caa.reviews (June 28, 2022).
"Kim Gordon, The Bonfire." Art Inquiries 18 no. 1 (2020), 575-578.
"Krzysztof Wodiczko, Monument (2020)." Millennium Film Journal 72 (Fall 2020): 31-32.
"BLINK 2019: Cincinnati's Light Art Festival Expands." Afterimage: The Journal of Media Arts and Cultural Criticism 47 no. 1 (March 2020): 2-7.
"Moving Image Installation, Dance, and Resistance at the 2019 Venice Biennale." Afterimage: The Journal of Media Arts and Cultural Criticism 46, no. 4 (2019): 1-7.
"Barbara Hammer: In This Body." Afterimage: The Journal of Media Arts and Cultural Criticism 46, no. 3 (2019): 49-54.
"Tony Oursler Tear of the Cloud (2018)." Millennium Film Journal 69 (Spring 2019).
"Northern Spark 2018: Commonality." Afterimage: The Journal of Media Arts and Cultural Criticism 45, no. 4 (2018): 4.
"Kino Skulptur Projekte: Moving Image Installation as Public Sculpture at Münster's Decennial Exhibition." Millennium Film Journal 67 (Spring 2018): 24-27.
Public Art Dialogue: book review of C. Albu, Mirror Affect: Seeing Self, Observing Others in Contemporary Art (Minnesota, 2016) and A. Rounthwaite, Asking the Audience: Participatory Art in 1980s New York (Minnesota, 2017).
Woman's Art Journal: book review of M. Yoshitake, et al, Yayoi Kusama: Infinity Mirrors (Hirshhorn Museum, 2017)
Service
Peer Reviewer: Leonardo, Open Philosophy, Palgrave Communications, Public Art Dialogue, Garage Journal.
Public Art Dialogue Board: Co-Chair 2022-present; Conference Liaison 2020-22; Program Committee 2018-2020.
Cindependent Film Festival Board: member 2022-present.
Media Architecture International Board: Publications Co-Chair 2022-present; board member 2020-present.
Selected Awards and Grants
Affordable Education Leader Award, Miami University, 2020.
FotoFocus Exhibition Grant Fall 2019-Fall 2020.
National Endowment for the Humanities Summer Scholar, Northeastern University, Boston, MA, 2017.
Email: dellarab@MiamiOH.edu