Assistant Professor
Art History
2015-present
Education
PhD, University of Florida
BA and MA, Kent State University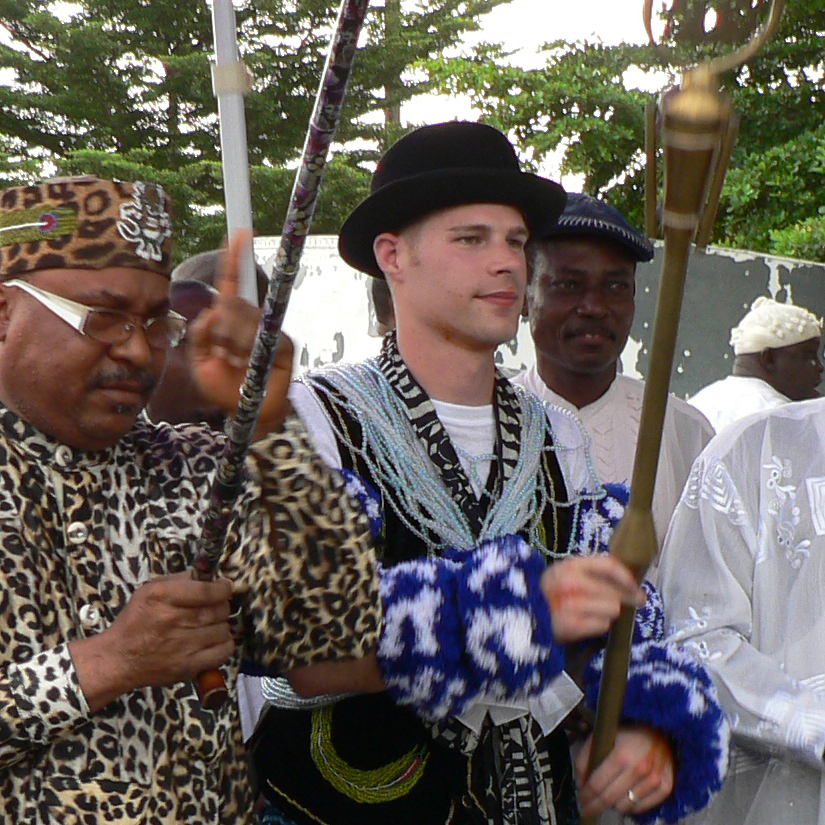 Dr. Jordan A. Fenton, Assistant Professor of Art History, received a BA and MA from Kent State University before earning a PhD in art history from the University of Florida in 2012. Before coming to Miami, Professor Fenton was on faculty at Kendall College of Art and Design, Ferris State University, from 2011-2015.
Professor Fenton is a specialist of African Art History, with an emphasis on the visual and performed expression of Nigerian masquerade arts, secret societies, esoteric knowledge systems, funerary rituals and installations, dress, economics and ways in which so-called "traditional" arts and artists operate in metropolitan cities.
Professor Fenton's 17 months of fieldwork investigation into art and culture of Calabar, capital city of Cross River State, Nigeria, was carried out between 2008 and 2010 and in 2014. It was conducted as a Fulbright-Hays scholar (2009-2010), Foreign Language Area Studies fellow (2008 and 2009), and as a Smithsonian fellow in residence at the National Museum of Africa Art, Washington D.C. (2011). During his time in Calabar, Fenton was invited to be initiated into the six secret masquerade societies he studied, adopted as a son by a local king, conferred with the rank of chief, and honored with lengthy apprenticeships into nsibidi, an imaged and performed esoteric knowledge system of the Cross River region.
Dr. Fenton presents his work and convenes panels at professional conferences such as College Art Association, African Studies Association, the Triennial Symposium on African Art and Midwest Art History society. He actively publishes in peer-reviewed journals, edited volumes, exhibition catalogues, and collection tomes. He is currently working towards a monograph tentatively titled Performing City: Masquerades, Modernity and Money in a Nigerian Metropolis.
Professor Fenton teaches introductions into non-Western art and Africa as well as upper-level courses and seminars specifically targeting Africa and its Diaspora through themes and genres including, but not limited to, power, gender, the transatlantic slave trade, trauma, life-cycle rituals, colonialism, the post-colony, heritage, performance, textiles and esoteric knowledge.
Selected Publications since 2011

"Nyoro Masquerade as a Hunt for Modernity: A View from a West African City" in Behind the Masks of Modernism: Global Perspectives and Transnational Perspectives, eds. Andrew R. Reynolds and Bonnie Ross, University of Florida Press, forthcoming 2015
"Knowledge in Motion: Reading and Performing Ukara Nsibidi," in Ukara: Ritual Cloth of the Ekpe Secret Society, Hood Museum of Art, Dartmouth College, 2015
"Skin-Covered Crest of a Young Women." In Refined Eye, Passionate Heart: African Art from the Leslie Sacks Collection, ed. Amanda Maples, Skira Publishing, 2013
"Displaying the Ostentatious: Contemporary Chieftaincy Dress and the Ebonko Costume from Calabar, Nigeria." In Africa Interweave: Textile Diasporas, ed. Susan Cooksey, Gainesville: Samuel P. Harn Museum of Art, 2011
Book review: Patrick R. McNaughton, A Bird Dance Near Saturday City: Sidi Ballo and the Art of West African Masquerade, in African Arts 44.2 (2011): 91-93.
Email: fentonja@miamioh.edu