Michael LaMattina, Percussion
Michael LaMattina holds the position of Principal Percussion with The Dayton Philharmonic and is the director of Percussion Studies at Miami University, where he also conducts the Miami University Percussion Ensemble. In his capacity with the DPO, he performs classical programs, pops concerts, chamber music, ballet, and opera. Additionally Michael is the principal percussionist with the Lancaster Festival Orchestra during the summer.
Previous positions Mr. LaMattina has held include Principal Percussion with The Colorado Music Festival Orchestra in Boulder from 2007-2014, Principal Timpani & Percussion with The ProMusica Chamber Orchestra of Columbus, Principal Percussion of the Canton Symphony Orchestra, Section Percussionist with the Erie Philharmonic, and Associate Section Percussion with the Columbus Symphony. He has also played as an extra and substitute musician with the Cincinnati and Atlanta Symphony Orchestras.
Michael received his Bachelor of Music degree in percussion performance from the Oberlin Conservatory of Music and the Master of Music degree, also in performance, from Cleveland State University. His teachers have included Michael Rosen, Tom Freer, Mark Yancich, and Mitchell Peters. Michael attended the Music Academy of the West in 1997, was a fellow at the Tanglewood Music Center in 1998, and was a member of The Spirit of Atlanta Drum and Bugle Corps for two seasons while in high school.
He appeared as an orchestral snare drum clinician at PASIC 2014 in Indianapolis and is an artist endorser with Pearl/Adams Percussion, Freer Percussion, and Sabian Cymbals. Michael lives in Dayton with his wife Lori, son Andrew, and their whippet Honey. Mr. LaMattina also maintains a private studio in his home and has composed many works for percussion. Other interests include building sticks, mallets, and percussion instruments, fitness, film, and architecture.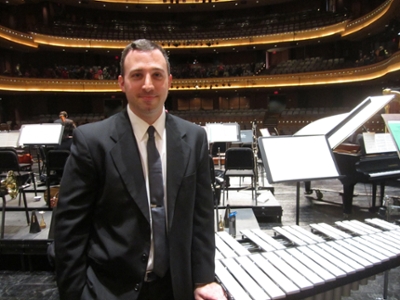 Garwood Whaley: Dialogue for Snare Drum and Timpani
Performed by Miami University Percussion faculty Michael LaMattina and Pat Schleker.
[No spoken word; instrumental only]
Paul Dukas: Excerpts from The Sorcerer's Apprentice
First two glockenspiel excerpts performed by Michael LaMattina.
[No spoken word; instrumental only]
Standard Excerpts for Xylophone
Golden Age Polka by Shostakovich, Appalachian Spring by Copland, and Exotic Birds by Messiaen, all performed by Michael LaMattina.
[No spoken word; instrumental only]
Leo Brouwer: Berceuse
The Berceuse for guitar by Leo Brouwer, performed on marimba by Michael LaMattina. This is a beautiful piece that works well on marimba and is very enjoyable to play.
[No spoken word; instrumental only]
Jacques Delécluse: Etude #12 for snare drum from Douze Etudes pour Caisse-Claire
Michael LaMattina performing the final etude from the popular collection of standard concert snare drum etudes by Jacques Delécluse.
[No spoken word; instrumental only]