Music Theatre Minor
Strengthen your skills as a "triple threat" with the Music Theatre minor in the College of Creative Arts. Whether you love Broadway musicals, opera, or revues, here's your chance to creatively enhance the coursework of your major. Minors take courses in acting, singing and dancing, with opportunities to practice those skills through multiple performance experiences within the College of Creative Arts, including musicals, opera, cabarets and song and dance revues. This minor is open to students of all majors. Admission is by live audition only. To continue in the Music Theatre minor, students must show progress of meeting the requirements of their major.
Music Theatre Minor Registration
If you are interested in more information, or in scheduling an audition for entrance into the Music Theatre minor, please fill out the form below. In addition to filling out this form 
you must sign up
 for an audition time using the online audition sign-up sheet.
Fall 2023 Audition Information
The deadline to apply is Friday, September 29, 2023.
Auditions
Tues, October 3 - 6-7:30 pm
Souers, CPA-101, Gates Stage
You MUST be present the entire time
Orientation
Tuesday, October 17, 6-7 pm
CPA 101
Pizza dinner included
General Information
Between 12 and 20 students are admitted each year.
Students may audition in their freshman or sophomore year, performing two vocal selections, a monologue, and a dance audition. Auditions will be held annually each fall semester.
Live auditions are required.
You will perform two vocal selections (an accompanist will be provided).
You may be given a a short ear-training test.
Guidelines for vocal selections
Two selections of 36 measures each, one ballad and one up-tempo.
Choose music that shows your voice at its best, including range, expression, and diction.
Music must be memorized (bring music for the accompanist).
Bring clean copies of your selections to the audition with your cuts clearly marked.
Recommendations for success
Work with a voice teacher to select a repertoire that is suitable for your voice and allows you to sound your best.
Choose repertoire that you have already performed, or will perform before your audition.
Choose two contrasting selections (style, tempo, mood). Selections may include pop, rock, jazz, movie and musical theatre repertoire.
You will perform one monologue.
Guidelines for monologue selections
1-2 minutes in length (please do not go over the 2-minute limit).
Choose a monologue that is modern/contemporary – do not choose classical or verse material or a monologue that requires a dialect or accent.
Text must be memorized.
Text may be comedic or dramatic.
Text may be chosen from a play, musical, or other written narrative form such as a novel or short story as long as it is in first person. Please do NOT use text from a movie.
Recommendations for success
Work with an acting teacher to select a monologue that is suitable for your type and allows you to show off your talent.
Choose a monologue that is "active" – you are talking to someone and you want something from them in the current moment. Do not choose a monologue in which the character is telling a "story" from the past without a clear need to accomplish something in the present.
You will learn and execute a short piece of choreography during the audition.
Guidelines for preparation
Warm up prior to the audition.
Wear appropriate dance or movement attire (jazz pants, leggings, tights, leotards, form-fitting athletic wear). Do not wear shorts, baggy sweatpants or sweatshirts, or shirts that expose a bare midriff, etc.
College of Creative Arts
The arts at Miami University didn't evolve on a whim—they were challenged, inspired, modernized, and made more relevant by each new generation of artists. Welcome to the College of Creative Arts, with degree programs that range from the classical to the contemporary.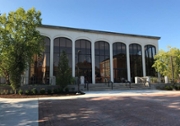 Interdisciplinary Programs